Mike D'Antoni is shuffling around the Los Angeles Lakers offense, trying to make circles fit in square holes, which includes changing how Jordan Hill plays.
Last season, the big man, who until now has been a pure center, only got to play in 29 games due to injury, but in that time he solidified his reputation as being a "garbage man" by clogging up the paint and getting some valuable put-backs.
However, this season, the coach has told Hill that he wants him to work as more of a stretch four. He said:
"He talked about what I need to work on for this coming summer. My jump shot — he definitely wanted me to work on my outside jumper. That's mostly what I've been focusing on this whole summer, not so much the post work because I know I can go down to the block and easily get an offensive rebound and putback. We got Pau Gasol that can focus on the paint and we got Chris Kaman that can focus on the block. So I just want to be a stretch 4. Just try to spread the floor a little bit, just show a little range. I've been working on it the whole summer, trying to focus on that, on my 3-ball. It got a lot better. I'm just ready to put it all together and showcase it."
Granted, it's always better to have more skills than less, but when you're great at one thing, why sacrifice that to just be okay at something else?
As you can see from Hill's shot chart from the 2012-13 season, he's clearly more effective when he's closer to the rim. The big man also has value in areas that can't easily be quantified, like pressuring the other team on defense.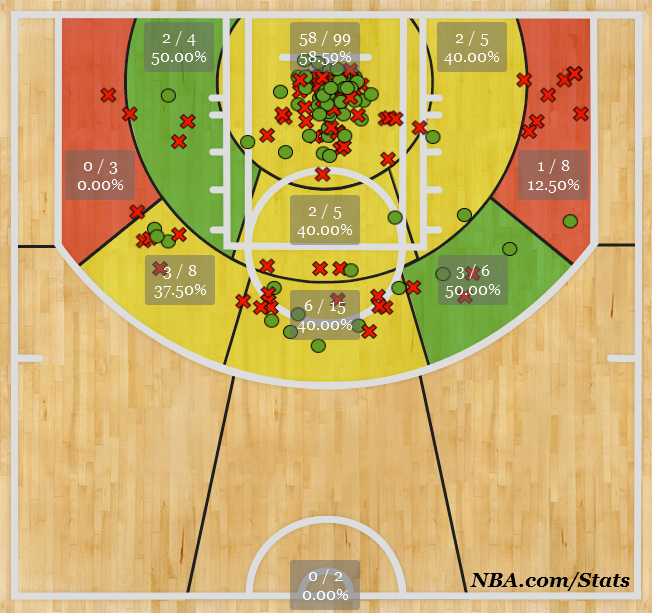 The 2011-12 season showed an extremely one dimensional Hill that could only be successful at making shots in front of the basket.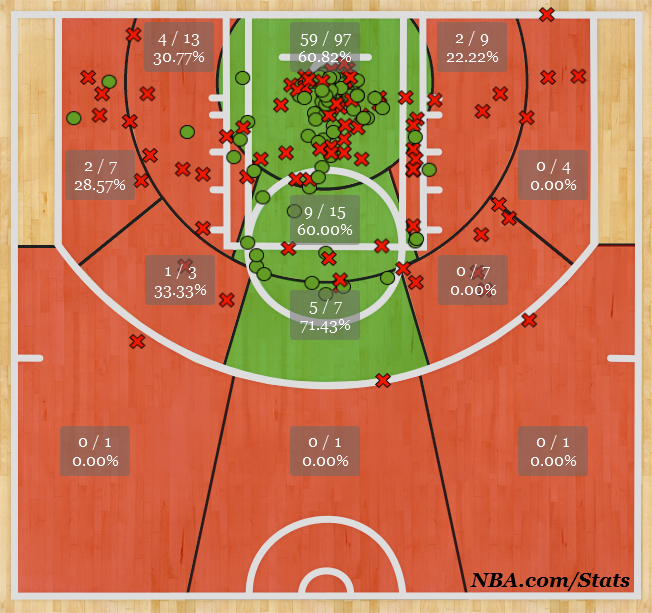 These show that he has learned to spread the floor over the past two seasons, but there's no need for him to venture out beyond the arc.
As Hill noted, both Kaman and Gasol are adept at taking, and occasionally making a three-pointer here and there, but are likely more effective when they don't try that. Take Gasol, for example.
In the 2008-09 season, he took one three-point shot all season, and three total in 2009-10; the Lakers won the championship both seasons. 2010-11, Gasol also only took one trey, but that was also the season where he had a complete emotional collapse and wasn't really doing well from anywhere. 2011-12, under then head coach Mike Brown, the center took a huge 27 shots beyond the arc and made only seven of them. Last season, Gasol shot 28 times from the three-point line, only connecting on eight of them, making his shooting percentage a lousy 28 percent. Whereas, he made 54 percent of his shots in the paint in 2012-13.
It won't be hard to believe, then, that last year was Gasol's career-low shooting percentage. He wasted more possessions with the ball, trying to shoot triples, than in any other of his 12 years in the NBA.
This is what D'Antoni is expecting of Hill. Become mediocre at several things rather than focus on being great at one thing.
Having interchangeable pieces is a key to making his pick-and-roll offense work, and if Hill can learn to be okay at the long shot, then D'Antoni can finally run his system. However, he'll be sacrificing shots and skill in the paint.
Photo courtesy of edenpictures/Flickr