2013-14 NBA SEASON PREVIEW CONTENT LIST
Atlantic: Celtics | Nets | Knicks | 76ers | Raptors | Division Preview 1 and 2
Central: Bulls | Cavaliers | Pistons | Pacers | Bucks | Division Preview
Southeast: Hawks | Bobcats | Heat | Magic | Wizards | Division Preview
Pacific: Warriors | Clippers | Lakers | Suns | Kings | Division Preview
Northwest: Nuggets | Timberwolves | Thunder | Trail Blazers | Jazz | Division Preview
Southwest: Mavericks | Rockets | Grizzlies | Pelicans | Spurs | Division Preview
Top 10 by Position: PG | SG | SF | PF | C
Top 10 Lists: Sixth Men | Sophomores | X-Factors | Intensity | Under 25 | Comeback | GMs | Europeans | Overrated | Contenders | Wild Predictions
Fantasy Basketball | NBA Fandom Games | League Preview | Ultimate Season Predictions
Media Day: Lakers | Clippers | Kings | Knicks | Bucks | Suns | Pacers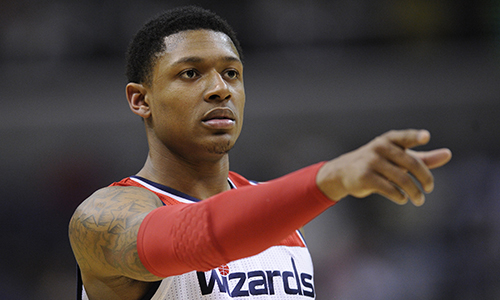 The "sophomore" jinx has bitten many second-year players in past NBA seasons. Even a productive rookie season could be followed up with a subpar performance as the true struggle of thriving in this league becomes more of a reality. Only the strong survive and these second-year players are poised to continue their superstar journey.
10. John Henson, C, Milwaukee Bucks
The North Carolina Tar Heel alum has plenty of space and opportunity this season to really make a name for himself. With the departure of the dynamic backcourt of Brandon Jennings and Monta Ellis, it clears room for the post players to get in on the action. Along with defensive juggernaut Larry Sanders and Ersan Ilyasova, Henson should be able to rebound and hustle his way to some solid recognition next season. His college mates are putting themselves on the map so look for Henson to do the same.
9. Tyler Zeller, PF/C, Cleveland Cavaliers
I really like Tyler Zeller's game. Even though younger brother Cody has been getting more of the hype, Tyler is a very intelligent player, with great size and a big man's mentality. There is a lot of change in Cleveland with Kyrie Irving embracing his superstar status, the addition of Andrew Bynum and the return of Anderson Varajao from injury, and Zeller will be looked at to provide some size and mobility off of the bench. If Bynum's knees, or his hair cause any issues this year, Ty the Fly Guy is going to be ready to jump in and shine.
8. Draymond Green, SF, Golden State Warriors – Draymond Green surprised a lot of naysayers. He wasn't expected to have the impact and contribute what he brought to the Warriors last season, especially in the playoffs. He's deceptively agile, has a sharp post game for his size and he can hit from distance. Anyone who posts a triple-double in collegiate play should be considered a serious NBA talent and DG23 had two in one season. The other teams obviously didn't get the text message. Mark Jackson did.
7. Jared Sullinger, PF, Boston Celtics
It's a new day in Beantown with Kevin Garnett leaving the Boston Celtics for new digs in Brooklyn, creating a hole in the middle that needs to be filled. Sullinger is that guy. Before his injury, he was really finding his place in the paint. He's a solid rebounder, and with his big body and basketball IQ he's able to carve his space on both ends of the court. It's a young man's game nowadays in Boston, so Sully is in a good place.
6. Jeremy Lamb, SG/SF, Oklahoma City Thunder
He's got a sleepy look, but his game is wide awake. All signs are pointing to Jeremy Lamb being the third scorer on the Oklahoma City Thunder next season. With the departure of Kevin Martin, Lamb has nothing but space and opportunity to grab hold of that sixth man spot and make it his own, ala James Harden. He may not be as explosive as Harden but his size, skill and that smooth jump shot is exactly what it's going to take to move to that next level.
5. Bradley Beal, SG, Washington Wizards
Coming out of college, maybe Beal had a little too much pressure on him. He started the season very slow and the doubters were salivating at the chance to chew him up. Eventually he found his stroke and slowly developed into the versatile threat that the Washington Wizards saw when they drafted him out of Florida. With a healthy John Wall leading the team and a newfound confidence, I see Mr. Beal putting up really special numbers from here on out. He's going to have the POTUS to impress, so he better.
4. Andre Drummond, C, Detroit Pistons
Deemed a risk in last year's draft, Andre Drummond dropped a few slots and fell into Joe Dumars' lap. Now the Detroit Pistons are definitely reaping the benefits. Drummond has slowly come into his own and the Amar'e Stoudamire (Phoenix Suns version) comparisons are becoming very clear. Drummond is growing as a force in the paint and on the boards and he seems to be more comfortable throwing his weight around. If there aren't any chemistry issues, then Andre the Giant is going to be very happy in the new look Motown frontcourt.
3. Harrison Barnes, SG/SF, Golden State Warriors
Harrison Barnes has been preparing for the NBA his entire life. I can picture him practicing interviews in his room after bedtime. He had a very impressive rookie season with some really electrifying highlight dunks. The Black Falcon is extremely athletic and a hard worker and will be vital to the rotation on an extremely dangerous Golden State Warriors team. Fly Black Falcon! Hooooooooo!
2. Anthony Davis, PF/C, New Orleans Pelicans
"The Brow" is ready to grow, I mean go. Anthony Davis showed flashes last season when he played, however he was injured for much of the year. Coming off a dominant showing at the Team USA showcase, Davis looks healthy and hungry. He's very athletic, has a high hoops IQ and his offense is a lot more seasoned than many figured. Since he is already a defensive presence, as he gets more comfortable on the offensive side, Davis' ceiling will become non-existent. Fear the Brow!
1. Damian Lillard, PG, Portland Trail Blazers
With a Rookie of the Year award under his belt, Damian Lillard made a strong entrance into the league. He's so cool under pressure, plays with a veteran's poise and he's outright nasty on the court. He is the undisputed leader of a Portland Trail Blazers team that is on the cusp of either great things or falling off. His trying out for Team USA this past summer is sure to be a priceless learning experience as he enters year number two. The Blazers' success will rest heavily on the shoulders of their young star, and a "happy" LaMarcus Aldridge.
Honorable Mention
Dion Waiters, Maurice Harkless, Michael Kidd-Gilchrist, Meyers Leonard, Terrence Ross, Austin Rivers, Andrew Nicholson, Festus Ezeli, Jeffery Taylor, Terrance Jones, Thomas Robinson
What other Sophomores are going to break through next season? Leave your comments below.