Baller Mind Frame's official news and rumors page with quick blurbs mixed with personal opinion from our very own Frankie Buckets and Aaron Lanton. Check it often and absorb the NBA goings-on.
For more news and rumors visit our archives – June 2013 I July 2013I August 2013I September
10/29/2013 – Am I my brother's keeper: Chris Smith has made the New York Knicks' opening day roster. Smith is the younger brother of Knicks shooting guard J.R. Smith. His inclusion on the roster has stirred strong emotions among the team's fan base. Knicks coach Mike Woodson acknowledged that Chris Smith's ties to his brother would influence whether the team kept or cut the 26-year-old guard. "I look at him just like I look at J.R., though J.R. is the guy who played in a uniform and has been very productive for us," Woodson said earlier this month before the roster announcement. "I have a great deal of respect for that family. That's his brother; I respect that." Chris Smith said recently that he had received strong criticism from Knicks fans on Twitter after he survived the team's initial roster cuts. "I can't even have a social media because people are coming at me because they think [I made the team because of my brother]," Smith said. "I feel like I earned my position on the team, and I'm going to keep on earning my way here." ESPN
10/29/2013 – The battle for Los Angeles it ain't: Yes, Jordan said, the Clippers and Lakers both play in Los Angeles, they share Staples Center and they both play in the Pacific Division. And, yes, the Clippers open the regular season Tuesday night against the Lakers in a Lakers designated home game. But in Jordan's eyes, it takes more than that for the Clippers and Lakers to be a rivalry — like meeting in the playoffs, something the two teams have never done. "I don't think it'll ever be a rivalry. You guys [in the media] want it to be, though," Jordan said. "I would say Memphis more than the Lakers." That's because the Clippers and Grizzlies have met in the first round of the playoffs the last two seasons. The Clippers won a thrilling Game 7 in Memphis during the 2012 playoffs and the Grizzlies beat the Clippers in six games last spring."I hate every other NBA team in the league. If anybody [is our rival], I'd say Memphis," Jordan said. Los Angeles Times
10/29/2013 – Granger not discouraged by latest injury: Granger, 30, had surgery on his left knee and missed all but five games during the 2012-13 season. He was ready to go for training camp but strained his calf while jumping in the first quarter during a preseason game against the Dallas Mavericks on Oct. 16. Granger played two nights later in Chicago, aggravated the injury and left the game. "Oh, no, it's not discouraging at all," Granger said. "It's a muscle strain. When you're dealing with a muscle strain, it's a lot different than if you're dealing with a joint injury. My knee's been fine, I'm very happy. I had a muscle strain — no big deal." Indianapolis Star
10/29/2013 – How to tank in the NBA 101: OUR TEAM ISN'T good enough to win and we know it. So this season we want to develop and evaluate our young players, let them learn from their mistakes — and get us in position to grab a great player. The best way for us to do that is to lose a lot of games. This draft is loaded. There are potential All-Stars at the top, maybe even franchise changers. Sometimes my job is to understand the value of losing. I know that sounds crazy, but if you're an NBA general manager like me, the last place you want to be is in the middle. There are only two outcomes there: Either make the playoffs and be first-round fodder for one of the premier teams or miss the playoffs and pick somewhere around 11th to 14th in the draft. Either way, the odds are that you stay in that middle range. It's a recipe for disaster. You need superstars to compete in this league, and the playing field for those guys is tilted toward a few big-market teams. They are demanding trades and getting together and deciding where they want to go in free agency. It's tough for us to compete with that. So a high lottery pick is all we have. ESPN
10/29/2013 – It's the Damian Lillard show: The "Damian Lillard Brand," which already is thriving as part of high-profile commercials, successful video games and grassroots social media marketing, is in the burgeoning stages of blowing up. And if Lillard has his way, he won't simply be one of the NBA's best players, but also a rapper, actor and entrepreneur. "I want to be in movies, I want to rap, I want to do everything," Lillard said. "And I know it's all possible because I can do it off the brand Damian Lillard, you know what I'm saying? I think it's important for me to take every idea that I come up with and everything I want to do and put it out there right now, while I'm relevant as an NBA player. I can do these other things off the fact that I'm an NBA player." But first things first. "I'm focused on the Trail Blazers right now," he said. "I'm focused on wining games and getting to the playoffs." Oregonian
Another NBA player talking about his brand in third-person…..great. – FB
10/29/2013 – Larry Sanders "stolen" by rival agent: Andy Miller and ASM Sports accuse Happy Walters and Relativity Sports of stealing Milwaukee Bucks shooting guard Larry Sanders away from them with "flights on private planes, expensive dinners, invites to pre-ESPY awards parties, acting classes and trips to Disneyland for his family," according to papers filed in Manhattan Supreme Court. Miller wants Relativity, whose clients include Rivera and Amar'e Stoudemire, to fork over the commission he would've received from Sanders' $41 million contract. "Even in the hypercompetitive world of sports agents there are rules and boundaries that must be followed," the suit says. New York Daily News
==================================================================================================================================================================
Iverson's jersey will be retired when Heat visit Wed. Wade remembered facing him in 1st game as rookie. "I was scared as who-knows-what."

— Ethan J. Skolnick (@EthanJSkolnick) October 28, 2013
Jazz will exercise fourth-year options on Enes Kanter, Alec Burks http://t.co/uPMqdRgvXx

— Sportando (@sportando) October 28, 2013
10/28/2013 – Durant's quest for a championship: "I want to be the greatest," Durant said. "I want to be remembered as one of the greatest. When they redo that top 50 players (of all time), I want to be a part of that." Make no mistake. In Durant's eyes, that's not solely an individual achievement. He's over those. Winning, he says, is how he defines greatness. "This whole thing is a fraternity. But it's a different fraternity when you're staring at a group of guys that won championships, MVPs, and you can say you're on that level with them in your career," Durant said. "It's only a handful of guys, maybe 15, 20 guys, that you can get in that conversation with. And I'm nowhere near there yet. So that's where I want to be." Durant spent his first six seasons proving he was a stud. Now he wants to be known as simply a champion. The past two seasons showed Durant just how elusive a title can be. In 2012, the Thunder took a 1-0 lead on Miami in the NBA Finals before losing four straight. Last season, the Thunder's playoff run was derailed by a season-ending knee injury to Russell Westbrook. It's not that those setbacks sparked a heightened sense of urgency for Durant. It's just at this stage in his career, championships are now all that truly matter. The Oklahoman
My favorite Derrick Favors anecdote is that he takes his headphones off every time some comes near someone just to be polite

— David Locke (@Lockedonsports) October 28, 2013
10/28/2013 – Ty Lawson may not be able to play in season opener: Nuggets guard Ty Lawson said he hopes to be ready for Wednesday night's season opener at Sacramento but that he's not sure his ailing groin will let him. "It's still feeling a little stiff, so I don't know yet," Lawson said. Lawson was injured in the Nuggets' final preseason game Friday at Chicago. He did not participate in practice Sunday. He said he wants to test his ability early this week to get a handle on whether he'll be able to play Wednesday against the Kings.Lawson said he will wait "to see how it feels, see how far I can take it."The Nuggets have several injury issues, and it would be a big blow not to have Lawson. Forward Wilson Chandler (hamstring) also is questionable, but he did increase his activity Sunday and plans to continue to do so in practice Monday. Forward Kenneth Faried (hamstring) went through just over half of the practice Sunday and said he feels fine. He plans to play against the Kings. Denver Post
After not making the final cut in Memphis, my guy Tony Gaffney (@TonyJGaffney) is headed back to Germany with Telekom Baskets Bonn

— Steve Kyler (@stevekylerNBA) October 28, 2013
10/28/2013 – Nets look to CEOs to sell on the court ads: The Brooklyn Nets have placed an ad that appeared Monday morning in Crain's New York Business in hopes of tempting chief executives to put their companies' names on the court at the Barclays Center.A trial balloon floated by the NBA will result in some teams selling corporate signage on their courts for locally televised games this season.The Nets placed an ad Monday in Crain's New York Business in hopes of tempting chief executives to put their companies' names or logos on the court at the Barclays Center. Some executives are hoping to generate millions from the new pieces of inventory opened up in June by deputy commissioner Adam Silver, who will replace David Stern in February. "You've always dreamed of playing in the pros and here's your chance to get on the court," wrote Nets CEO Brett Yormark, in a letter in the ad. "As we embark on what is sure to be one of our most exciting seasons in franchise history, this is your opportunity to be our sixth man." ESPN
S/O @easyst0! Just cause #IGotYou #FollowMyLead

— LeBron James (@KingJames) October 28, 2013
10/28/2013 – Samsung and NBA ink new deal: The National Basketball Association has signed a wide-ranging, $100 million deal with Samsung Electronics Co. 005930.SE +2.28% Samsung Electronics Co. Ltd. S. Korea: KRX KRW1482000 +33000 +2.28% Oct. 28, 2013 3:00 pm Volume : 226,154 P/E Ratio 8.02 Market Cap KRW235242.67 Billion Dividend Yield 0.07% Rev. per Employee N/A 10/27/13 NBA Teams Up With Samsung 10/27/13 Samsung Pursues Developers, Se… 10/25/13 Heard on the Street: Time for … More quote details and news » 005930.SE in Your Value Your Change Short position to bring the South Korean company's technology courtside at its games, according to people familiar with the matter, a strategic move for two organizations looking to expand their global reach. As the NBA's official provider of tablets and televisions, Samsung will supply the courtside monitors that referees use to review close calls when the NBA begins its new season this week, moving Samsung into the valuable space so close to the action. The three-year deal will instantly make Samsung one of the most visible companies during NBA games, while bringing the basketball league into closer partnership with the electronics giant, which is the world's largest seller of smartphones and flat-panel televisions. Wall Street Journal
"I'm ready to get this surgery & get back on the court ASAP. My hunger & drive for a chip is fueling my return to the court," Camby told Y!

— Marc J. Spears (@SpearsNBAYahoo) October 28, 2013
10/28/2013 – Wade sports new Li-Ning Way of Wade 2: Earlier tonight, Wade treated us to a look at this black and white striped Li-Ning Way of Wade 2. The shoe also features a black tongue, metallic gold accents and purple hits on the lining and outsole. Sole Collector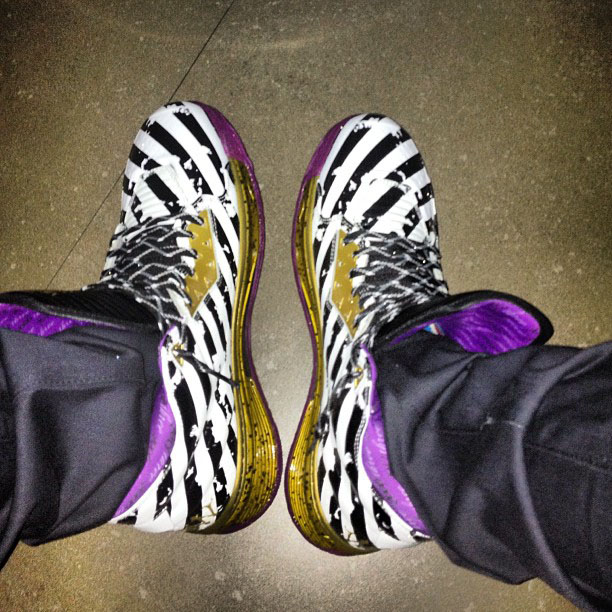 #Sixers confirm they signed rookie FA power forward Brandon Davies, who went undrafted out of BYU in June.

— Tom Moore (@tmoore76ers) October 28, 2013
10/28/2013 – NBA deputy commissioner Adam Silver big proponent of the analytical movement: During his time in the NBA, Silver has been a passionate supporter of the analytical movement that is taking over the league. He has embraced new technologies with a keen interest in how a data-driven approach will affect fans, not just teams and players. Here are his thoughts on how the game – and fan access to information – is changing: What led you to latch onto the analytical movement so quickly? I come at it, historically at least, more from a fan standpoint. And one of my big pushes over the last several years is about making more of this statistical data available to our fans. Because there increasingly seems to be a real hunger by our fans to get deeper into the game and in many ways, we've lagged behind other sports, certainly baseball. There hadn't been that same tradition, maybe, in basketball of getting deep into the statistics of our players and teams and using that data to analyze trends on the court. And so, I was an early adopter of the [Houston Rockets General Manager] Daryl Morey [MIT Sloan Sports Analytics Conference in Boston]. I remember early days, at MIT, when the conference was still in a couple of classrooms as opposed to the convention center where it is now and they have thousands of people. But Daryl was one of the people, early on, that came and spoke to me and the league and said he did see a real opportunity here. Again, not just for the basketball folks to do a better job analyzing their teams, but ultimately to grow our business by creating data that was increasingly interesting to the fans. Washington Post
Casey said New York Times saying when mascot went down season went down was "total disrespect." That's not exactly what NYT said

— Ryan Wolstat (@WolstatSun) October 27, 2013
==========================================================================================================================================================
10/24/2013 – Wiggins not so sure about the LeBron James comparisons: Unlike LeBron James, who weighed 240 pounds in high school, Wiggins is no monster; he's a wraith. Which may be one of the reasons the kid from Toronto is loath to make the comparison. "Aw, it's not fair to even say my name in the same sentence as his," says Wiggins during his first week of classes at Kansas. "I haven't even played one game of college ball." Is there another player who's more comparable? "I like Kevin Durant's game! Ain't nothing he can't do. Shoot. Has a handle. Plays D. Scores at will. Durant, man! Has that killer instinct." Interesting, that last bit. Some have seen Wiggins's ability to shiver through defenders without touching them as an unwillingness to knock heads and stake his claim as The Man. "Anybody who has ever watched me knows that I get my teammates involved, that I make them better," Wiggins responds. "I'm not too selfish or unselfish." GQ
10/24/2013 – Tracy McGrady Admits he contemplated taking PEDs: Those injury issues are what tempted McGrady to consider performance-enhancing drugs late in his career. McGrady insists he never actually used PEDs, but that he looked into it because he desperately wanted to perform at a high level again and nothing else was working."To go from the level I was playing at, to having my knee blow out on me and then to try to work out to get to that level again and just not being able to do it, that's when I contemplated [using performance-enhancing drugs]," McGrady said. "I tried going to Germany [for platelet-rich plasma therapy] and I tried everything you could possibly try. I tried doing it the right way and it just didn't happen. I got back healthy, but not to my explosive self. Confidence-wise and mentally, that was tough. It was probably the biggest challenge for me to get over. That hurdle was tough. It was just a mental block that I just couldn't erase. I couldn't do a lot of the moves that I was accustomed to doing, and it was challenging in the beginning. When I did overcome that, I had lost the desire to still play ball. The last three years, I gave it a go, but I was mentally ejected." HoopsWorld
10/24/2013 – Metta World Peace goes back to Hollywood: NBA basketball player/human masterpiece Metta World Peace will be appearing in All Wifed Out, one of those movies you pick up while bored and waiting in the self check-out line, squint at it and say, "….what?" Not sure how terrorizing Tyler Hansbrough is a part of the marketing campaign, but we'll see. Philadelphia Inquirer
[youtube]http://www.youtube.com/watch?v=VuK0_i1Z6m8#action=share[/youtube]
=========================================================================================
10/23/2073 – Kobe finds one more way to motivate himself: Kobe Bryant didn't join his teammates on the bench Tuesday night, preferring the sanctity of the Lakers' locker room to courtside at Staples Center. It was impossible to tell if he was stewing after NBA general managers knocked him down a notch in their assessment of the league's top shooting guards, but it's not out of the question given his recent reaction to other perceived slights. Bryant changed his Twitter avatar to "1225," presumably in response to ESPN ranking the Lakers as the 12th-best team in the Western Conference and Bryant as the 25th-best player in the NBA. What's another jab, besides extra inspiration? "I like it because Kobe always finds ways to motivate himself and to keep those things in mind," Lakers center Pau Gasol said after the Lakers' 108-94 exhibition victory over the Utah Jazz, "so it kind of pushes him to push himself harder and be better." Los Angeles Times
10/23/2013 – Crash not happy with the young Celtics effort: Gerald Wallace called out his new team for its sub-standard effort following Sunday night's loss to the Timberwolves in Montreal, and the Celtics forward backed up those words following today's practice. Coach Brad Stevens supported those Sunday critiques from Wallace and Jeff Green, saying today that the result was one of the best practices of training camp. But, according to Wallace, the coaches have asked him to rein in his words a bit. "I'm getting fussed at by the coaches every time," said Wallace. "They're trying to tell me to relax and ease up. But the main thing is I want the guys to compete. If we lose all 82 games, but we lose them going down fighting and competing hard. I can live with that. I can't live with losing and we didn't compete, we didn't give our best effort and we just gave the game away. I don't want that for these guys and this team." Wallace, clearly bothered by these early growing pains by a largely young team, went on at length about what is needed. Boston Herald
10/23/2013 – Rose's comments draw the ire of George Hill: The Pacers have entered this season with legitimate title aspirations. But despite Indiana's recent success, Rose recently refused to acknowledge Indiana as a true rival of the Bulls. Rose's comment caught the attention of Pacers starting point guard George Hill and the veteran still cannot understand how Rose didn't come to the conclusion that the teams do have a budding rivalry. "I don't know how [Rose] can say we're not rivals yet because we've been just as successful as they have been," Hill told HOOPSWORLD. "But all I know right now is we're the Central Division champions and for them, they have to come through us to get that. But if that's what he believes, then that's what he believes." Hoops World
Fun exchange with Duncan on winning GM survey as best leader: "Really? Nice. Do I get a trophy for that? No trophy?"

— Jeff McDonald (@JMcDonald_SAEN) October 23, 2013
Duncan was told he beat out KG in the aforementioned survey. "Sweet," he said. "I'll rub that in his face." Clearly in jest, but fun.

— Jeff McDonald (@JMcDonald_SAEN) October 23, 2013
10/23/2013 – Antetokounmpo showing glimpses of "Magic": The Bucks selected Antetokounmpo with the 15th pick in the June draft, believing they might get a steal in the middle of the first round. On Monday night he played 27 minutes in the preseason game against the Bulls in Chicago and contributed six points, six rebounds, two steals and two blocks. Before the game Drew was asked if the Greek player reminded him of anyone he had seen in the league. "He does, but I'm not going to say that name," Drew said. "I'm not going to get in trouble with that name. His height, his ability to see the floor, and he's a timely passer….He just doesn't pass the ball. He gives the ball to guys at the right time." Could Drew be referring to a certain former Los Angeles Lakers player who wore No. 32? Wasn't that Magic Johnson?The coach managed a smile. "When he's in the open floor, he's in his own world when he's in that situation," Drew said. "You can see a very comfortable Giannis when he's in that situation. I'm going to leave it at that." Milwaukee Journal-Sentinel
10/23/2013 – Brown backs off Noel comments: Brett Brown tried to clarify his Monday comments where the 76ers rookie head coach said he didn't expect Nerlens Noel to play this season. At Tuesday's practice, Brown said the decision whether the rookie will play "is going to made by a variety of a lot smarter people that me. Who knows what's going to happen with Nerlens? We hope he can come back." The 6-foot-11 center is still recovering from a torn anterior ligament in his left knee. He was expected to be sidelined until December while he recovered from the injury, suffered in February during his lone season at Kentucky. Philadelphia Inquirer
Sitting here watching the Lakers, and I feel sorry for my boy Jellybean when he comes back!

— Tracy McGrady (@Real_T_Mac) October 23, 2013
10/23/2013 – Concern over Silver's monetizing of the NBA grows: One GM included in the poll named the shift from commissioner David Stern to Adam Silver, set to officially take place in February, as his biggest worry. The concern is that Silver's focus on monetizing the league is far greater than Stern's. "I don't know how much he thinks about the integrity of the game," the GM said. "He's more about selling widgets." Bleacher Report
Jalen Rose predicts that Durant will join Harden and Howard in Houston while Westbrook-Love will end up in LAL http://t.co/qLB8Sb3QBM

— Sportando (@sportando) October 23, 2013
Love that a reporter from Turkey gave compatriot Enes Kanter a box of Turkish Delight candy before an interview in the Jazz locker room.

— Jody Genessy (@DJJazzyJody) October 23, 2013
10/23/2013 – Faried on the trading block? Call this a semi-educated guess. Multiple sources around the league have reported in the last month that Denver has put out targeted feelers on Faried, gauging his value and demanding very good return. The Nuggets, for their part, deny they've put Faried's name out there at all. Faried is entering the third season of his four-year rookie deal, and given his per-game numbers, he figures to get paid on his next contract. If the Nuggets believe Faried has hit his ceiling, and that his game lacks the all-around polish Brian Shaw has said he wants from his big men, it would make sense for Denver to see what it can get. Grantland
Pau took–and made–another 3-pointer tonight. For you fantasy drafters, don't count on it continuing. Pau: "I'll try to be more inside."

— KEVIN DING (@KevinDing) October 23, 2013
=============================================================================================================================================================
10/22/2013 – DeRozan's new found confidence is paying dividends on the court: DeRozan says his improved play is partly a result of how great and comfortable he is feeling at this point of his career off of the court. He's got a newfound swagger on it, and more confidence off of it. What in particular is he confident about? "Just everything. My game, overall, period," DeRozan said, matter-of-factly but not in a boastful way. "Going into my fifth year in the league, just having the utmost confidence. Not having no doubt or no questions about nothing." When did it change, he was asked. "It comes over time, just with experience … I just tried to put everything together this summer, just work on the game as a whole." Casey has noticed. "No question," Casey said before DeRozan's latest standout game. "He's a family man and all that starts to come into play as you grow and mature. That's why it's so hard when people talk about: 'This guy's going to come in and take over the league.' No, it doesn't happen overnight. It's a four year process, a five year process … It's really good to see." Toronto Sun
10/22/2013 – Timberwolves exercise option on Williams: Derrick Williams' $6.3 million option for 2014-15 will be exercised, Wolves owner Glen Taylor confirmed to 1500ESPN.com contributor Darren Wolfson. Williams' future with the Minnesota Timberwolves has been a lingering storyline throughout the preseason. For now, at least one question surrounding Williams has been answered.The former 2011 No. 2 overall draft pick is on tap to make just more than $5 million this season. His seven-figure raise next year will put the Wolves very close to the league's luxury tax. ESPN
10/22/2013 – D'Antoni states Lakers will still push the pace, just slower: About the only thing the Lakers achieved in seven seconds or less last season was making their coach regret saying his team should "easily" average 110-115 points per game when he took the job. "Yeah, well, I was on drugs back then," Mike D'Antoni said Monday with a chuckle, referring to the pain medication he was taking while recovering from knee surgery. "My knee was hurting. Vicodin was killing me." The Lakers didn't exactly die a slow death on the court in a season that fell far short of expectations, averaging 102.2 points (sixth in the NBA) and 96.8 possessions per game (fourth). But they also didn't resemble the shot-clock-defying offenses D'Antoni ran in Phoenix that generated the seven-seconds-or-less mantra. Which kind of pace does D'Antoni envision the Lakers running this season? "It won't be crazy," he said, "but we want to push it and get a nice pace. We want to get some easy buckets before the defense sets up, so we'll be up in the top five probably in pace, but it won't be breakneck speed." Los Angeles Times
10/22/2013 – Noah call Bulls roster most talented one he has ever played on: Now, with everyone healthy, the Bulls might be more relevant than they have been since Michael Jordan last suited up at the United Center."This is definitely the most talented group I've ever been in camp with," says Bulls center Joakim Noah, who has been with the team since 2007. "We have a core that's been together for a long time now," Thibodeau says. "So there's a pretty good understanding of how we're going to work." USA Today
Kobe Bryant was voted toughest player, followed by David West, Nick Collison, Kenneth Faried and Kevin Garnett … World Peace got a vote.

— Al Iannazzone (@Al_Iannazzone) October 22, 2013
10/22/2013 – Anthony Randolph is playing his way into the Nuggets rotation: The days became months and years, and Anthony Randolph was beginning to square himself with the fact that a legitimate chance to play significant minutes might never come again. So forgive him if he was a little skeptical when new Nuggets coach Brian Shaw arrived in town preaching competition all over the court. But a funny thing happened: Shaw wasn't playing. The competition was on. And because of that, something else is happening: Randolph is playing himself into the lineup. He arguably has been the biggest surprise of camp, though he'll tell you he has always had it in him. Signed by the Nuggets in 2012 for depth, he's making a serious push to be in the regular rotation when the season begins in eight days. Denver Post
Metta World Peace and Tyler Hansbrough were in each other's faces in the game. Metta said he likes Hasnbrough, likes banging with him.

— Al Iannazzone (@Al_Iannazzone) October 22, 2013
FWIW, I asked World Peace if he saw Hansbrough apologize. He misunderstood my question & was like, "What?! I didn't apologize to nobody!"

— Chris Herring (@HerringWSJ) October 22, 2013
10/22/2013 – Westbrook back to practicing with the Thunder: For the first time since training camp started, the Thunder had its full complement of players for at least a portion of Monday's practice. Kendrick Perkins, returning from a dislocated left ring finger, was back and is expected to play Tuesday against Phoenix. But the headliner was All-Star point guard Russell Westbrook, who participated in on-court drills with the team for the first time since he had arthroscopic surgery earlier this month. "There were bits and pieces where Russell participated in practice, so that was good," coach Scott Brooks said. "It was good to get everybody out there, working together." In recent weeks, Westbrook has been seen on the court during the portion of practice open to the media, going through light workouts with the Thunder training staff. But on Monday, he apparently amped it up. And even in that brief setting, Reggie Jackson, the man who is replacing Westbrook in the starting lineup, seemed to be impressed. The Oklahoman
10/22/2013 – Kwame Brown is not the future of the 76ers: Why is journeyman center Kwame Brown still on the team? It's a mystery. Brown isn't a hard worker or a leader. He was so ineffective last season that he didn't appear in the final 30 games for a fading team despite being healthy. He has yet to practice due to a strained hamstring and doesn't appear to be in anything close to game shape. Give him his guaranteed $3 million — hard to believe, I know — to go away. The Sixers cannot afford to waste a spot on the 15-man roster, especially with Noel, Arnett Moultrie and Jason Richardson expected to miss more than two months as they recover from injuries. That means the Sixers are essentially already down to 12 players. Teams are permitted to dress 13 for each game. The Intelligencer
Hawks waived James Johnson earlier today. I spoke with him earlier this preseason and he said he had no intention of ever playing overseas

— Lang Greene (@LangGreene) October 22, 2013
===============================================================================================================================================================
10/20/2013 – Tayshaun Prince in jeopardy of losing his starting role with the Memphis Grizzlies: Coming off the heels of a tremendous preseason performance from Quincy Pondexter in which he showed growth in his game, reports are beginning to surface that Q may indeed be the starting small forward for the Grizzlies come October 30th against the Spurs. But what will that mean for Tayshaun Prince, who according to Ron Tillery of the Commercial Appeal has yet to play this preseason due to a stomach bug? Grizzly Bear Blues
10/20/2013 – Paul Pierce on when he believes Deron Williams should return: For Pierce, after seeing the Celtics suffer at least one significant injury each year since winning the title in 2008, it's a message he has learned from experience. "Why come back when you're only 75, 80 percent? Then you come back and you go back down to 50 percent," Pierce said. "We'd rather see a guy take all the rest that he needs and get to 100 percent so he's ready to go." New York Post
Today's Inquirer: Lavoy Allen over sleeps #Sixers practice http://t.co/9dNYV235bj

— Matt Breen (@matt_breen) October 20, 2013
10/20/2013 – Kirk Hinrich out after concussion: Chicago Bulls guard Kirk Hinrich suffered a concussion in Friday night's win over the Indiana Pacers and is expected to miss "a couple days," according to coach Tom Thibodeau. "He's out. He has a concussion," Thibodeau said after Saturday's practice. "Not sure (how long he'll be out). Probably a couple days." Thibodeau acknowledged that Hinrich will have to be cleared under the NBA concussion policy in order to return. Hinrich was injured in the fourth quarter after he fell into rookie Erik Murphy's knee. ESPN
#Blazers coach Terry Stotts says LaMarcus Aldridge (knee) will not play tomorrow night vs Kings. Allen Crabbe (ill) did not practice today.

— Chris Haynes (@ChrisBHaynes) October 19, 2013
=======================================================================================
-The Clippers have covered all of the Lakers' banners in Staples Center. pic.twitter.com/puBbb2KpNP

— Dan Woike (@DanWoikeSports) October 19, 2013
This is the definition of "kicking a man while he's down." – AL
10/19/2013 – Bill Russell arrested for bringing a loaded gun into an airport: NBA legend Bill Russell was arrested this week for allegedly bringing a loaded gun to Sea-Tac International Airport in Seattle, police said. Russell, 79, was arrested Wednesday and issued a state citation for having a weapon in a prohibited area of the airport, said Perry Cooper, a Port of Seattle Police Department spokesman. Russell was issued a citation and released. He had a .38-caliber Smith & Wesson handgun in a forbidden area of the airport, said Lisette Garcia, a Transportation Security Administration spokeswoman. CNN
Andrew Bynum has resumed basketball activities. Andrew Bynum has resumed basketball activities http://t.co/77ZRp4X8dY Seriously. Photos. — Matt Moore CBS (@MattMooreCBS) October 18, 2013
"@nicktoto40: @KingJames what aspects of your game did you improve on this off season?"(Every aspect. Not satisfied where my game is today)

— LeBron James (@KingJames) October 19, 2013
10/19/2013 – The Utah Jazz sign Derrick Favors to a four-year extension worth $49 million: The Jazz have agreed to sign forward Derrick Favors to a four-year rookie extension worth at least $49 million, according to Yahoo! Sports and the Deseret News. The No. 3 pick in the 2010 draft, Favors averaged 9.4 points and 7.1 rebounds, both career-highs, for the Jazz last season. Acquired from the Nets as the centerpiece of the 2010 trade that sent Deron Williams to New Jersey, Favors was a 2011 All-Rookie Second Team performer. In three seasons with the Nets and Jazz, Favors holds career averages of 8.3 points and 6.3 rebounds. This summer, Utah allowed free-agent big men Al Jefferson and Paul Millsap to depart to the Bobcats and Hawks, respectively, to clear minutes for Favors and 2011 lottery pick Enes Kanter as the team undertakes a rebuilding effort. Sports Illustrated
I disagree with this signing but if you want to see the other side, please check out the comprehensive breakdown of the Favors' extension by Jazz Basketball – AL
=========================================================================================
Report: Woman says Maurice Cheeks threatened her, pulled her hair & called her a (expletive) http://t.co/rsSdEzsTkL (via @nbcprobballtalk)

— Fabrizio Gilardi (@Fazzettino) October 18, 2013
10/18/2013 – Joakim Noah out for unspecified amount of time with groin injury: Joakim Noah will be held out of basketball-related activities for a week because of lingering soreness in his groin, according to team officials. The All-Star center will be re-evaluated at that time. Given that Noah won't resume practicing until Oct. 25 at the earliest, the development puts Noah's availability for the Bulls' Oct. 29 regular-season opener in Miami in serious jeopardy. Chicago Tribune
10/18/2013 – Nets retire Jason Kidd's No. 5 in the rafters: The Nets retired Kidd's jersey in a ceremony before their former star coached them against the Miami Heat. Kidd arrived in New Jersey in 2001 and promptly led the Nets, who had been one of the league's sorriest franchises, to consecutive NBA Finals. He played with them until he was traded midway through the 2007-08 season and is the franchise leader in numerous statistical categories. The Nets were a perennial Eastern Conference contender throughout the Kidd era and rarely had anything close to that success except when they were an ABA franchise. NBA
Bogut's latest back issue knocks him out of preseason game vs Lakers in Shanghai. Lower back spasms in first quarter http://t.co/SblF9QtEZh

— Marcus Thompson (@gswscribe) October 18, 2013
10/18/2013 – Cavs' rookie Anthony Bennett, the top pick in the 2013 draft, has asthma and sleep apnea: Cavaliers rookie forward Anthony Bennett, the top pick in this year's NBA draft, has asthma and sleep apnea. Cleveland coach Mike Brown revealed Bennett's conditions Thursday night before the Cavs hosted the Detroit Pistons in an exhibition game. Bennett's asthma was not widely known and obviously did not prevent the Cavs from taking the former UNLV star in June's draft. Bennett has had some breathing issues during workouts and in preseason games, and him being sometimes winded had been attributed to him not being able to work out as much this summer after undergoing shoulder surgery in May. But Brown said Bennett also deals with asthma. "It's a culmination of a lot of things," Brown said. "The shoulder, he's been out for a while, he's got asthma. We're throwing a lot at him. He's probably never played this hard against this competition in his life. He's got sleep apnea and some other things. He likes to stay up late." Bradenton Herald
Chris Paul & JJ Redick don't hate each other anymore, good since they're both #Clippers. http://t.co/xPMgkjUzTQ — Noah Coslov (@NoahCoslov) October 18, 2013
Kevin Garnett tonight: "Tell LeBron to worry about Miami. He has nothing to do with Celtic business."

— Brian Windhorst (@WindhorstESPN) October 18, 2013
================================================================================
As the Bill Russell Legacy Project statue nears its unveiling, we pay homage to 1 of the greatest Celtics of all time http://t.co/Z1P9qadnXA

— Boston Celtics (@celtics) October 16, 2013
10/17/2013 – Michael Jordan's response to the Grizzlies' owner's challenge to a one-on-one game of basketball: Hours removed from the owner of the Memphis Grizzlies challenging Michael Jordan to a charity one-on-one game, MJ had a response: "Comical." That's the word the owner of the Charlotte Bobcats (and Hall of Fame player) used in a brief interview with the Observer Wednesday. If new Grizzlies owner Robert Pera wants to play one-on-one for $1 million to charity (as he said on Twitter), Jordan won't be his opponent. "I think that's comical,'' Jordan said. "It didn't make any sense. Why would I play one one-on-one? It's a no-win situation for me no matter what." Charlotte Observer
10/17/2013 – Harrison Barnes' foot injury could prevent him from entering the starting lineup: The Warriors and Harrison Barnes are expressing confidence that the injury to Barnes' left foot is not major and that sitting him for exhibition games is just precautionary. Still, the injury could have major repercussions for the second-year small forward and the entire rotation if it lingers into the season. Coach Mark Jackson has maintained he has open spots at shooting guard and small forward. He says that Andre Iguodala is a candidate for one of the starting jobs, not an automatic after arriving as a free agent with a four-year, $48-million deal. With Stephen Curry set at point guard, David Lee at power forward and Andrew Bogut at center, Klay Thompson, Igoudala and Barnes are challenging for the opening lineup at the two other positions. NBA
Eric Gordon will play tonight vs. Thunder, making his preseason debut. He will be in starting lineup

— Jim Eichenhofer (@Jim_Eichenhofer) October 17, 2013
10/17/2013 – Date and location of DUI Case for Atlanta Hawks' head coach moved – The DUI case against Hawks head coach Mike Budenholzer was bound over to the Fulton County State Court at the request of the City of Atlanta's Solicitor's office. A future court date will be set at a later time. The motion to have the case moved was filed before Judge Christopher E. Ward in Atlanta Municipal Court Thursday. Budenholzer was not required, nor did he attend, the initial hearing in the case. Atlanta Journal-Constitution
Report: Kris Humphries auctions Kim Kardashian's engagement ring for $749k http://t.co/1NS3ZC8xIR

— Sports Illustrated (@SInow) October 17, 2013
NBA officials are emphasizing delay of game penalties this year. Players can't touch the ball after a make – even to punch it to an official

— Joe Freeman (@BlazerFreeman) October 17, 2013
10/17/2013 – Knicks are being cautious with the health of veteran forward Kenyon Martin: Mike Woodson said Martin took part in the majority of an earlier practice — but the veteran forward continues to be held out of team scrimmages as a precaution to try to keep him available for the regular season and beyond. "I understand it, maybe the younger Kenyon probably wouldn't have, but the more mature and older Kenyon understands what the goal is," Martin said. "They need me in April and May and definitely June." Martin sprained his left ankle near the end of the regular season last April, before averaging nearly 22 minutes per game off the bench in 12 playoff appearances. The 14-year veteran hasn't played in any of the Knicks' first three preseason games, and Woodson indicated he doesn't expect Martin to dress Thursday against the Wizards in Baltimore. New York Daily News
10/17/2013 – Carmelo Anthony wants to experience free agency but has not decided to leave the Knicks: That attitude may actually prove good news for the home team, since it's possible the Knicks will finish in the lower half of playoff qualifiers in the now-stacked Eastern Conference, and, as Howard Beck recently wrote in The Times, Anthony's decision next summer may come down to staying in New York versus winning elsewhere. "I want to be a free agent," Anthony tells me, as our cigars burn close to the nub. "I think everybody in the NBA dreams to be a free agent at least one time in their career. It's like you have an evaluation period, you know. It's like if I'm in the gym and I have all the coaches, all the owners, all the GMs come into the gym and just evaluate everything I do. So yes, I want that experience." Take a breath, Knicks fans. That doesn't mean he's leaving. "I came to New York for a reason," Anthony adds. "I've been with you all my life, almost to a fault. I wanted to come here and take on the pressures of playing in New York. So one thing I would tell my fans: If you haven't heard it from me, then it ain't true." New York Observer
10/17/2013 – The Minnesota Timberwolves are considering Richard Hamilton for last roster spot: One such option that has been floated among the Wolves front office personnel is 14-year NBA veteran and current free agent Richard Hamilton, a league source told 1500ESPN.com contributor Darren Wolfson. Hamilton, who averaged 9.8 points and started 45 games for the Chicago Bulls last season, has ties to Saunders, having played under the former coach for three years with the Detroit Pistons (2005-08). The 35-year-old Hamilton would fit the Wolves' desire to add depth on the wing, especially with swingman Chase Budinger out for at least the first month of the season after undergoing surgery Sept. 30 to remove a quarter of his left meniscus. ESPN
===========================================================================================
Report: Adidas ready to throw $180 million at Andrew Wiggins http://t.co/OsRAlRbXIH

— Kurt Helin (@basketballtalk) October 15, 2013
Marko Jaric on Twitter explained why he has been waived by the Nets: "I am just too much out of shape".

— Sportando (@sportando) October 16, 2013
10/16/2013 – The Golden State Warriors and Andrew Bogut begin negotiations for potential contract extension: The Warriors and Andrew Bogut have opened negotiations on a contract extension designed to keep him off the free-agent market in July, he told NBA.com, with Bogut willing to make major concessions to stay but also looking for payback from management for pursuing Dwight Howard last offseason. Bogut said team officials started conversations with agent David Bauman last week, before the Warriors left Oakland for exhibition games in Beijing and Shanghai against the Lakers. Bogut expects talks to heat up once Golden State returns to the United States following the Friday night contest (7:30 a.m. ET, NBA TV). The issue will come to some resolution by early in the regular season: either he will have a new deal soon or he will become a free agent because neither side wants the discussions dragging long into 2013-14. Bogut said the initial numbers from the Warriors, "… weren't insulting. But they weren't what I'm looking for. Nothing concrete has been actually formally written up. We've just been going back and forth, but nothing too crazy." NBA
10/16/2013 – Charlotte Bobcats' players and grade school students to sign pledge for fight against bullying: The Charlotte Bobcats have partnered with Wells Fargo and Jordan Brand to focus on educating students about the repercussions of bullying when the Bobcats host the Philadelphia 76ers on Thursday, October 17 at 11:00 a.m. in the ninth annual Cool School Field Trip. The theme of this year's game, which will be attended by more than 15,000 area middle school students, is "Too Cool to Bully." During the game, students will participate in various activities to help them understand how bullying affects their peers and how to stand up to bullies in their respective schools. Bobcats players and students will also sign a pledge to stop participating in bullying and stand up for those being bullied. "School bullying is a growing concern throughout the Charlotte community among parents, students, teachers and administrators," said Bobcats Sports & Entertainment President & COO Fred Whitfield. "As an organization, we want to do our part to make students aware of the impact and harm bullying causes, and assist in helping to combat this behavior in our schools." NBA
10/16/2013 – Amar'e Stoudemire will be limited to 20 minutes per game: Mike Woodson hinted that Amar'e Stoudemire may not be allowed to play more than 20 minutes per game this season. "We've just got to figure out if it's going to be 10 minutes, 15, 20. We won't know at this point until he's back on the floor and seeing how things are going," Woodson said Tuesday. Stoudemire averaged 23.5 minutes per game last season, when he was limited to 30 minutes per game by the team's medical staff. The minutes limit proved prudent because Stoudemire needed a second knee surgery in March after he experienced soreness following a four-games-in-five nights stretch. ESPN
=========================================================================================
Mavs Devin Ebanks has been suspended for 2 games without pay for pleading no contest to driving under the influence of alcohol in Cali.

— Marc J. Spears (@SpearsNBAYahoo) October 14, 2013
10/15/2013 – Trey Burke to miss six weeks following surgery on his broken finger: Utah Jazz rookie Trey Burke will undergo surgery on a broken finger on his shooting hand. Burke will have the operation on Tuesday morning in Salt Lake City. Pins will be inserted to stabilize the point guard's right index finger, which he fractured during a 106-74 preseason loss to the Los Angeles Clippers on Saturday night. The Jazz did not announce a timetable for Burke's return. Early reports said he was expected to miss anywhere from eight to 12 weeks, but a source close to Burke told ESPN The Magazine's Chris Broussard the timetable was closer to six weeks. "It's unfortunate that it would happen now in training camp," coach Tyrone Corbin said after Monday's practice. "He was learning a new game and the way to play it and he was making great strides. And now he won't have a chance to be in a game for a little while. But he can learn in different ways." ESPN
Helping @John_Wall keep his commitment to writing "Playoffs" on his shoes, using glitter text and tattoos. http://t.co/AsZAO8ca0u

— Bullets Forever (@BulletsForever) October 15, 2013
10/15/2013 – Corey Maggette decides to retire: Corey Maggette said over the weekend that if he couldn't make the Spurs roster — and it was a long shot going in — he was going to retire. Tuesday the Spurs announced they have waived Maggette. This looks like the end of a 14-year NBA career. In those years Maggette was a solid overall player who brought one elite skill to the table — he could draw fouls and get to the line with the best of them. He led the league in free throw attempts in 2004 and was in the league's Top 10 in attempts six times. Pro Basketball Talk
Guard Sebastian Telfair has reached a deal with Tianjin in China, agent Andy Miller tells Yahoo. Telfair can return to the NBA in February.

— Adrian Wojnarowski (@WojYahooNBA) October 15, 2013
=========================================================================================
10/14/2013 – Tom Thibodeau says Taj Gibson has been the best player in Bulls' camp: It didn't take 18 points, eight rebounds and four blocks from backup big man Taj Gibson on Saturday to remind coach Tom Thibodeau of his value. ''You could make a case that Taj has been our best player in camp,'' Thibodeau said. That's a much better place than where Gibson was at this point last year. With a contract extension weighing on his shoulders during the preseason and knee problems slowing him down during the regular season, Gibson had a disappointing 2012-13. ''I feel a lot more comfortable,'' Gibson said. ''I know the sets, I know the plays and I'm getting touches in the post, so I feel a lot more comfortable with that right now. My shot is real good right now. It's all about taking it and running with it.'' Chicago Sun-Times
Boston's Keith Bogans out indefinitely with sprained thumb http://t.co/l7g0pRum4Q

— Kurt Helin (@basketballtalk) October 14, 2013
Former Indiana G Eric Gordon had his first full contact work of the preseason today with New Orleans, reports @JohnReid64

— Jeff Rabjohns (@JeffRabjohns) October 14, 2013
10/14/2013 – Carl Landry out 3-4 months after hip surgery: The Kings received a serious blow to their frontcourt Monday as forward Carl Landry will miss 3-4 months after hip flexor surgery, the team announced. Landry suffered a tear in his left hip flexor during a recent training camp practice. He will have surgery to repair it Tuesday morning in Philadelphia. Landry signed with the Kings over the summer for $26 million over four years — his second stint with the team — adding a talented veteran presence to an inexperienced, but deep frontcourt. Landry was set to rotate in with Jason Thompson, Chuck Hayes, Patrick Patterson and DeMarcus Cousins, making the frontcourt one of the strongest positions on the Kings' roster. CBS Sports
10/14/2013 – Carmerlo Anthony took a "huge risk" by not opting for surgery on his shoulder: "I'm ecstatic going from a torn rotator cuff and torn labrum to not needing surgery," Anthony told reporters in Manchester, N.H., on Saturday. "Let me take that back: taking a risk in not taking surgery and letting it heal on its own. I took a huge risk in doing that. It meant I had to put more time in the offseason to do what I had to do to get it right. "If he'd opted to have surgery, doctors told Anthony he would have missed the beginning of the season. "I would have been out four, five months because of the severity of the tear," he said. There's an inherent risk, of course, in deciding against surgery. Anthony's shoulder, presumably, is more susceptible to damage if he gets hit repeatedly this season. If he opted for surgery, his shoulder would have been 100 percent healthy when he hit the floor. ESPN
I really hope this does not end up a handy 10-second short-hand for the Lakers' season: http://t.co/Ok0q2d8f8S

— Zach Lowe (@ZachLowe_NBA) October 14, 2013
10/14/2013 – Kobe Bryant says his Achilles is improving – Asked if he thinks about the Achilles during workouts, Bryant said: "I haven't had any pain or any soreness whatsoever. It's kind of a flexibility thing, and getting the range of motion back—feel like you can bend without having to lift the heel up. After months of the tendon being compressed, now you have to work to stretch it out a little bit." After questioning his conditioning level Wednesday in Los Angeles and suggesting he'd need three weeks to regain it, Bryant said Monday in Beijing that he has gone through that initial "misery" to make major conditioning progress. However, he said, "I haven't pushed it, pushed it, pushed it." Bleacher Report
=========================================================================================
10/13/2013 – Andre Miller plans to play another three seasons: The 37-year-old point guard is staring down the start of his 15th NBA season, with 1,126 games under his belt and more than 37,000 minutes played. He will cross the 40,000-minute mark this season if he averages 30 minutes per game. "I could still play 35 minutes," Miller said. "Coming back here, I was slowed down (last year). I was doing well in Portland, playing 33, 34 minutes a game, and the situation was, I was traded back here and basically told I would be a backup. I still feel I can play a high amount of minutes, but teams have what they are doing, and I have to fall in line." Denver Post
Bobcats' Jefferson sprains ankle, eyes opener: Al Jefferson has sprained his right ankle and hopes to… http://t.co/0oRQoDE3RL @xtbball

— Basketball (@xtbball) October 13, 2013
Nene receives poor reception in Brazil homecoming: http://t.co/jTDSdpVnC9 #wizards

— Michael Lee (@MrMichaelLee) October 13, 2013
10/13/2013 – Cody Zeller out after having his appendix removed: Cavaliers forward Tyler Zeller will be sidelined for an indefinite period after having his appendix removed. The second-year forward had an appendectomy Friday at the Cleveland Clinic. The team said Saturday that Zeller is recovering in the hospital and no timetable has been set for his return. Yahoo Sports
10/13/2013 – Royce White plays his first NBA minutes: White (6-8, 260) finished with five points, three rebounds and five personal fouls in just less than 10 minutes on the court. The power forward picked up his first four fouls in less than three minutes in the first quarter, two while trying to set picks. "I was happy to be out there," White said. "I didn't think I played well. I'm still not making plays that are routine for me … but it's just a feel thing, getting a feel back." The 22-year-old remained in Philadelphia earlier this week rather than flying with the team to Europe to play preseason games in Spain and England. USA Today
Report: Greg Oden cleared to start training next week.

— Team Wade™ (@HeatArmy) October 12, 2013
Deron Williams: Jason Kidd unsure if he will play in season opener against the Cleveland Cavaliers on October… http://t.co/DXEwXcBDkx

— NBA Buzz (@NBABuzzFB) October 13, 2013
=========================================================================================
10/12/2013 – Derrick Rose held out of preseason game because of knee soreness: The Bulls held Rose out of their 83-81 exhibition victory over the Wizards at HSBC Arena on Saturday with left knee soreness that team officials termed "minor." With nothing structurally wrong with Rose's surgically-repaired knee, no MRI planned and Rose even dressing to warm up with his teammates and then sit on the bench, that certainly looks true. But nothing is minor with any NBA superstar, particularly one who's the face of a franchise and returning from sitting out an entire season. "I'm good," Rose said. "I could've played, but the front office made the decision to sit me out. I can't complain about it. It's nothing huge. I know that I should be able to go next game." Chicago Tribune
10/12/2013 – Rajon Rondo reiterates his desire to stay in Boston: When Doc Rivers, Kevin Garnett and Paul Pierce all departed from Boston this offseason, speculation swirled that, for a variety of reasons, Rajon Rondo would be the next to go. The All-Star Celtics point guard, speaking to reporters Tuesday night at the Four Seasons Hotel in Boston strongly disagreed with the notion. "I love it here," Rondo said, according to a CSNNE transcript. "The fans are great here. And Danny [Ainge] has been straightforward with me. This is my team. Why would I want to leave? Why would I want out? I never really backed away from a challenge. This would be a challenge. I'm looking forward to working with coach [Brad] Stevens. It's a brand new start for us as a team. A lot of new players and a lot of young guys willing to listen, so I'm very excited." Boston Globe
10/12/2013 – Horace Grant claims Michael Jordan would average 45 points in today's NBA: Grant, when asked about today's League, claims that Michael Jordan would score about 45 per night (Horace also strongly disagrees with Scottie Pippen's belief that LeBron James could be the best of all time.) Per the Chicago Tribune: "Asked if the Miami Heat could compete with his Bulls' teams, Grant smiled. 'We would've kicked their (butts),' he said. Then Grant added a caveat. 'No, you can't compare (eras),' he said. 'The rules have changed so much from our days and the Heat's days. It was more physical back then. Today you can run around without getting touched. Today, Michael Jordan would average about 45 points.'" Slam
=========================================================================================
UPDATE: Rodney Stuckey underwent successful surgery to repair a fracture of the distal phalanx on his right thumb. #Pistons

— Detroit Pistons (@detroitpistons) October 11, 2013
10/11/2013 – Ekpe Udoh will miss four to six weeks after knee surgery: The Bucks announced Friday that forward Ekpe Udoh will be sidelined for 4-to-6 weeks after undergoing arthroscopic surgery on his right knee. Udoh, 26, did not play during Milwaukee's first two preseason games because of knee soreness, and the surgery will keep him out for the remainder of the exhibition schedule. His initial recovery timeline has him missing the Bucks' first 4-to-11 regular season games. New Bucks coach Larry Drew opened the preseason with a starting frontline of Larry Sanders, Ersan Ilyasova and Caron Butler, and that trio figures to command the majority of the minutes in the early going, once Ilyasova recovers from an ankle injury. Reserves John Henson, Zaza Pachulia and Miroslav Raduljica are also on hand during Udoh's absence. Sports Illustrated
10/11/2013 – Jeremy Lamb has peformed poorly in his first two preseason games: He got his shots Tuesday — he played 25 minutes against the Pacers and got 11 shots off from outside the paint, hitting just one of them and going 0-of-8 from three. In the Thunder's first preseason game against Istanbul he was 2-of-6 on jumpers and 1-of-4 from three. What may be most concerning is this continues a trend. At Summer League in Las Vegas Lamb shot 39.1 percent overall and 27.3 percent from three. Last season Lamb shot chart was not pretty (unless you love the color red). Pro Basketball Talk
Brandan Wright of Dallas Mavericks out indefinitely with shoulder fracture: An MRI revealed a small, non-displ… http://t.co/IDYJ7LfJzL

— Prosper Coffee (@ProsperCoffee) October 11, 2013
Kendrick Perkins has been accused of punching a woman & her brother outside a Houston nightclub. Perkins posted a $1,000 bond this morning.

— NBA Legion (@MySportsLegion) October 10, 2013
10/11/2013 – Michael Malone believes Jimmer Fredette is a combo-guard: Questions about Fredette's defense, position in the NBA and whether he can get his shot off quickly enough against pro defenders have been among the reasons his playing time has been inconsistent through two seasons. Fredette has been solid during the offseason, and Malone wants to give him a chance to show what he can do. "I see him as a combo (guard), a guy you can use on the ball and off the ball," Malone said. "He has a high basketball IQ, he has the ability to make plays for his teammates, and he's one of the better shooters on our team from the perimeter. So I think that's the luxury you have with a guy like Jimmer, on and off the ball." Sacramento Bee
10/11/2013 – Norris Cole claims to be unaffected by trade rumors: Cole said he heard of the recent Fox Sports report the Heat may have dangled his name in trade offers. He will leave those decisions to management, but he remains comfortable in Miami. "I'm comfortable with the guys, with the coaching staff, with the team," Cole said. "This is all I know. I'm blessed to be in this position." Heat coach Erik Spoelstra said he expects Cole to continue his steady ascent since being acquired in a draft-day trade in 2011. Last year, Cole improved in nearly every statistical category, most notably 3-point shooting. Sun Sentinel
10/11/2013 – Pau Gasol is not likely to take a paycut to stay with the Lakers: In the interest of the Lakers maximizing their financial flexibility, would Gasol accept taking a significant paycut? "Probably not," he said. "You have to explore your options, but I would like to continue to play for the Lakers and maybe finish my career here. But you have to see the cards on the table." Los Angeles Daily News
=========================================================================================
10/10/2013 – Brandon Knight points the finger at Pistons for poor assist numbers: That perception is Knight isn't a true point guard, that his mentality is to shoot first and maybe pass second. The critics support their case by pointing to the statistics. Knight counters by saying the statistics are skewed. Knight averaged a mere four assists a game while playing for the Detroit Pistons last season. That tied him for 38th place in the NBA. Not good. But Knight insists that stat is rather deceiving. "I'm not trying to blame anybody," Knight said while carefully choosing his words. "But the team we had … It was a tough situation. When you have shooters, it's easy to get assists because they're going to knock down open shots. We had, maybe, one (Kyle Singler) knock-down shooter. And I didn't have any bigs who could stop and pop. The only one we had was Charlie Villanueva and he didn't play much. And, when he did play, he was with the second unit so I wasn't playing much with him." Racine Sports Zone
10/10/2013 – Mike D'Antoni is using two bigs in new-look Laker lineups: "The two bigs can play together. I didn't know that," said D'Antoni after practice Wednesday. Pau Gasol and Chris Kaman started together in the front court, with Gasol listed as forward and Kaman center. "I've not traditionally loved two bigs together, but they have nice chemistry and they both are skilled," D'Antoni said. "We'll see going forward, but it looked good last night." Gasol scored 14 points in 24 1/2 minutes on six-of-11 shooting with eight rebounds. Kaman had 12 on six-of-11 shooting along with seven rebounds. D'Antoni still hasn't decided on a starting five. He's still considering going for a smaller player with a shooting touch, like Shawne Williams, to stretch the floor. LA Times
Bobcats' Brendan Haywood out at least 12 weeks following foot surgery http://t.co/z1VsifGM99

— Kurt Helin (@basketballtalk) October 10, 2013
To folks sending me the news about the Raptor mascot's season-ending injury: I'm aware, and have been mourning since yesterday evening.

— Zach Lowe (@ZachLowe_NBA) October 10, 2013
10/10/2013 – J.J. Redick out for the next ten days: In what looks to be a precautionary moves, Doc Rivers reveals that shooting guard J.J. Redick will be out at least a week with a bruised left guard after the Los Angeles Clippers held an open practice at USC. The left quad injury was the reason Redick didn't appear in the Clippers opening preseason game as they downed the Portland Trailblazers 89-81. Fully Clips
10/10/2013 – Nicholas Batum suffering from concussion: The list of Trail Blazers who have been injured during training camp got a little longer on Tuesday with Nicolas Batum suffering a concussion during practice on Tuesday. He will not play in Wednesday night's preseason game against the Suns at the Moda Center. The injury occurred when Batum collided midair with Will Barton, who also suffered a concussion early in training camp, while driving to the basket. Batum reportedly hit the basket stanchion after the collision. It's not known whether it was the collision with Barton or the stanchion that caused the concussion, but it is clear that he will not be in uniform for Wednesday night's game. CBS Sports
=========================================================================================
Joakim Noah has signed on with adidas Basketball (@adidasHoops) was formerly with Le Coq Sportif

— Steve Kyler (@stevekylerNBA) October 8, 2013
RT @NBA_Spen: adidas Basketball (@adidasHoops) – now has 7 Bulls players… Noah, Rose, Teague, Snell, Butler, Gibson, Murphy

— Steve Kyler (@stevekylerNBA) October 8, 2013
10/8/2013 – Will Jason Collins ever play in the NBA again: "There would probably have been slight awkwardness in the beginning," Kings forward Chuck Hayes said. "But after a while, he's a man, he's a human being, he's a ball player. You'd just treat him like any other teammate." Warriors president and chief operating officer Rick Welts, who is also openly gay, told Yahoo Sports that he spoke to Collins last week over the phone. Welts said Collins is in good spirits despite not being signed. "I didn't know what to expect and I don't think Jason knew what to expect," Welts said. "I am rooting for him and I think a lot of people are rooting for him to find a job. But where that is going to be, how that is going to come about and whether it will, is an open question. There are a lot of basketball players looking for jobs right now. He just happens to be 7-feet tall and a good character guy. Yahoo! Sports
Amar'e said it's possible he will play in the season opener Oct. 30 and he believes he can dominate again.

— Al Iannazzone (@Al_Iannazzone) October 8, 2013
10/8/2013 – CDR looking to land a roster spot with the Knicks: Douglas-Roberts, a 6-foot-7 wing who has played for five teams in three leagues since turning professional five years ago, is facing long odds to find a home with the Knicks as a free-agent invitee to training camp. He cannot afford an injury. He has little margin for error. And as the Knicks churn their way toward the Oct. 28 deadline to trim their roster to 15, a solid case can be made that no one on the team better understands the cruel calculus of retaining gainful employment in the N.B.A. "Everything is different now," said Douglas-Roberts, 26, who once starred alongside Derrick Rose at the University of Memphis before the Nets made him the 40th selection in the 2008 draft, which turned out to be the first of several hard lessons. Douglas-Roberts considered himself a first-round pick. "When I first came out, I just expected everything to happen," he said. "I expected to be in the N.B.A. I was upset when I got picked late. I didn't know how much of a blessing it was just to be in the N.B.A. So the last couple of years have made me appreciate the little things." New York Times
When asked how many offenses he's been a part of as a King, DeMarcus Cousins said: "Actually this is my first one."

— Marc J. Spears (@SpearsNBAYahoo) October 8, 2013
10/8/2013 – Carlisle calls out Dalembert: "I just told him in front of the whole team that he's got to keep working," said Carlisle, who mentioned Dalembert's conditioning issues to the media without a question being asked about the center. "We need his minutes. They're going to be very important to us. He's a factor. When he's in shape, he's a factor as a rim protector and rebounder, and he gives you a big, active, athletic body in there." Dalembert, an 11-year veteran playing for his fifth team in five seasons, didn't agree with his coach's assessment of his conditioning. "It's not that," said Dalembert, who was fighting a relatively serious case of the sniffles. "The main thing that happened to me is I got hurt. I got hurt in the first practice of camp. Stupid me, my pride takes over and I wanted to practice. I didn't want to take off, so that kind of slowed me down a little bit." ESPN
Clippers coach Doc Rivers said before the game, "I want my second unit to have its own identity separate from the first unit."

— John Canzano (@JohnCanzanoBFT) October 8, 2013
10/8/2013 – New look Nets bonding in the sky: The NBA schedule can be relentless, and many veterans loathe those late-night flights and pre-dawn arrivals. Jason Terry considered himself a card-carrying member of that club until this last week or so, all thanks to the apparent yuckfest and chat sessions when the Nets take to the friendly skies, as they did Monday night. "It's a great vibe, it's a brotherhood," Terry said after practice at the PNY Center Monday before the Nets hopped on their chartered flight to Washington. "It's what you envision when you come into a new group of guys with the veteran leadership that we have. The best part of it is the plane rides. I can't wait to get on the plane ride right now. "Usually, during the season, you're like, 'Damn, another plane trip?' Now it's like, 'Yeah, let's get on the plane, man, let's fellowship.' And that's what it's been about this first week." Newsday
Ex-Grizz Sam Young said he got the following Tweet after accepting camp deal with Spurs: Welcome to Texas. I still hate you from 2011.

— Dan McCarney (@danmccarneysaen) October 8, 2013
Pelicans GM Dell Demps said on tonight's radio broadcast that Tyreke Evans could be out one to two weeks, but should be ready by opener.

— John Reid (@JohnReid64) October 8, 2013
10/8/2013 – Gustavo Ayon injures shoulder: The Hawks lost Gustavo Ayon to a right shoulder injury. The forward/center was hurt fighting for a loose ball against the Heat's Norris Cole with 1:41 remaining in the first quarter. He did not return after playing just 3:41 upon entering the game as a substitute. According to the Hawks, Ayon will be re-evaluated and his status will be updated Tuesday.The Hawks claimed Ayon off waivers from the Bucks. This summer the 6-foot-10 Ayon helped Mexico to the FIBA Americas tournament championship as he claimed the MVP award. Atlanta Journal-Constitution
10/8/2013 – No Bulls beef: John Paxson would like names. One name, several — it really didn't matter Monday to the Bulls' vice president of basketball operations, who just wants someone to step up and ''be a man.'' In a Yahoo Sports story published Sunday, the relationship between Bulls general manager Gar Forman and coach Tom Thibodeau was described as a ''distrust'' and ''downright disdain.'' An NBA coaching source was quoted as saying, ''It is a toxic relationship that I believe will ultimately derail them.'' Forman and Thibodeau haven't always seen eye-to-eye on personnel moves, which has been well documented, but Paxson takes exception to the idea that it's a feud heading toward a boiling point.''We're so far past that,'' he said. ''To continue to try and keep it going, I don't know what the agenda is. That's one thing that we all talked about, really from the beginning of this year: No one has any agenda here. Chicago Sun-Times
===========================================================================================================================================================
10/7/2013 – Norris Cole on the move: It hardly seems like the Miami Heat are desperate to make a move after three straight Finals appearances (and back-to-back titles), but word is they've explored what backup point guard Norris Cole may bring in return. Cole is entering his third season, and while inconsistent offensively, is one of the league's staunchest on-ball defenders. FoxSports
Re: Norris Cole… Heat has a cheap team option him after season. Doesn't make sense to move him unless u r unloading something else (J.A.).

— Ethan J. Skolnick (@EthanJSkolnick) October 7, 2013
And even then, it really only makes sense if you trade for picks or someone on last year of deal.

— Ethan J. Skolnick (@EthanJSkolnick) October 7, 2013
10/7/2013 – Chris Copeland adjusting to life with the Pacers: The player Chris Copeland's new teammates inquired most about was J.R. Smith because, well, it's J.R. Smith. And of course, there was the obligatory teasing from the Indiana Pacers when Copeland arrived in the locker room just a few months after the Pacers eliminated the Knicks in the second round of the playoffs and ended Copeland's promising rookie season. "It was super weird in the beginning," Copeland said. "Walking into this locker room and on the court was strange. Sooner or later I'll be at the Garden and that will be odd. But I still love the guys I played with last year. That was like a family." The divorce settlement, however, wasn't bad as Copeland signed a two-year, $6 million free-agent contract in July with Indiana. It was a small but important signing considering the 6-foot-8 Copeland gives the Pacers what they lacked; a big man with 3-point range. That he was a rising player from an Eastern Conference rival was a bonus. New York Daily News
10/7/2013 – Wiggins avoids the hype and finds normalcy video games: When the world is watching your every move, fans are tracking your flights so they can greet you at the airport and you can't escape autograph hounds on campus … how do you get away? How do you reconcile being a normal college kid — and supposedly the greatest basketball prospect since LeBron James? A quiet teenage boy — and already the projected No. 1 pick in the 2014 NBA draft? For Andrew Wiggins, the answer is simple: video games. "He's also first-team All-American Call of Duty," jokes Rob Fulford, Wiggins' high school coach. Says fellow Kansas freshman Wayne Selden: "That's all he does. I go in his room, and he's talking to the TV screen. That's what he does. That's his thing." The rest of the time, basketball is his thing. USA Today Sports
10/7/2013 – Brian Shaw learned patience from the Zen Master: Nuggets coach Brian Shaw has reached out to the former Lakers coach, a man he played for and coached with during his time in Los Angeles, and the best piece of advice he received from Jackson was patience. "I'm laid back by nature, anyway," Shaw said. "Phil had a lot of patience and he allowed for the players to kind of figure some things out on their own. I've been kind of trying to do the same thing, not spoon feeding them everything, but just enough and see who has the ability to figure out what they need to do."Shaw recently ran into Jackson at a coaches clinic in Los Shaw said he had saved all of the Lakers practice plans from when he was an assistant "just to kind of gauge how we put things in, in training camp and how we introduce certain things." Eventually, Shaw plans on inviting Jackson to a Nuggets practice, "just kind of see how I'm doing," he said. He said it would probably be when the Nuggets play a game in Los Angeles. They have three games in the area this season. Denver Post
Asked by @LAIreland if Xavier Henry @xhenry7 is playing his way off roster bubble (and onto the team), D'Antoni said: "I would think so."

— KEVIN DING (@KevinDing) October 7, 2013
My man X putting up 22 PPG in the preseason. – FB
10/7/2013 – Mike Brown likes his veterans "crusty": Of all the ways to describe his new free agent guard, the best Cavs coach Mike Brown could come up with in describing Jarrett Jack is "crusty." He meant it, of course, in that grizzled, tough veteran sort of way — not the smelly, stale form that is only cured with a bar of soap and some hot water. "He's kind of crusty. There's not a lot glamorous when you look at him," Brown said. "He's not trying to look good or look beautiful out there. He just wants to win and get the job done." Jack is eloquent, thoughtful and well spoken. He has squeezed out every ounce of talent available and has earned $25 million over eight years (from now six different teams). Akron Beacon Journal
Sounds like Jack may need some lotion. – FB
Roy Hibbert went to Texas this summer to train with a legend….But unlike Hakeem, Tim Duncan didn't charge $100,000. He did it for free.

— Frank Isola (@FisolaNYDN) October 7, 2013
Of course, Tim Duncan can't teach the "Dream Shake" in five easy steps. For $50,000 to $100,000 that's what Hakeem can do for you.

— Frank Isola (@FisolaNYDN) October 7, 2013
10/7/2013 – The key to Alexy Shved's game is in his smile: Now Turiaf unknowingly has joined the chorus, encouraging the second-year Russian guard to play with more joy and less concern for his errors while coach Rick Adelman just wants Shved to become more "engaged" when he's playing off the ball. "If Alexey smiles, everything else takes care of itself," Turiaf said. "If he doesn't smile, he's a different player." Much has changed for Shved since a rookie season in which his ball-handling and playmaking tantalized at times. But as plain as day, he also slammed into that rookie wall in the final months during a year when he played more minutes than anyone imagined. Now he is a year wiser and stronger — "I make muscles," he says — even if the wiry 6-6 combo guard still weighs the same starting a season when he no longer has fellow countryman Andrei Kirilenko by his side. "He's my great man, my good friend and he really helps me," said Shved, who says he still talks to Kirilenko every other day after his pal signed with Brooklyn last summer. "But he has his life and I have my life." Minneapolis Star-Tribune
Patty Mills told @Monroe_SA he had to start watching what he eats now that he's reached a certain age. Uh, you're 25. Wait til you turn 40.

— Dan McCarney (@danmccarneysaen) October 6, 2013
S/O my guy @Trobinson0 .. The dude is on a mission to show people what he is made of. Extremely hard worker and humble.

— Meyers Leonard (@MeyersLeonard11) October 7, 2013
10/7/2013 – Avery Bradley welcomes starting the season with no setbacks: There are no injuries and there's no lockout, and after a full summer of preparation, Bradley was ready to go on the opening day of camp last week. "It feels good,'' said Bradley after practice Sunday afternoon. "I've been making a lot of improvement in my game. I feel good about everything. "You kind of get a rough start (without a regular camp). I get a rhythm now and I feel more comfortable going out there playing the preseason games. I feel like I'll be ready for the season.'' The Enterprise
Nash was encouraged by what he saw from @paugasol. "He's going to be very central to what we do."

— Mike Trudell (@LakersReporter) October 7, 2013
#Mavs C Fab Melo when asked if he's surprised of Boston's housecleaning: "After the first trades I knew something like that would happen."

— Dwain Price (@DwainPrice) October 7, 2013
10/7/2013 – Henry and Johnson both suffer injuries in preseason game: Wesley Johnson has been a star during Los Angeles Lakers training camp, receiving daily compliments from teammates and the coaching staff in the press. And Xavier Henry, with a combined 44 points in L.A.'s first two preseason games, has been the darling of the early exhibition slate. So it was doubly discouraging to see both players suffer injuries in Sunday's 97-88 preseason loss to the Denver Nuggets. Johnson left the game in the first quarter because of a strained left foot, finishing with only two points and three rebounds in eight minutes, while shooting 1-for-5 from the field with two turnovers. "There was some burning sensation in his foot," Lakers coach Mike D'Antoni said. "We're hoping [it is] not bad." Johnson has an MRI exam scheduled Monday to examine the injury. Henry, who scored a team-high 15 points on 4-for-7 shooting and 7-for-9 from the foul line, aggravated the moderate sprain in his right (non-shooting) wrist in the fourth quarter. "He's had that for a couple weeks," D'Antoni said. "Right before camp opened we were playing a pick-up game and he hurt it." Henry is with the Lakers on a non-guaranteed, training camp invite and is trying to make the team's 15-man roster. "He's an NBA player and he's only 22-23 years old," D'Antoni said. "He's shown enough that, yeah, he can play in this league. We'll see what role he can carve out, but I'm really happy right now with his performance." ESPN
Damian Lillard on when he first heard about CJ McCollum's injury: "It made my stomach turn."

— Chris Haynes (@ChrisBHaynes) October 7, 2013
LeBron got his son, LeBron Jr., a supre freakin cool Xbox cake for the young boy's 9th birthday and put the picture on his Instagram account.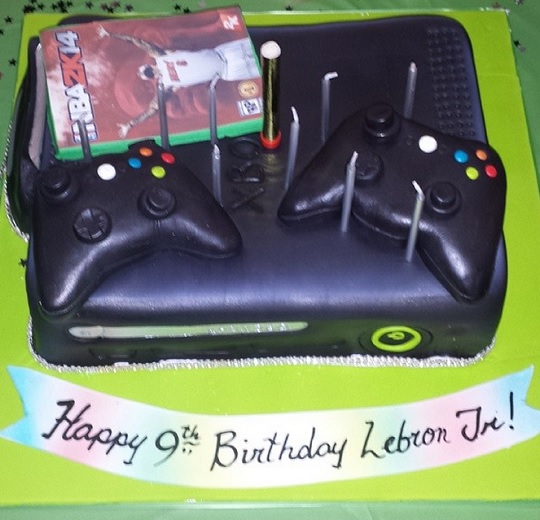 "Bronny Dope Xbox cake with that 2K14 #SwagCake #CakeCakeCake"
Well that tops the Superman cake I got when I was five. – FB