Baller Mind Frame's official news and rumors page with quick blurbs mixed with personal opinion from our very own Frankie Buckets. Check it often and absorb the NBA goings-on.
For more news and rumors visit our archives – June 2013 I July 2013
There are still three NBA teams out there, if you're wondering, that MUST sign players before training camps open: Bulls, Lakers and Sixers
— Marc Stein (@ESPNSteinLine) August 30, 2013
Bulls & Lakers each have 12 players under contract … one shy of NBA minimum 13. America's Team — Philly — has 11 players under contract

— Marc Stein (@ESPNSteinLine) August 30, 2013
8/30/2013 – Nick Young hosts back-to-school event in his home town: Lakers guard/forward Nick Young went home Wednesday, hosting his third annual back-to-school giveaway at Robertson Park. "This is where it all started from, right here at Robertson Park," Young said. "It's where I grew up playing. I have history here. This is my neighborhood." The six-year NBA veteran donated school supplies and barbecue to a park full of children. He even hit the court for multiple sets of two-on-two against eager kids and teenagers. Young partnered up with his personal assistant Adrian (last name unclear, but familiarly called "Big Meat")."Thanks for dunking on me," yelled out one of the kids."It's a dream come true," said 18-year old K.C., whose team gave Young and Big Meat a reasonable challenge. "It's Nick Young. I grew up watching him through the USC days, the Clippers, the [Philadelphia] 76ers, [and Washington] Wizards. I just grew up watching him play." After the games, Young raffled off memorabilia, laptops and iPads. Brandon Jennings of the Detroit Pistons wasn't present, but donated a pair of signed sneakers. When all the items were all given out, Young took it a step further — peeling off his Nike Jordans. An 8-year old boy left with the signed pair. L.A. Councilman Paul Koretz was also on hand to welcome Young back to Robertson Park. "Nick Young is a great guy. I'm glad that he's in L.A. [with the Lakers]," said Koretz. "He's a real mensch. He may not have even have heard the word before, but he is one."Mensch is a Yiddish word for a person of integrity. NBA players Dorell Wright of the Portland Trail Blazers and Jordan Crawford of the Boston Celtics both stopped by in support. Los Angeles Times
If I can run. I can jump #justdoit #40+ #vinovine https://t.co/CcH3eUCJfl

— Kobe Bryant (@kobebryant) August 30, 2013
8/30/2013 – SuperSport Acquires NBA Rights: Pay-television sports broadcaster SuperSport, says it has agreed a multi-year television and digital rights partnership with US basketball league the NBA. The deal is historic as it is the first time NBA action will be available on SuperSport. The broadcast giants will offer content, live games and other programming across 47 territories in sub-Saharan Africa.Expressing delight at what is arguably the company's most lucrative partnerships, Brandon Foot, SuperSport's Head of Acquisitions and Legal said: "This is unquestionably one of the jewels in our crown. Some of the greatest names in sport have played in the NBA, so it is only fitting that they come to the 'World of Champions' where the best sport is broadcast. Ventures Africa
8/30/2013 – Lamar busted for D.U.I.: Lamar Odom was arrested for "driving under the influence of alcohol and/or drugs" early Friday morning … TMZ has learned.The bust occurred in the San Fernando Valley at 3:54 AM. Lamar — who was driving a white Mercedes SUV — was popped by the California Highway Patrol and taken to a nearby station, where he was booked and is being held on $15,000 bail. He was pulled over on the 101 Freeway for going too slow — 50 MPH. Cops say Odom had been driving in a "serpentine manner." Lamar initially did not respond to cops, and drove 3 exits before finally coming to a stop. Law enforcement sources tell TMZ he showed obvious signs of intoxication. Lamar failed numerous field sobriety tests. When Lamar was booked, we're told he refused all chemical tests. Lamar's booking sheet shows he is 6'10" and 235 lbs. TMZ.com
————————————————————————————————————————————————————-
The Bulls, Clippers, Knicks and Pacers all had interest in Ivan Johnson. The higher money in China proved to be the key difference.

— Jared Zwerling (@JaredZwerling) August 29, 2013
8/29/2013 – Suns trade Caron Butler to the Bucks: Caron Butler donned a Suns uniform at a public unveiling of the new duds two weeks ago and that looks like it will be the only time he will be seen in it.The Suns have agreed to trade Butler, a Racine, Wis., native, to the Milwaukee Bucks for point guard Ish Smith and center Slava Kravtsov about seven weeks after they acquired Butler and hailed him as a veteran influence for the youthful Suns and part of the future. The Suns gain $5.65 million of cap space for any potential in-season trades but also save that money to make an expected costly waiver of Michael Beasley more palatable. Beasley would be owed $9 million of guaranteed salary. Arizona Republic
Omer Asik on playing w/ Howard to @TrendBasket: NBA's best center joined to the team. I don't know how we are going to play actually.

— Can Pelister (@canpelister) August 29, 2013
Asik: After national team the situation will be more clear. Important thing is winning. I will do everything for the win.

— Can Pelister (@canpelister) August 29, 2013
8/29/2013 – Love at lightest playing weight ever: The Wolves' Kevin Love, in town setting up residence for the coming season, showed up at Target Center this week weighing 240 pounds. "The lightest he's been since he's been a pro," Saunders said of the 6-foot-10 forward, who worked out at Target Center. "He's lost weight in his face, and his body looks leaner with muscle. He's really committed." Love was about 250 pounds last season. St Paul Pioneer Press
Former #NBAKings 6th man & Coach @TheBobbyJackson has agreed to join Rick Adelman's Minnesota #Timberwovles staff as an Ass't Coach.

— Bryan May (@BMayNews10) August 29, 2013
8/29/2013 – Pau Gasol appointed spokesmen for Madrid's 2020 Olympic committee: Madrid's 2020 Olympic bid committee says it has appointed Los Angeles Lakers star Pau Gasol to act as one of its spokesmen. In a statement issued Tuesday, the committee says Gasol, one of Spain's most well-known athletes and a two-time Olympic silver medalist, will address the International Olympic Committee during Madrid's final presentation in Buenos Aires next month. Madrid is vying with Tokyo and Istanbul for the 2020 Summer Games, and the IOC will deliver its decision in Argentina on Sept. 7. In the statement, Gasol says the Olympics are "more than sport" and Madrid needs the boost the games would provide. ESPN
8/29/2013 – Hawks head coach busted for D.U.I.: Atlanta Hawks head coach Mike Budenholzer was arrested by the Georgia State Patrol overnight and charged with driving under the influence. A trooper stopped Budenholzer about 10:30 p.m. Wednesday on 10th Street at Crescent Avenue in Midtown because the Audi A8 he was driving didn't have the tail lights on, according to the State Patrol incident report obtained by The Atlanta Journal-Constitution."As I spoke with him, I noticed that he had bloodshot and watery eyes and a strong odor of an alcoholic beverage coming from his breath," Trooper Johnathon Nelms wrote in his report. "I asked Mr. Budenholzer how much alcohol he had and he advised that he had one glass of wine to drink prior to driving," Nelms said. After giving Budenholzer a field sobriety test, Nelms placed the coach under arrest. "I requested a breath test and Mr. Budenholzer refused the breath test by giving a verbal 'No'," Nelms said. A spokesman for the Atlanta City Jail said Budenholzer, 44, was charged with DUI and a tail light violation, and was released on $1,524 bond at 3:45 a.m. Thursday. Atlanta Journal-Constitution
According to his agent, Ivan Johnson has signed to play in China next season with Zhejiang China. #ATLHawks— Chris Vivlamore (@ajchawks) August 29, 2013
————————————————————————————————————————————————————
Josh Childress will work out for the Cavaliers and Spurs over the next two weeks, agent Chris Emens told HoopsHype.

— HoopsHype (@hoopshype) August 27, 2013
RE Turkoglu: it's entirely possible that a big overseas contract will, via the right to set-off, lower the Magic's outstanding amount to him

— Mark Deeks (@MarkDeeksNBA) August 27, 2013
8/27/2013 – "What if" punctuates Tracy McGrady's career: He is also a rare elite who was never a healthy member of a team that won a playoff series. There are those who'll chalk McGrady's lack of post-season success to a sleepy-eyed visage that was occasionally interpreted as a sign of competitive apathy. Still, as McGrady has said: There's a single question — "What if?" —that defines his career. What if Grant Hill, with whom McGrady was supposed to team in Orlando, hadn't endured repeated surgeries on a broken ankle that kept their partnership from flowering? What if Yao Ming, with whom McGrady was supposed to carve out a fruitful run in Houston, had steered clear of the foot problems that plagued his career? What if McGrady's back and knee injuries didn't cut short his prime? What if he'd opted for a family super team instead of His Own Team? "At his peak, I defy anybody that played against him, coached against him, played with him or coached with him, to tell me he wasn't an all-time great," Jeff Van Gundy, who coached McGrady in Houston, said in a phone interview. "People are going to look at the lack of playoff success and say, 'He wasn't a winner.' But so much of whether you win or lose in the playoffs is based on who you play with, who you play against, and health." Toronto Star
8/27/2013 – Is Wade's wieght the key to his knee issues: Q: I've read reports about Pat Riley challenging Dwyane Wade for years to lose between 10 to 15 pounds. Does that mean his recent play is also due to his weight instead of his oft-injured knees? Remember that he is 15 pounds heavier than Kobe Bryant, who is listed to be around two inches taller than Dwayne. If so, Riley might have had the answer all along. I can only imagine how well Wade can play if he weighed as much as he did in his early- to mid-twenties. — Omied, Los Angeles. A: This would not be the first time for Riley to make Wade's weight an issue. He previously did it and Dwyane did not exactly take kindly. But Riley's emphasis has long been about that as a player gets older, he has to trim his weight and body fat. To compare Dwyane to Kobe, though, is to fail to appreciate the difference in body types. The impression is Dwyane will seek to meet all challenges, as he strives for continued top-tier relevance in his thirties.
South Florida Sun-Sentinel
8/27/2013 – McLemore voted best rookie shooter by his peers: Ben McLemore is the best shooter in the 2013 NBA Draft Class. At least that's what most of his peers seem to think. Yesterday, NBA.com released the results from its rookie survey and the Sacramento Kings guard came in first when it came to the question of best shooter. The survey, which took place at the NBA's annual Rookie Photo Shoot in New York, polled 36 first-year players on their responses on a variety of topics, including most overlooked and best defender. McLemore took 19.4 percent of the vote, just barely edging out Reggie Bullock of the Los Angeles Clippers, who finished with 16.7 percent of the final tally. The Portland Trail Blazers' C.J. McCollum and Tony Snell of the Chicago Bulls rounded out the top five. The 20-year-old rookie out topped the vote among his peers despite shooting 7-of-36 from 3-point distance in five Summer League games last month. In one season at Kansas, he shot 42 percent from beyond the arc on 174 attempts. Cowbell Kingdom
8/27/2013 – Knicks and Nets call a truce: That essentially was the directive given to owners James Dolan of the Knicks and Mikhail Prokhorov of the Nets this past season during a meeting orchestrated by NBA Commissioner David Stern, who wanted to snuff any lingering tension between the two and prevent a full-blown feud, multiple league sources told The Post. "There was such a meeting and the parties both said it was a very cordial and pleasant one," said one league official with knowledge of the sit-down, which happened early in the season. The official also confirmed Stern assisted in getting the pair together in an attempt to prevent a wave of spitballs going back and forth over the Brooklyn and Manhattan Bridges. See? It's not just players like Paul Pierce and Raymond Felton fueling the feud between the two NBA teams sharing the city. It has been going on for a while, but the Nets no longer are the poor stepchild performing in a New Jersey swamp.Another person with direct knowledge of the sit-down called it "cordial and friendly." Spokespersons both for Prokhorov and for the Knicks said "no comment" regarding the meeting. One source maintained Prokhorov stokes the rivalry fires because he believes the feud "is great for both teams" and insisted it is "not at all personal" against Dolan, the Garden chairman and Cablevision CEO. New York Post
NBA players reaching out to Lamar Odom on Twitter
Lamar Odom what are u doin dude! In my @PoohJeter voice!! Get it together

— Jordan Crawford (@jcraw55) August 26, 2013
I hope my man and former Laker, Lamar Odom is doing okay.

— Earvin Magic Johnson (@MagicJohnson) August 26, 2013
I wish my friend @RealLamarOdom is doing well. All these rumors are really worrying me. Lamar is one of the best guys I've ever played with.

— Pau Gasol (@paugasol) August 27, 2013
———————————————————————————————————————————————-
8/26/2013 – Tracy McGrady retires from the NBA: Leaving open the door to play overseas, seven-time All-Star Tracy McGrady retired from the NBA on Monday. "It's been 16 years playing the game I love. I've had a great run but it's time for it to come to an end," McGrady said on ESPN's "First Take."McGrady averaged 19.6 points, 5.6 rebounds and 4.4 assists per game in a career that started in 1997, when he was drafted out of high school.McGrady signed with the Spurs in April after working his way back from injuries but never got on the floor for a team that made a run to the Finals. McGrady told "First Take" that he still thinks he can play and was disappointed to not get a chance to help San Antonio."When we were in the Finals and Manu (Ginobili) was struggling, I felt I could contribute, absolutely," McGrady said. He acknowledged, however, that Spurs management told him that he was an insurance policy and likely wouldn't play. ESPN
First AI now T-Mac! Consider my childhood ruined. – FB
Canada's hoops roster is now set. Kris Joseph has left team to sign contract to play in China and Kyle Landry is out due to injury.

— Ryan Wolstat (@WolstatSun) August 26, 2013
8/26/2013 – Clippers moving in on Jamison: The Los Angeles Clippers are closing in on a deal with veteran forward Antawn Jamison, a source close to the situation told ESPNLosAngeles.com on Sunday.Jamison, 37, played for the Los Angeles Lakers last season, averaging 9.4 points and 4.8 rebounds. He has been unabashed in his desire to play for a championship contender in the final years of a 15-year career in which he has averaged 18.8 points and 7.6 rebounds. He will likely surpass 20,000 career points early next season. ESPN
I'm willing to bet this has something to do with Lamar Odom's issues. – FB
8/26/2013 – Lamar Odom battling drug addiction: The marriage of Khloe Kardashian and Lamar Odom is in crisis, and TMZ has learned … the core reason is hardcore drug abuse. Multiple sources familiar with the situation tell TMZ … Lamar has had a problem for 2 years. It got so bad, last August Khloe pressured Lamar to go to rehab. Lamar went to a facility in San Diego, but he was so resistant Khloe hired private investigators to secretly stand guard at the rehab place to make sure he didn't leave. The P.I.s stood guard 24/7. Our sources say Lamar constantly threatened to leave and Khloe made several visits to prevail upon him to stay. We're told after 3 weeks, Lamar left for good. We're told Lamar actually stayed clean once he left rehab and was able to play well for the Clippers this past season. But when the season was over, sources say Lamar slipped deep back into hardcore recreational drugs. As for reports that Lamar was cheating recently, we're told Khloe is convinced it happened, and she feels she's been hit with a double whammy … but drugs are the main problem. As for divorce … neither Khloe nor Lamar has contacted a lawyer. As one source put it, "Khloe is more concerned about saving Lamar than ending her marriage." TMZSports
Two months to go before Halloween deadline for extensions for Class of 2010 draftees. John Wall & Larry Sanders only two with deals so far

— Marc Stein (@ESPNSteinLine) August 26, 2013
Other 2010 first-rounders GMs cite as extension candidates: DFavors, DCousins, GMonroe, GHayward, PGeorge, EBledsoe, ABradley & GVasquez

— Marc Stein (@ESPNSteinLine) August 26, 2013
8/26/3013 – Officer disiplined for giving LeBron police escort: The Miami-Dade Police Department says it will discipline the officer who provided a police escort to Miami Heat star LeBron James to the Justin Timberlake/Jay Z concert. In a statement released Thursday, the department says it has chosen to give the officer "informal counseling" after investigating the escort involving the athlete. The statement says no further action will be taken. The officer is not identified. James posted a video on social media sites before Friday's concert saying he was following a police escort on the wrong side of the street. The video showed the police vehicles with their lights flashing. ESPN
LeBron at the very least owes him a donut. – FB
8/26/2013 – Larry Sanders latest victim of the NBA misspelled tattoo curse: Ask and you shall receive. Don't ask for the correct spelling, and you shall recieve. Milwaukee Bucks Larry Sanders proudly posted pictures of his new tattoo on Instagram, when people immediately pointed out his mistake. Sanders laughed it off and was a good sport about it, and like somebody pointed out, its a pretty easy fix to move the loops and redot the I. BSO.com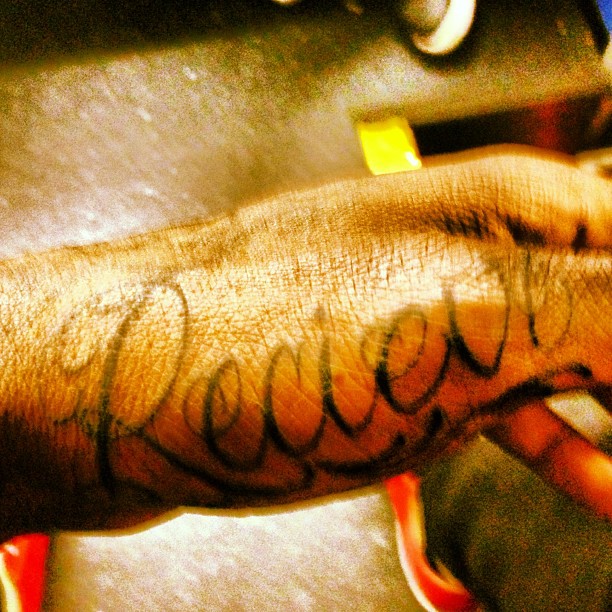 Apparently spelling is not a prerequisite in tattoo college. – FB
————————————————————————————————————————————————————
Lebron is entitled to his opinion, but I still think that he and I have a similar game and that's why I LOVE to watch him play!

— Earvin Magic Johnson (@MagicJohnson) August 22, 2013
Earvin is only half right, LeBron is a hybrid of Magic and Karl Malone. – FB
NBA Championship rings are all that matter; Jordan 6, Me 5, Bird 3, LeBron 2 and Dr. J 1.

— Earvin Magic Johnson (@MagicJohnson) August 22, 2013
8/22/2013 – T-Mac says Kobe tougher to guard than JORDAN: At least one NBA star is willing to say it — Kobe Bryant is a much tougher opponent than his airness, Michael Jordan was … at least according to Tracy McGrady. (Pause for lightning bolts) McGrady was responding to Kobe's recent comment that T-Mac was the hardest player he ever had to guard — so, we expected him to throw a little praise back at Kobe. But watch his comments at LAX — McGrady wasn't just being nice … and actually went out of his way to say it's "not even close" who his toughest assignment was on the court. Remember, McGrady checked Jordan during MJ's final title run in Chicago … when he was still making players look foolish. TMZ
8/22/2013 – Olshey was key to Dorell signing: Wright chose Portland over Oklahoma City, Memphis and Utah this summer largely on his relationship with Olshey, with whom he goes back prior to Olshey's time with the Los Angeles Clippers. "I was still in high school, and I think Neil was coaching high school ball, probably 13 years ago," Wright says. "He worked me out with (Tim Grgurich) a few times. That was pretty cool, being able to get great workouts in with an NBA coach and some NBA players. "Neil is a great guy, very up front. He lets you know what is real. When you've known someone for so long, the trust and communication is there. I trust Neil. I trust the situation. He sold me on everything as far as the city and the team. Being able to play with Damian (Lillard), Wesley (Matthews), Nic (Batum), LaMarcus (Aldridge) … I felt like I'd fit in with all those guys. i had a feeling in my gut that it was the right situation for myself and my family." With Olshey's offseason moves, a bench that was one of the weakest in NBA history last season appears deep. Suddenly, coach Terry Stotts has center Meyers Leonard, forwards Wright and Thomas Robinson and guards Mo Williams, Earl Watson and C.J. McCollum to call upon. "I applaud the organization for the moves they've made," Wright says. "Neil did a great job. We have a nice mix of young talent and older guys to help the young guys out." Portland Tribune
Guys today I am very happy, I did my first workout with the ball! And the best of all, my body responded very well! pic.twitter.com/IuQ7Ld8fnM

— Leandro Barbosa (@TheBlur_Barbosa) August 22, 2013
8/22/2013 – Jason Quick leaves Blazers beat: But somewhere in this bizarre transition when everyone has a blog, and people who can write 140 characters are considered journalists, the job lost its allure. Often times it's not about being right, it's about being the loudest. It's not about being good, it's about being first. And it's not about telling the real story, it's about being friends with the players. After 13 years, it felt like the right time to let someone else have a voice on the Blazers. I wanted to get away and write longer profiles, more in-depth pieces, maybe some more columns. Do some Timbers. Oregon and Oregon State. High school games. And when it warranted, the Blazers, too. That was the plan, until Aaron Fentress unexpectedly left. I volunteered to fill the void, and now I will follow through and try to give you the best Ducks coverage I can. In the meantime, maybe I will see you at a Blazers game. Sitting in the stands. — Jason Quick The Oregonian
8/22/2013 – Quick draws Pippen's ire: When I asked Stoudamire whether the team was still behind Dunleavy, Pippen sprang like a panther. The next thing I knew, I had Coors Light spittle in my face. "You haven't been around long enough to be poking around like you are!" Pippen screamed. I said something along the lines of people deserved to know what was going on, but in truth, I was trying to maintain my composure while trying to stand my ground. Somewhere between Pippen's first words and my retort, Stoudamire bailed. It was just me and the 6-foot-8 legend and his booming voice. And boy did he let me have it. It created enough of a stir that locker room attendants rushed in and got between us, pushing me out the door. My hands were shaking so hard when I got to my computer that I'm surprised I was able to even write my byline, let alone a story. The next day, it was like nothing happened. Not a word from Pippen. Not a peep from Stoudamire. The next year, Dunleavy was gone, Maurice Cheeks was hired and the dysfunction continued. During the height of the Blazers' frequent run-ins with the law, I appeared in a segment on a national NBC halftime show, which chronicled the team's problems and fall from grace. The team watched the segment on the flight home from their game, and Pippen became enraged. He informed the media relations staff that I was not to be allowed access to him. Despite the warnings, the next game I did what I always did: Popped my head through the media scrum around Pippen's locker and asked him about the game. Pippen gave me a cold stare, looked around for the media relations director and blurted, "I told you to keep him away from me!" before abruptly ending the interview session after three questions, much to the chagrin of the gathered reporters. And there was the time in the Rose Garden when I witnessed Bonzi Wells flip off fans behind the Blazers bench and toss a water bottle onto the court. I don't know if I was the only one to see it, but I was the only one to write it, and the team ended up suspending him. At a practice shortly after, a ball zipped precariously close to my head and against the wall, returning directly to the person who threw it. Standing there with the ball, and a cold stare, was Bonzi Wells. The Oregonian
8/22/2013 – LeBron has a body double: Former Bradley basketball player Zach Andrews will appear as a body double for NBA superstar LeBron James in an upcoming Nike television commercial. According to WPLG Channel 10 in Miami, Andrews will appear as James in a long-range shot riding a bicycle with a group of people on South Beach. The station interviewed Andrews, who plays professionally for the Los Angeles D-Fenders of the NBA Development League. Andrews, who played at BU from 2005-07, was interviewed by the TV reporter. His quote: "I'm a theater major from Bradley University in Peoria, Illinois and I play professional basketball." The reporter followed by saying Andrews was under orders not to say anything more. Journal Star
Fist the police escort to the Jay Z show now this? LeBrons head might be a getting a tad big. (Not a P.E.D. dig) – FB
8/22/2013 – Duncan divorce final: San Antonio Spurs' Tim Duncan walks down the court near the end of their loss to the Miami Heat in Game 7 of their NBA Finals basketball playoff in Miami, Florida June 20, 2013. [Photo/Agencies]Judge David A. Canales told the San Antonio Express-News that he held the hearing Tuesday noon at the offices of Tim Duncan's lawyer at the latter's request. The couple and their lawyers were present. Canales said that the parties chose the secret hearing because they felt uncomfortable coming to court for fear of people taking pictures of them or asking for autographs. Details of the divorce, such as the division of assets and which parent gets custody of their two children, were not immediately released. The Duncans were college sweethearts at Wake Forest University, where Tim starred on the Deacons basketball team and Amy was a cheerleader. Tim graduated in 1997 and was the first overall pick in the NBA draft, made by the Spurs. The couple married July 21, 2001, and have a daughter and a son, records show. Little explanation is given for the breakup. China Daily
————————————————————————————————————————————————————
8/21/2013 – Allen Iverson to announce retirement: Allen Iverson is prepared to officially announce his retirement from the NBA in the coming days, a source close to the native of Virginia told SLAM. Iverson, 38, played his last professional basketball in Turkey in 2011. Before that, he appeared in his final NBA game, as a member of the Philadelphia 76ers, in 2010. When he last spoke publicly, at a Sixers game on March 30, Iverson answered a question about continuing his career by saying, "My No. 1 goal is trying to accomplish to be the best dad that I can. And if basketball is in my near future, then God will make that happen. But if not, I had a great ride and I've done a lot of special things that a lot of guys have not been able to accomplish and people thought I couldn't accomplish." Included amongst those accomplishments are: 13-year career averages of 41.1 mpg, 26.7 ppg, 6.2 apg and 2.2 spg; 71-game Playoff averages 45.1 mpg, 29.7 ppg, 6.0 apg and 2.1 spg. He also won one regular season MVP award, four scoring titles and was named an All-Star 11 times. Maybe most impressive of all, omitting the obvious impact that he had on the culture off-court, was the resilience that the 6-0 guard showed in driving into the lane, into men a foot taller than him, time and time again."He might be the greatest athlete I've ever seen," Larry Brown, Iverson's coach from 1997-2003 and the current coach at SMU, told SLAM today. "I don't think there'll be another one like him. SLAM
And my heart just broke…. – FB
8/21/2013 – Doug Overton named Armor head coach: The Springfield Armor, presented by MGM Springfield, have named Doug Overton as the team's new head coach, it was announced today by Brooklyn Nets General Manager of Minor League Operations Milton Lee . Overton becomes the third head coach in the franchise's history. "We are very pleased to welcome Doug as the new head coach of the Armor," said Lee. "Doug brings a wealth of experience as both an NBA player and coach, and his relationship with the Nets over the past several years will make this a very smooth transition for both him and our team." "I'm excited for the opportunity to take over as the head coach of the Springfield Armor," said Overton. "I'm looking forward to developing our players, both on and off the court, and continuing to build a winning culture in Springfield." Overton joins the Armor after spending five years (2008-13) on the Nets' staff as an assistant coach and player development coach. Overton also served two seasons as an assistant coach on Phil Martelli's staff at Saint Joseph's (2006-08) and one season as the Philadelphia 76ers' director of player development (2005-06), where he assisted the coaching and scouting staffs and worked with the team's community outreach programs. An 11-year NBA veteran, Overton appeared in 499 career games with eight teams, including the Washington Bullets (1992-95), Denver Nuggets (1995-96), 76ers (1996-98, 1998-99), Orlando Magic (1998-99), Nets (1998-99, 2000-01 and 2003-04), Boston Celtics (1999-2001), Charlotte Hornets (2000-01) and Los Angeles Clippers (2001-02 and 2003-04). He also had stints in the CBA, ABA and overseas during his 14-year professional career. The former point guard holds NBA averages of 4.5 points, 1.3 rebounds and 2.1 assists in 14.6 minutes per game. NBA.com
I've heard #Knicks are not 1 of the teams wearing short-sleeve jerseys this yr but there's a possibility they don a white & orange alternate

— Ian Begley (@IanBegley) August 21, 2013
@IanBegley pic.twitter.com/2jeFaz0P6O

— Robert Silverman (@BobSaietta) August 21, 2013
8/21/2013 – NBA in China is closer than you think: The NBA is investing in developing basketball-player talent in China and the association's CEO for China sees training the country's coaches as a vital part of reaching that goal. "We have a great relationship with the Chinese Basketball Association (CBA)," NBA China's David Shoemaker wrote in an e-mail reply to questions from China Daily. "We share a commitment to basketball development in China." In November, the NBA plans to host 12 more Chinese coaches to the US for the organization's annual US-based coach education program. Additional details about this year's exchange are not yet available, Shoemaker wrote. The NBA has helped train nearly 600 coaches from the Chinese Basketball Association (CBA) over four years. It has also sent 19 of its coaches to China to participate in a coach exchange program. In previous years, Chinese coaches who have come to the US to train have attended practice and games with the Los Angeles Lakers, the Los Angeles Clippers, the Boston Celtics, the Utah Jazz and the NBA Development League (D-League). The NBA has cooperated with the CBA over many decades, including hosting the Chinese National team in the US in 1985. The first joint coaching clinic was held in 2004 and led by former New Jersey Nets coach Don Casey. In 2009, the NBA and CBA announced a comprehensive multiyear joint coaching program in Beijing, and in 2012 agreed to expand. China Daily
8/21/2013 – Kenny Williams sentenced: Former professional basketball player Kenny Williams has been sentenced to nine months in prison and ordered to pay more than $660,000 in restitution for failing to pay child support. The 44-year-old Williams was sentenced in federal court in Raleigh on Tuesday. The U.S. Attorney's office said Williams earned a salary playing for the NBA's Indiana Pacers, played overseas and drove luxury cars while his former wife and three children were on welfare. Oklahoman
I must publicly express gratitude for the overwhelming display of love & support from employees of the LHM org in the wake of Roger's death.

— Greg Miller (@GregInUtah) August 21, 2013
Link to my brother's obituary: http://t.co/cGx44NuDJ8

— Greg Miller (@GregInUtah) August 21, 2013
————————————————————————————————————————————————————
It's official..can't believe I've been granted this opportunity to represent Milwaukee for the next 5… http://t.co/4843aAjc0K

— Nappy G. (@LarrySanders) August 20, 2013
8/20/2013 – Collison ready to be part of a winner: Darren Collison grew up in Rancho Cucamonga, 46 miles from Staples Center. He played four stellar seasons at UCLA in Westwood, 7.5 miles from the Clippers' training center in Playa Vista. After four years and three cities in the NBA, he's back in Los Angeles. But signing with the Clippers was not so much a homecoming for the soon-to-be 26-year-old point guard. It was the start of a mission. "I felt like playing with the Clippers was an opportunity to win now. I couldn't care less how old I am or how young I am, I want to win now." – Darren Collison "I felt like playing with the Clippers was an opportunity to win now," Collison said. "I couldn't care less how old I am or how young I am, I want to win now. Regardless, if I come off the bench or however many minutes they want to play me, I want to be on a championship team." It is a rare quality even in the hyper-competitive world of the NBA, a player with what could be a decade or more ahead of him deciding that winning trumps everything. NBA.com
Danny Ferry says Lou Williams progressing from ACL, no timetable. As for role:"I could see him being, you know, Bud is used to Ginobili" — Sean Deveney (@SeanDeveney)

August 20, 2013
8/20/2013 – R.I.P. Jimmermania: What does Jimmer's future hold? Jones says it looks bleak in Sacramento. The Maloof family finally sold the team to a new ownership group, giving the team some stability, but the front office couldn't resist drafting more guards. The Kings drafted a point guard and another 2-guard earlier this summer and then traded for pass-first point Grevais Vasquez. In addition, it looks like Isaiah Thomas (60th pick in '11 draft, 50 spots below Jimmer) is a big part of the team's future. "The Kings are not actively shopping Jimmer, but they have had calls and apparently will move him if the deals makes sense," said Jones. According to hoopshype.com, Fredette will make just more than $2.5 million in the 2013-14 season. Jones predicts the Kings will exercise its option on the fourth year of Fredette's deal before the season starts on Oct. 30, bringing Fredette an additional $3.1 million for the 2014-15 season. "The Kings still believe Jimmer has value to teams in the league," Jones said. As the February trade deadline approaches, that's when the Kings will likely push harder to move him — hopefully to a team that actually has an idea of how to use him. Then we'll find out whether or not Jimmer can contribute meaningful minutes for an NBA team. KSL.com
8/20/2013 – Things look shady on the Sacramento arena front: Sacramento's arena war hit new levels of intensity this week after Seattle financier Chris Hansen was revealed as the secret source of money for a petition drive to put the city's arena plans to a public vote. Seizing on outrage at the news, arena supporters took to the streets Saturday, hanging more than 1,000 fliers on front doors asking residents who signed the petitions to withdraw their signatures. "Don't let Seattle money steal away our chance at 4,000 jobs for Sacramento!" the fliers urged. Arena backers, a group that includes many of the city's prominent business people and politicians, argue the Seattle funding offers proof that the two-month-old petition drive is really an attempt to derail the city's downtown arena plans and push the Kings out of town. Yet Sacramento Taxpayers Opposed to Pork, the group behind the ballot measure, insists it is a homegrown effort, aimed at giving voters a voice. Its leaders today vowed to come back fighting – possibly with a local fundraising effort. Sacramento Bee
8/20/2013 – Lawson visits the Poney: Ty Lawson, the Denver Nuggets' star point guard, was charged with physical harassment and criminal mischief stemming from a Saturday night domestic violence arrest. Lawson's girlfriend, Ashley Nicole Pettiford, was also arrested, Grayson Robinson, Arapahoe County Sheriff told The Denver Post. A mandatory restraining order was issued after charges were filed surrounding a domestic violence incident, according to court records. "They were yelling at each other and broke each other's phones," Robinson said. "I don't believe it was physical otherwise." Both parties were charged in the incident, Robinson said. The fight took place in Lawson's home, Robinson said. It is unclear who called authorities. Lawson, 25, appeared in Arapahoe County court Monday to be arraigned on the charges, according to court documents. He is free on a $1,000 bond, according to court records. Denver Post
Young Ty trying to get that street cred up lol

— Wilson Chandler (@wilsonchandler) August 20, 2013
All jokes, that story is suspect. He's not even on that type of time.

— Wilson Chandler (@wilsonchandler) August 20, 2013
————————————————————————————————————————————————————
Contrary to reports, Chris Smith told me today his bro doesn't own or rent the Gurkha F5 armored truck that he was seen in last week in NYC.

— Jared Zwerling (@JaredZwerling) August 19, 2013
8/19/2013 – Anthony Bennet interview: McMenamin: There's only been about 65 No. 1 picks for as long as the league's been around. Do you feel any extra responsibility or sense of duty being in that group? Bennett: Not really. I can just go out there and play my game. I'm surrounded with a great group of guys, a great group of staff members, too. So, I can only get better from here. So I feel no pressure. I just go out there and play my game. When you woke up on draft morning, where did you think you would end up at the end of that night? I heard I was going to be going from [No.] 3 to 8, just the word that was getting around. But I didn't really pay too much attention about that. It was just wherever I ended up, I was ready to work hard and give all my effort. What's it been like since then? Have you felt your life change already? I've just kind of been laid-back. I've been in Cleveland and Toronto a few times, going back and forth. Cleveland, for rehab, training and stuff at the facility. Toronto, I got to throw the first pitch for the Blue Jays game, a coin toss for the Argonauts game. There was a whole bunch of things I had to do back in Canada. I know you're still dealing with the shoulder, but were you involved in the Canada basketball camp that Steve Nash ran? I was there, but I was not playing. Just doing treatment on my shoulder while everybody was playing. It was a great, great, great experience. Everybody came out. Everybody was going hard. They played Team Jamaica twice and I think they won both times and I had a chance to watch the second one. It was real cool, man. Real cool. ESPN.com
Wanna thank the @spurs for letting me use their facility n workout with their players. Great big man workout today. Learned a lot.

— Roy Hibbert (@Hoya2aPacer) August 19, 2013
I seek out the best 2work out w/. No pro ams. In Texas 2work w/ a HOFer. How u gonna get better paying against scrubs pic.twitter.com/gQo2ElvzfU

— Roy Hibbert (@Hoya2aPacer) August 19, 2013
8/19/2013 – Pelicans on pace to break ticket sales record: A new nickname, an improved roster and a significant slash in ticket prices have helped put the New Orleans Pelicans on pace to achieve their highest season-ticket total since the franchise has been in the Crescent City in 2002. Michael Stanfield, the Pelicans' senior vice president of sales, said the franchise has already sold more than 11,000 season-ticket packages in advance of the regular-season opener Oct. 30 against the Indiana Pacers at the New Orleans Arena. The franchise's sales record for season tickets came in 2008-09 when it sold 11,800 the season after the team won a franchise-record 56 games and clinched its first Southwest Division title. But Stanfield predicts by October, the Pelicans will have 12,000 season-ticket holders. New Orleans Times-Picayune
Son of late Jazz owner Larry H. Miller, Roger, dies at 45. Condolences to the family. This is the worst kind of news.

— Bill Oram (@tribjazz) August 19, 2013
Prayers to the Miller family… #JazzNation

— Earl J Watson (@Earl_Watson) August 19, 2013
8/19/2013 – Dwight Howard to play power forward: Visiting Houston Rockets star Dwight Howard said Monday that he has no problem playing at the power forward position if his team wants to put him in the starters with the current starting center Omer Asik. "There is no need to adjust. I have been playing basketball for my whole life. I started it up playing a point guard," the NBA star told reporters at a press conference to welcome his third visit to Taiwan. "I think it can make our team tougher. We need [me] being as a power forward some games and Asik being a center. We will have a big lineup, and it will be tough for teams to truly score," the 27-year-old center said. "You have two guys to play great defense in the paint. So I think it is positive, and it is no conflict," he added. Howard's comments came in response to Aug. 16 reports that Rockets General Manager Daryl Morey and team coach Kevin McHale want to experiment with Howard as power forward and Omer Asik as center in training camp. Focus Taiwan
8/19/2013 – NBA goes sci fi: The San Antonio Spurs, Dallas Mavericks, Houston Rockets and New York Knicks, plus four other teams that have chosen to keep their identities secret, have invested in these complex GPS tracking devices created by the Australian company Catapult Sports, the self-professed leader in "athlete analytics." "We just want to be able to get smarter about our players and how to train them and how to put them in a position to succeed," said Mavs owner Mark Cuban. "So that's just one component of a lot of different things that we're doing." The device, called OptimEye, is roughly the size of an oldfangled beeper and athletes wear it inside their jerseys on the upper back between the shoulder blades. The device records literally every movement the player makes, accurately measuring exertions such as distance, velocity, changes of direction, acceleration, deceleration, jumps, heart rate and more. These physiological and physical performance parameters are then uploaded to a computer to be analyzed, allowing coaches, trainers and the players to understand their individual workload levels. These are conclusions that once could only be subjective, say, by reading a player's body language, to now being totally objective. By wearing the devices during practices, teams can monitor their players' physical output and closely watch their load levels to ensure each player is not being overworked and ensuring ultimate preparedness to play in each game when performance counts. Worn during workouts, the device can provide real-time data alerting coaches and trainers if a player's exertion rate is too high, the moment when a player is most vulnerable to injury, allowing coaches and trainers to pull back. NBA.com
8/19/2013 – It's just how J.R. Smith rolls: NBA star J.R. Smith spent some of the $24 million he scored in a four-year deal with the New York Knicks on a flashy new armored truck. Smith, who's recovering after surgery on his left knee in the off-season, rolled up to Meatpacking District restaurant Catch on Thursday night in a Gurkha F5, which is made by Toronto-based Terradyne Armored Vehicles and used by police and the military. Smith parked the oversize truck, worth about $450,000, on the street. New York Post
Sounds like a reasonable business expenditure. – FB
————————————————————————————————————————————————————
8/16/2013 – Pek lands big bucks: The Wolves' initial offer to Pekovic was $48 million for four years, all guaranteed. Pekovic's agent countered with $60 million for four years, all guaranteed. When Pekovic's representation demanded more, the Wolves countered with a fifth year, plus the $4 million in incentives. "We thought that was a fair but generous offer to keep a very important player for us," Taylor said. Pekovic, 27, was paid $4.6 million last season, when he averaged 16.3 points and 8.8 rebounds. "It's a big contract — some people will look at it and say it's awful big," Taylor said. "But there probably are a limited number of true centers in the league, and because of that, it's important when you get into the playoffs that you have several big guys on your team that can play well. "Good centers are compensated on the market higher than a lot of other players, unless you're a star player. You know, it's just what the market is. We recognize that. If you look around the league, at the people who play that position, they are generously compensated." Houston Rockets center Dwight Howard will be paid $20.5 million this season, Lakers' forward-center Pau Gasol $19.3 million, and the Miami Heat's forward-center Chris Bosh $19.1 million. St. Paul Pioneer Press
Kobe on the toughest guys he ever played against – Iverson, Marbury, Arenas, Melo, Durant – but put Tracy McGrady as the toughest

— Dave McMenamin (@mcten) August 16, 2013
Here is a look at all three new #Suns jerseys, including P.J. Tucker in the road purple. pic.twitter.com/FvqaTn5Gk3

— Paul Coro (@paulcoro) August 16, 2013
Iranian center Hamed Haddadi is meeting with Knicks officials today, the Daily News has learned.

— Frank Isola (@FisolaNYDN) August 16, 2013
————————————————————————————————————————————————————
#celtics finally figured Melo had no future in Boston, long-term project they didn't want to wait on. Greene has been letdown but has upside

— gary washburn (@GwashNBAGlobe) August 15, 2013
Looking at 2012 draft, there is no "I can't believe the Celtics passed on that guy" to take Melo but many taken after him are on NBA rosters

— gary washburn (@GwashNBAGlobe) August 15, 2013
8/15/2013 – Grizzlies get Fab: The Boston Celtics announced today that they have acquired forward Donte Greene from Memphis in exchange for center Fab Melo and cash considerations. Greene, a 6'11" forward, has appeared in 253 games in his five year career averaging 6.1 points and 2.4 rebounds in 16.8 minutes per game. He signed with the Memphis Grizzlies on April 17, 2013 but did not appear in any games for the Grizzlies during the 2012-13 season or the 2013 postseason. He was originally drafted by the Memphis Grizzlies with the 28th pick in the 2008 NBA Draft out of Syracuse but spent the first four seasons of his NBA career with the Sacramento Kings. Melo, a 7'0" center, appeared in six games for the Celtics this past season averaging 1.2 points and 0.5 rebounds in 6.0 minutes per game. He also appeared in 33 games for the Maine Red Claws of the NBA Development League and averaged 9.8 points, 6.0 rebounds and a league-high 3.1 blocks in 26.2 minutes per game NBA.com
8/15/2013 – Johnny Flynn tries to make his way back to the NBA: Tyronn Lue needed a sub. Someone to fill the garbage time. So the Clippers assistant coach, overseeing the team's summer league squad, summoned Jonny Flynn from the deepest end of the bench and into a game against Atlanta. Flynn played the final minute, his only action, and scored a basket. The former Syracuse star had little in common with his teammates or any other players in Las Vegas that July day. He has looked Chris Paul in the eyes at half court, battled Deron Williams in the post, and stuck it to Rajon Rondo. Most famously, Flynn, a point guard, was drafted one spot ahead of Stephen Curry in the 2009 NBA draft, by a floundering franchise that had just picked Ricky Rubio, a point guard, minutes earlier. That startling sequence — three point guards in a row, two for the same team — will probably be Jonny Flynn's legacy. Probably. Grantland
8/15/2013 – Knicks starting five not set: After Mike Woodson addressed a small group of reporters on Wednesday at the Knicks' practice facility, one thing was clear about next season: Carmelo Anthony, Tyson Chandler and Raymond Felton would start. But the other two spots are up for grabs. "We've got to find two other bodies that fit that starting lineup, and who that's going to be, at this point. I don't know," said Woodson, who interacted with a group of children during the Garden of Dreams Foundation's fifth annual Dream Week, offering advice and giving them a behind-the-scenes tour of the practice center. Woodson didn't even make any guarantees about starting Iman Shumpert, who was in the first five last season at the 3 position. "We don't know; we've got to see," the coach said. "You've got to go in and earn a spot; that's how I look at it." ESPN.com
————————————————————————
#wolvesnation. We have agreed to terms with Pek.

— Flip Saunders (@Flip_Saunders) August 14, 2013
In there of note: Greg Oden's deal with the Heat is only for one season.

— Mark Deeks (@MarkDeeksNBA) August 14, 2013
Not one year with an option for a second – just one year in total.

— Mark Deeks (@MarkDeeksNBA) August 14, 2013
8/14/2013 – LeBron's hat symbolic of Heat loyalty? LeBron James enjoyed another successful charity event in Akron, Ohio, last week. His charity work in his hometown has become an annual celebration of the city's children but also a yearly offseason update on all things LeBron. James chatted with Robin Roberts of Good Morning America and said he was "happy right now being in Miami" when asked about his future. James can opt out of his contract after next season but has dropped hints that he wants to re-sign with the Heat. It's probably the ultimate example of overanalyzing LeBron, but his choice of hat for the charity event struck me as symbolic. The customized hat read "Akron" in the same font used in the Heat's logo. Miami Herald
8/14/2013 – Friendly neighborhood Anderson Varejao to the rescue: Humberto Kukhyun Choi had never heard of Anderson Varejao until 10 days ago. "But now I know," said Choi, a pulmonary and critical care doctor at the Cleveland Clinic. Choi dropped off his mother, Sook Kwak, and 29-year-old brother, Victor Choi, at Cleveland Hopkins Airport on Aug. 4 for their flight back home to Brazil. What they didn't realize was that the first leg of the trip to Miami had been cancelled. Kwak and Victor Choi speak only Portuguese and Korean, and they didn't have a cell phone that worked in the United States, so they were struggling to communicate with American Airlines employees. As it happened, Varejao, on his way home to Brazil for his wedding next month, also was on the flight and was pressed into service as a translator. Not only did he help the pair get another flight, but he also helped them find a hotel room in Miami that night before their flight the next day. Cleveland Plain Dealer
8/14/2013 – Kings may bring back Aldrich: According to a person with knowledge of the situation, Cole Aldrich worked out for Kings brass Monday afternoon, but did not sign a contract with the team. The 24-year-old big man out of Kansas also posted a photo to his Instagram account of the baggage claim area at Terminal A of Sacramento International Airport on Sunday night.Aldrich was acquired by the Kings' old regime in a six-player deal before last season's trade deadline. Along with Patrick Patterson and Toney Douglas, the Kings received Aldrich from the Houston Rockets in exchange for Francisco Garcia, Tyler Honeycutt, Thomas Robinson and cash considerations.The 24-year-old center played sparingly in his first few weeks in Sacramento, but eventually won over playing time with former Kings coach Keith Smart. In the final two months of the season, Aldrich stole away minutes from veteran big man Chuck Hayes and performed well in limited time behind DeMarcus Cousins. Playing in 15 games with the Kings, the 24-year-old center averaged 3.3 points, 4.2 rebounds and 0.9 blocks in just 11.7 minutes per contest. Aldrich became an unrestricted free agent on July 1st after the Kings declined to exercise the 2013-14 option on his rookie contract. In addition to the Kings, the fourth-year big man has also reportedly drawn interest from the New York Knicks since hitting the open market. Cowbell Kingdom
8/14/2013 – Hinrich excited for Rose return: "I'm very excited," Hinrich said. "We have most of our guys back. We had some great additions. The anticipation of Derrick coming back healthy and it sounds like he's motivated. We think we have a very good chance." Hinrich and Rose spent the early portion of this offseason working out at the Berto Center. "I saw him a few times, but not for a while," Hinrich said. "He's traveling around and getting ready himself. You can just tell he feels excited to have the opportunity to get back out there and just play basketball. That's what he loves to do and we're excited to have him back." Hinrich said he feels healthy after rupturing his calf in the triple overtime victory over the Nets in the first round. He missed the entire second-round series against the Heat. "If I wasn't healthy I wouldn't be out here," he said. "I'm feeling much better and feel like I've had a good offseason. I had time to take care of my body, heal up and start preparing for next year." Chicago Tribune
8/14/2013 – Ryan Anderson's girlfriend in critical condition: The model and reality TV star girlfriend of NBA Pelicans player Ryan Anderson has been hospitalized in New Orleans. According to a statement from her publicist Tuesday, Gia Allemand, a former model and cast member of ABC's "The Bachelor" and "Bachelor Pad," was taken Monday night to University Hospital following "a serious emergency medical event."The details of the 29-year-old's condition were not immediately disclosed. But according to the statement, Allemand is listed in critical condition. The statement, issued by publicists for both Allemand and Anderson, says that Allemand's mother is with her daughter, along with Anderson. NBA.com
————————————————————————————————————————-
So this is happening right now: Dwight, Olajuwon and McHale. Can confirm dream shake as potent as ever. pic.twitter.com/ZYmyynSOYY — Jason Friedman (@JasonCFriedman) August 13, 2013
This still happens • #MichaelJordan at #MJFS • #MJFS2013 • #basketballcamp • #michaeljordanflightschool pic.twitter.com/5N4CA9zG8l

— Michael Jordan (@MJFlightSchool) August 8, 2013
[youtube]http://youtu.be/ptzdaPJU4ZU[/youtube]
Old-heads showing out. – FB
————————————————————————————————————————————————————
Post #Twolves presser notes: Kevin Love weighs 243. Down from 250. 243 was his weight his best year. He's doing yoga daily.

— Darren Wolfson (@DarrenWolfson) August 12, 2013
8/12/2013 – Baby Al close to signing with the Wizards: Al Harrington, one of the NBA's top available free agents since negotiating his release from the Orlando Magic earlier this month, is leaning toward signing with the Washington Wizards, according to sources close to the situation. Sources told ESPN.com that the Wizards, who have one guaranteed roster spot open, are looking to add some frontcourt scoring punch and have aggressively pursued Harrington since he cleared waivers Aug. 4. Via Twitter, Harrington recently proclaimed himself to be "almost 110% back healthy" after a harrowing run of ill health stemming from a staph infection he contracted after surgery to repair a torn meniscus in his right knee in April 2012. Dealt from Denver to Orlando in August 2012 as part of the four-team Dwight Howard blockbuster deal, Harrington was limited to just 10 games with the Magic last season after ranking as one of the league's top sixth men with the Nuggets in 2011-12. ESPN.com
Stephen Jackson is currently training and hoping to join a contender. I've heard Houston mentioned as a possible landing spot.

— Alex Kennedy (@AlexKennedyNBA) August 12, 2013
8/12/2013 – Ennis opts for Australia over D-League: The Miami Heat wanted James Ennis to play in the D-League. But he has his family to worry about. Ennis, taken with the No. 50 pick by Atlanta in June's draft and then traded to Miami, will play next season for the Perth Wildcats in Australia. But Ennis said Sunday that wasn't the Heat's preference. "They wanted me to go the D-League," Ennis said by phone to FOX Sports Florida. "I basically put my family first. My family is struggling (financially), and I want to help support them. So that's why I'm going (to Australia)." The Heat wanted the swingman to not come to training camp and hopefully join the D-League's Sioux Falls (S.D.) Skyforce. The Heat recently entered into a sole-affiliation agreement with the team, so that would have enabled them to look after Ennis closely with coaches they control while retaining his rights. But D-League players don't make more than $25,000 for a season unless they are on an NBA contract. And the Heat didn't want Ennis to be in the D-League making an NBA minimum salary of $490,180, which would have counted against their roster and led to them to pay additional luxury tax. Ennis will make much more money in Australia. His agent, Scott Nichols wouldn't give precise figures, but said his client's deal with the Wildcats is worth "six figures." Ennis, who is from Ventura, Calif., and played at Long Beach State, has five brothers and sisters. He said his mother, Denise Taylor, is disabled and can't work and his father, James Ennis, works doing painting. FoxSports
8/12/3013 – Durant returns to Seattle: When Durant walked through a side door, the place went bonkers. And when he stepped on the court, the crowd of 3,000 greeted him with a standing ovation that lasted several minutes. "I've never seen anything like that," said former Washington standout guard Will Conroy, who teamed with Durant during the game. "Only Kevin Durant could do something like this in Seattle. Seriously. "People wouldn't come out like this and show this type of love for LeBron or Kobe. Not here. This just shows what he meant and what he still means to this city."With cameras and smartphones held high, fans lined the floor snapping pictures as the announcer said, "Welcome home, Kevin Durant" over the loudspeakers. Seattle Times
SWAGGG!! RT @ayoolightskinn: RT @Jus1Nyt: Yo @ayoolightskinn.. What's up with Westbrook? pic.twitter.com/LywjOdEKVu

— Kevin Durant (@KDTrey5) August 12, 2013
Thanks to my brother @JCrossover for bringing me out and showing me so much love! Seattle will always have a place in my heart!! Love u all

— Kevin Durant (@KDTrey5) August 12, 2013
8/12/2013 – Hawes drops 58 in Pro Am game: Sixers center Spencer Hawes made quite the impact in the Jamal Crawford Summer Pro Am Saturday in Seattle. The seven-foot-one center racked up 58 points and snagged 17 rebounds which makes him the NBA's highest scoring player for the summer. Hawes was 19-for-30 from the field and made 18-of-22 free throws. Philadelphia Inquirer
[youtube]http://youtu.be/bV21iNOW1Vc[/youtube]
Source tells me the Blazers now "closing in" on deal for Rose Garden Arena naming rights. I'll tell you more at 11:35p on @kgwsports Sunday

— John Canzano (@JohnCanzanoBFT) August 12, 2013
8/12/2013 – Tony Parker closes nightclub: Venturing into the nightclub industry wasn't a slam dunk for Tony Parker. The upscale Nueve Lounge, which the San Antonio Spurs point guard and his brothers opened last year, announced on social media sites last week that it was shuttered on July 27. Earlier that Saturday, the bar had encouraged fans of its Facebook page to call for VIP reservations. "The time has come, San Antonio: All good things must come to an end," the most recent Facebook post reads. "Nueve Lounge officially closed our doors this past Saturday night and we want to thank everyone who came and supported us in this endeavor. "We had a great time making memories with you and will always remember them." Signs of the bar's trouble appeared on July 17, when a Facebook post announced that Nueve would be open only on Fridays and Saturdays. As of press time , nearly three dozen Facebook users left comments in response to the post, lamenting the closure and asking whether remodeling was to blame. Some thanked Parker for opening Nueve Lounge, and others wondered whether his investment paid off. San Antonio Express-News
————————————————————————————————————————————————————
The Magic's Dwight Howard trade exception, the league's largest, expires tomorrow. Seems unlikely that they'll use it.

— Evan Dunlap (@BQRMagic) August 9, 2013
Just got done talking to a Chinese team after my work out in vegas! I'm telling u now the 1st time any NBA team offers me the min I'm out!

— Jared Dudley (@JaredDudley619) August 9, 2013
Bucks r set to make Sanders their highest-paid player. All I will say about that, for now, is good for Sanders.

— Gery Woelfel (@GeryWoelfel) August 9, 2013
8/9/2013 – Knicks scouting Hadadi: THERE was a major concern in the Iran side as Hamed Hadadi limped off the court early in the fourth period. The former Memphis Grizzlies player in the NBA and the star of the Iran basketball machine that has been flattening foes in this Fiba Asia Championship couldn't put too much weight on his right leg. But as he walked off the Mall of Asia Arena hardcourt after Iran's 94-50 victory over rival Jordan, the 7-foot-2 Hadadi brushed off concerns. "I'm okay," he said in Iranian in an interview with an Iran television crew and a handful of journalists. "I'll be ready for the next game." Hadadi was injured in a hustle play when a Jordanian player grabbed him as he jumped for the rebound. After the incident, people wondered if Iran, which was up 30 early in the fourth, should have still left Hadadi on the court after all. Another reason why Hadadi was kept on the floor may be the New York Knicks scout who is set to fly him to the Big Apple for a possible audition. Inquirer.net
Workout complete with my homie @ochocinco. Florida Boys !! amareisreal @ South Florida http://t.co/gpkCJgPGls

— Amar'e Stoudemire (@Amareisreal) August 9, 2013
8/9/2013 – Griffin out of the running for 76ers coaching job: According to an NBA source with knowledge of the Sixers' hiring process, Adrian Griffin is no longer in the running for the team's head coaching position. Griffin, an assistant coach with the Chicago Bulls, was one of four candidates confirmed to have been invited for meetings with the Sixers' managing partners Joshua Harris and David Blitzer in New York this week.The other three candidates invited for second interviews are San Antonio assistant Brett Brown, Boston assistant Jay Larranaga and Atlanta assistant Kenny Atkinson. CSNPhilly.com
8/9/2013 – Jeff Taylor to play for ths Swedish National Team: Bobcats second-year wing Jeffery Taylor may not know the meaning of the word offseason this summer but it doesn't mean he's not focused on important things off the court, too. Taylor will be heading home to Sweden on August 11 to make sure he's home for his mother, Pia's, 50th birthday. "Happy birthday mom," Taylor made sure to say in our recent interview. "I love you!" While Taylor will almost certainly enjoy his time at home with his mom, the rest of his family and friends, it's still going to be a business trip. He'll be joining the Swedish National Team for Training Camp less than a week later as they prepare for Eurobasket 2013, which will be played from September 4-22 in Slovenia. It won't be the first time Taylor's had the chance to represent his country. He played with the under-15, under-16, under-18 and under-20 Swedish national teams. Having spent most of his basketball career associated with his national team, taking the court at Eurobasket 2013 will be a special moment for Taylor. "It's just like the American guys. They love representing their country. … It's the same for me," said Taylor. "I grew up over there. I was immersed in the Swedish culture – it's my home. I'm definitely blessed to have the opportunity to play for the country." NBA.com
8/9/2013 – Kevin Durant and Jeff Green to play in Seattle again: Since Kevin Durant's departure five years ago, Seattle basketball fans have dreamed about the return of the one-time Sonics rookie phenom. Perhaps sooner than expected, he'll play in the city where he got his NBA start. The Oklahoma City Thunder superstar and Jeff Green, who starred with Durant during their one season in Seattle, are expected to be the headliners this weekend at the Jamal Crawford Summer Pro-Am. For a league that bills itself as "All Hoop, No Hype," promoting the return of the former Sonics goes against the pro-am's mantra. There's also no guarantee Durant or Green will show up. However, tournament organizers are preparing for big turnouts at Seattle Pacific University, where the games are played. Green is expected to play 7:30 p.m. on Friday and Durant is scheduled to play 4 p.m. Sunday. Tickets are $5. Seattle Times
Source: #Knicks have interest in Lou Amundson to add depth to frontcourt. Few other teams in mix. Lou is hoping to make decision next week.

— Jared Zwerling (@JaredZwerling) August 9, 2013
————————————————————————————————————————————————————
8/8/2013 – Pierce on breaking up the Celtics: SLAM: Some members of the media have been saying they believe Doc Rivers quit on the Celtics. How do you feel about all that? PP: Well, I know the insides with everything that's going on. A lot of stuff got blown out of proportion because of the media, but Doc has always said he didn't want to be a part of a rebuilding situation. I've always stated that the past four or five years. After the season, the owners decided they wanted to go in that direction. It made Doc look like he was quitting but at the same time it was mutual—everything was mutual at the end. The trade, Doc leaving. I didn't want to be a part of rebuilding; Kevin didn't want to be a part of rebuilding; Doc didn't want to be part of rebuilding. I think it was all mutual. We've done so much for the franchise that they wanted to help on our end. So Doc went to L.A., and they sent us to Brooklyn for a chance to win a Championship. That's pretty much the way it was. Nothing more, nothing less. SLAM
I was thinking of wearing Melo shoes and dying my hair with JR and Shump. This thought process is pending:)

— Metta World Peace (@MettaWorldPeace) August 8, 2013
Source says #Knicks and Beno Udrih contract for 1.27M is all but done. Bobby Brown told #Knicks going another way.

— Marc Berman (@NYPost_Berman) August 8, 2013
8/8/2013 – LeBron James reporting for jury duty: Most days, it's good to be LeBron James. Other days, he has jury duty. The Miami Heat forward, spending his offseason in his hometown, posted a photo on Instagram today as he was reporting for jury duty — in an Indians hat, no less. Phil Trexler of the Akron Beacon Journal tweeted that LeBron was spotted in the courthouse today. Cleveland Plain Dealer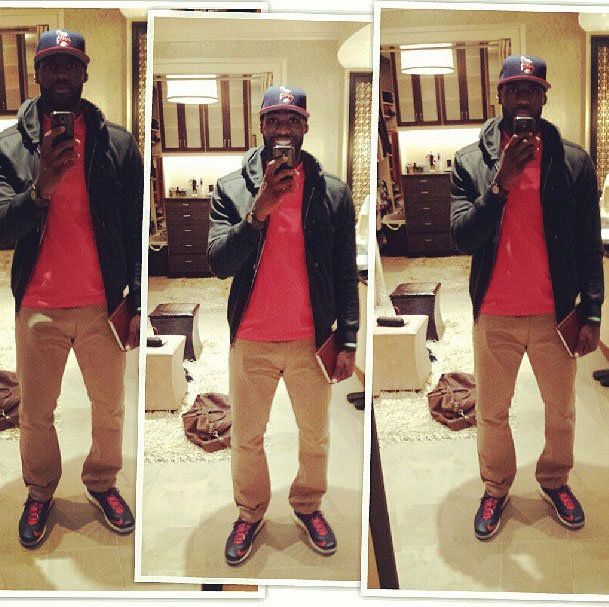 8/8/2013 – Bucks and Sanders in extension talks: The Milwaukee Bucks are in advanced discussions on a contract extension with forward Larry Sanders, according to sources close to the process. Oct. 31 is the deadline for extensions for members of Sanders' 2010 draft class, but sources told ESPN.com this week that negotiations on a new deal for one of Milwaukee's new cornerstones have already reached the final stages. In the wake of the recent departures of guards Brandon Jennings and Monta Ellis, Sanders has emerged as Milwaukee's most recognizable player. He was a recent invitee to USA Basketball's minicamp in Las Vegas for the game's top 25-and-under players, only to be derailed halfway through by an ankle sprain. Although contract figures were not immediately known, sources say Sanders is expected to receive an extension with an annual salary in excess of $10 million. He averaged 9.8 points, 9.5 rebounds and 2.8 blocks in just 27.3 minutes per game last season. Sanders wound up as the league's No. 2 shot-blocker and finished seventh in NBA Defensive Player of the Year voting. Yet he was snubbed by NBA coaches in voting for the All-Defensive first and second teams, just like Defensive Player of the Year winner Marc Gasol of the Memphis Grizzlies. ESPN.com
Ivan Johnson has been in talks w/ #Knicks but may not be in running after Tyler signing. Source: "It narrows the possibility some for sure."

— Jared Zwerling (@JaredZwerling) August 8, 2013
8/8/2013 – Knicks top landing spot for Beno: The Knicks have emerged as the favorite to sign 31-year-old Slovenian point guard Beno Udrih to a $1.27 million minimum contract, according to two sources. An announcement could come as soon as Thursday. The Knicks will consider it a great value signing since Udrih made $7 million last season, leaving the Knicks long shots to land him. But the market apparently dried up for the left-handed veteran who has played on four teams, including Orlando and Milwaukee last season when he combined for 66 games. The Knicks are looking for a third point guard to complement Raymond Felton and Pablo Prigioni. Being from Europe is another plus for Udrih, as Italy's Andrea Bargnani is known to prefer hanging out with Europeans or foreign players. New York Post
Hearing Xavier Henry is really impressing in LA runs. Source who's watched him: "Surprised he has no deal yet." Sure someone will jump on.

— Jared Zwerling (@JaredZwerling) August 8, 2013
8/8/2013 – Blazers had their eye on Mo all along: Since the start of the NBA free-agency period, the Portland Trail Blazers and veteran point guard Mo Williams have shared mutual interest. Even as the team refined its roster through trades and other signings, general manager Neil Olshey and Williams' agent Mark Bartelstein, never broke communication. Finally on Wednesday — more than a month into free agency — the constant conversion led to Williams landing in Portland. Williams, a former All-Star who will be entering his 11th season in the NBA, has agreed to a two-year contract with the Blazers. The deal, first reported by Yahoo! Sports and confirmed by Bartelstein, will be worth $5.6 million that includes a player option in the second season. Though Williams — who last played in Utah and averaged 12.9 points and 6.2 assists — needed time this summer to test the market, Bartelstein said that the Blazers have been an option since July 1. "We've had long, long conversations over the last month and a half," Bartelstein said during a phone interview with The Columbian. "Free agency is a process — it can be an exhausting process." "Neil did a great job of staying in touch." The Columbian
8/8/2013 – Hardaway Jr. ready to play: There isn't any lasting impact from the NBA's annual summer league, and it has no bearing on how the young players who perform in it will play when the season begins this fall. But whether it's important or not, it is the first opportunity for rookies to initiate themselves into the NBA, and Knicks rookie Tim Hardaway Jr. wishes he had gotten a chance to have more of an extended run in Las Vegas last month. "I really wanted to play," Hardaway told The Post at the NBA's Rookie Transition Program Wednesday in Florham Park. "I really wanted to go out there and showcase my abilities at the next level. I only had one game, a game and a quarter, to do it, and I know if I had more opportunities to play that I would blossom and show everybody I am a better player than I was in that first game." Hardaway injured his left wrist in his second game in Las Vegas and was subsequently shut down for the remainder of the Knicks' time there. Though he still was wearing a brace on his wrist, he said he now has no restrictions in working out, and is looking forward to beginning his rookie season with his new teammates in several weeks. New York Post
Brook Lopez told SLAM editor @afigman tonight his walking boot comes off tomorrow. h/t Adam.

— NetsDaily.com (@NetsDaily) August 8, 2013
8/8/2013 – Robert Parish interested in coaching job: Robert Parish leaned over the lectern so that the microphone could catch his voice, sharp and deep, with a touch of Southern, befitting his Louisiana roots. Rows of youths at the South Boston Boys & Girls Club sat before him, listening as he shared lessons about health and hygiene. (Gillette, the event's sponsor, had him to talk about the hygiene part.) The Celtics Hall of Famer remarked at one point Tuesday afternoon how, as he approaches his 60th birthday later this month, he's often told he looks better than his age. But Parish, "The Chief," admitted that his age might be working against him as he tries to find a job, an endeavor that he said is more out of boredom than for money. Boston Globe
Isaiah Thomas said that Mayor Kevin Johnson would be dropping by his camp tomorrow.

— Jonathan Santiago (@itsjonsantiago) August 8, 2013
————————————————————————————————————————————————————
NBA Hall of Famer Scottie Pippen will host a youth basketball camp in Deerfield (IL) next week. August 12-15

— Lang Greene (@LangGreene) August 7, 2013
8/7/2013 – Best basketball commercial ever: Los Angeles Clippers star Blake Griffin has made a name for himself as one of the st basketball commercial ever NBA's most dependable endorsers, an exciting young player with Will Ferrell-inspired comedic timing and the willingness to support anything from Kia to GameFly. He succeeds at it in part because he communicates a sense that he's in on the joke, that he understands that commercials are dumb and manipulative. It's a tactic brands and ad agencies have used for some time now, as David Foster Wallace would tell us, and Griffin understands how to make it work. Griffin's latest spot for Foot Locker, though, brings the concept to a whole new level. As Chris Paul sits down to complement his Clippers teammate on his gear, Griffin begins a stilted parody of an enthusiastic pitchman discussing all the great products available at Foot Locker. CP3 is confused, presumably because he's never seen his own State Farm ads. Of course, before he can get out a complete sentence, Griffin launches into a portion of an ad for salsa, after which we see that he's hooked up to some kind of electronic gizmo known as "The Endorser 5000." Paul turns it off, but Griffin just lets us know that he's totally sincere about his appreciation of his Foot Locker gear, which is just a natural feeling to have for anyone, whether he's in a commercial or hooked up to a machine or just hanging out with his bro in an expensive apartment. The ad ends with Paul turning "The Endorser 5000" back on, for some reason, because we need to end the spot with a funny bit about Lithuania. Yahoo! Sports
[youtube]http://youtu.be/iltWeIa8r1s[/youtube]
———————————————————————————————————————————————————–
8/6/2013 – Chris Gattling accused of squatting: A former NBA All-Star accused of squatting at a Paradise Valley, Ariz., home and then trying to list the house for rent on Craigslist has pleaded guilty to theft and forgery charges. Chris Gatling entered the guilty pleas to one count of theft and one count of forgery on Thursday in Maricopa County Superior Court. His sentencing is set for Oct. 4. Gatling was accused of breaking in the key box at the home and living there for about a year. Police say the homeowners lived in California but had left the power on at the Arizona home.Gatling's attorney, Michael Alarid III, declined to comment on his client's guilty pleas. USA Today
8/6/2013 – Even LeBron James needs his space: In case the message was missed there, @KingJames featured the same post in three Twitter posts to his 9.3 million followers. First: "Man it's hard to go out and have a good time thesedays! It's cool though, it's part of my life. Wouldn't change anything(just saying)" Followed by: "Been in the spotlight since I was 15. Sometimes u just wanna STOP!! But I refuse cause I have a commitment to the youth to inspire them!!" And then: "That will keep me pushing forward and focused alone" Unlike during the Heat's playoff run to the franchise's second-consecutive NBA championship, when he self-imposed a social-media ban, also avoiding his cell phone and cable sports, James has again been active on his various accounts. But, apparently, enough was enough after a start to the summer that had him attracting massive crowds in visits to the Philippines and China. South Florida Sun-Sentinel
Per Sportando, Pek is out for EuroBasket. Heard he was fine missing camp. But wouldn't miss the actual event. Very interesting. #twolves

— Darren Wolfson (@DarrenWolfson) August 6, 2013
John Hammond on talk of Bucks tanking: "We are, by no means, in that mode whatsoever.""

— Gery Woelfel (@GeryWoelfel) August 6, 2013
We'd better hope Kobe plays all 82 games with no setbacks because otherwise a good chunk of ESPN and TNT games will be UN-WATCHABLE.

— Sean Highkin (@highkin) August 6, 2013
8/6/2013 – Chris Paul wants to be first like Ricky Bobby: Paul said he's 100 percent healthy now after suffering an assortment of injuries near the end of the season. He played through all of them, and never used them as an excuse for the Clippers disappointing first-round playoff loss to the Memphis Grizzlies, but said the way the season ended still gnaws at him.The Clippers took a 2-0 lead but ultimately lost four straight games to the Grizzlies. Griffin badly sprained his ankle in practice before Game 5 in Los Angeles and severely hampered by the injury in the final two games. For Paul though, the details are irrelevant. The Clippers lost, and he failed to advance past the second round of the playoffs again."There's no excuses," Paul said. "For me, years from now I'll never remember we won 56 games in the regular season [in 2012]. The only thing I'll remember is we were up 2-0 and we lost 4-2. That's all I remember. I just know we lost."It's something I think about every day. I'm going to keep fighting until something gives. Ricky Bobby said it best," Paul said, referring to the "Talladega Nights" film starring Will Ferrell. " 'If you're not first you're last' and I've been last the past eight seasons. Paul signed a five-year, $107 million contract to remain with the Clippers last month. Griffin signed a five-year, $95 million extension last July. The Clippers also locked up coach Doc Rivers to a three-year, $21 million contract, traded for shooters J.J. Redick and Jared Dudley, and signed backup point guard Darren Collison. But as far as Paul is concerned, it means nothing unless the team does better in the postseason. ESPN.com
Ricky Bobby: Here's the deal I'm the best there is. Plain and simple. I wake up in the morning and I piss excellence.
8/6/2013 – Ibaka agreed to play for Interclube in 2006: The DR Congo basketball player, Serge Ibaka, currently holding the Spanish nationality, had reached a verbal accord to represent the Angola's senior men team of Interclube in 2006. The information was released Sunday in Luanda by Serge Ibaka himself. The power forward Serge Ibaka (23) was speaking during the Sprite NBA Africa Clinic Project designed to hunt for new talents. He explained that the contact with Interclube took place in South Africa in 2006 when he was playing for his country's junior team. The player said he had reached a verbal deal with Interclube coach Manuel Sousa "Necas"), but because of a delay in finalising the accord, he got a visa to Europe. All Africa
8/6/2013 – Bill Self inducted to Oklahoma Sports Hall of Fame: Bill Self said never say never. One of seven people inducted in the Oklahoma Sports Hall of Fame on Monday night at the National Cowboy and Western Heritage Museum, the Kansas University men's basketball coach was asked if he would ever consider coaching in the NBA. "It hasn't really tempted me because I haven't had that many people talk to me about it," Self said. "But at some point and time, sure, I think it would (tempt me). It would be great to be able to match wits with the best athletes in the world, but I'm certainly happy where I'm at. "I'm not saying I never would (coach in the NBA) but I'm locked in." Since Self wouldn't owe Kansas a penalty if he leaves before his contract expires in 2022, would the ultimate job for the Edmond Memorial product be to coach the NBA team in the shadows of his hometown? "I wouldn't say the Thunder," Self said. "They've done a remarkable job. They have a coach (Scott Brooks) who is one of the bright stars in all of basketball, at any level. That's not anything I would think about." The Oklahoman
————————————————————————————————————————————————————
#Twolves announce 7-game preseason sked: CSKA Moscow, at Raptors, Bucks in Sioux Falls, Raptors, Celtics in Montreal, at 76ers, at Pistons.

— Phil Ervin (@PhilErvin) August 5, 2013
8/5/2013 – Henderson ready to be part of the solution in Charlotte: Henderson was a co-captain last season and he seems comfortable with leading; certainly more so than point guard Kemba Walker, who is uneasy with ordering around teammates. Henderson said he was part of the "problem'' going 28-120 the past two seasons, so it was important to him to be part of the fix. "I was part of it. You want to be part of the solution as well. That definitely weighed in,'' Henderson said. "The No. 1 thing I learned from Coach K is to be responsible for yourself. You can worry about how the team is doing. But if you're not concerned about how your play is affecting the team, then you're being selfish. How are you performing? In a non-selfish way you should always evaluate yourself. "That's his biggest thing. That's about being a man. Get your work in. Do your part.'' Charlotte Observer
8/5/2013 – Snaer gets an invite to Nets training camp: Michael Snaer, the Most Valuable Player of the 2012 ACC Tournament, has been invited to the Brooklyn Nets training camp in October in hopes of beginning his professional career in the NBA. Snaer was undrafted in the 2013 NBA Draft in June and played for the Oklahoma City Thunder and the Los Angeles Lakers during two sessions of the NBA Summer Leagues in July. Snaer finished his career as a three-time All-ACC and two-time ACC All-Defensive Team selection. He was named to the All-ACC Second Team as a junior, to the All-ACC Third Team as a senior, to the All-ACC Freshman team and was named to the 2013 Lefty Driesell Defensive All-American Team. Snaer earned the Everett Case Award as the Most Valuable Player of the 2012 ACC Tournament in leading the Seminoles to the first ACC Championship in school history. He is recognized as the all-time NCAA leader with six career buzzer-beating, game-winning shots during his career. Seminoles.com
8/5/2013 – Kobe could be back in time for training camp: The ruptured Achilles tendon suffered by Kobe Bryant on April 12, 2013 against the Golden State Warriors ended the star's incredible late-season run. The initial recovery timetable was set at 6-9 months. However, recent reports suggest he may be ready to return for not just the start of the 2013-14 regular season, but as early as training camp. While on tour in China, he said the surgery performed was innovative and thus his recovery has been unique."The surgical procedure was different […] and because of that the recovery has been different," Bryant said in the southern city of Shenzhen. "The normal timetable for recovery from an Achilles, we've shattered that. Three-and-a-half months I can already walk just fine, I'm lifting weights with the Achilles just fine and that's different. So we don't know what that timetable is going to be. It's kind of new territory for us all."'Obviously, this could just be Bryant's pride and Lakers' public relations getting in the way of the actual facts. A return to the NBA after only five months of recovery from a devastating injury seems ridiculous for any player and especially ridiculous for Bryant, who is entering his 18th season in the NBA and turns 35 years old on August 23. And the thought becomes absurd when you factor in the additional offensive burden he will need to carry next season with Dwight Howard gone. But this is still Kobe Bryant. A freak (according to Steve Nash) and one of the most intense competitors sports have ever seen. He returned exceptionally from a knee injury which he received an experimental procedure for in 2011. So while it may be absurd to expect Bryant back from his Achilles injury so soon, it shouldn't be a surprise. NBA.com
I cant help but think Kobe is doing all of this to spite Dwight Howard. – FB
8/5/2013 – Ehlo released from prison: Former NBA player Craig Ehlo was released from jail Friday and ordered to stay away from family members and his rural Spokane County home. Superior Court Judge James Triplet set Ehlo's arraignment for Aug. 14 on a charge of first-degree reckless burning, a Class C felony, the Spokesman-Review reported.Ehlo also was ordered to stay away from fire-starting materials and remain in Washington state. His lawyer's name wasn't immediately available Friday night. The 51-year-old Ehlo was arrested early Thursday at his home. Court documents say sheriff's deputies found him being held down by family members near a pile of his burning clothes. The gasoline-fueled fire reportedly damaged an awning and siding at the home. The documents did not provide additional details. Ehlo was treated for undisclosed injuries before being booked into jail.Deputy Craig Chamberlin said earlier that deputies learned Ehlo had argued with his wife Wednesday night. Chamberlin said family members reported that Ehlo subsequently piled up clothes next to the garage and set them afire.The Washington Post
NBA Jam flashback: He's on fire! – FB
8/5/2013 – I think Goran took getting slapped in the face pretty well – FB
[youtube]http://www.youtube.com/watch?v=1V4bJ9uCLfs[/youtube]
8/5/2013 – Team Italy's associate coach Mario Fioretti thinks Bargs will bounce back in NY: Bargnani is coming off his worst NBA season, reduced to 35 games because of a torn ligament in his right elbow and becoming the scapegoat for the fans. But the former No. 1 overall pick still has a 15.2-point career scoring average, and is a certifiable inside-outside threat. "My feeling is he already is an NBA star, he needed a different situation," said Fioretti, a longtime coach for Olympio Milano. "The only thing he needs is a club where he can express himself." Much like it helped Carmelo Anthony to play in the Olympics last summer, there's hope Bargnani will be sharper than his teammmates once Knicks training camp starts Oct. 1 because of the Team Italy tuneup. "It's 100 percent it will help him for next year,'' Fioretti said. "I think he came in in shape and put himself in position to take this challenge." A Toronto source said one of Bargnani's problems is he is not a good locker-room guy and can be aloof with teammates. "He's a quiet guy, but my feelings is he's going harder in practices and is a leader by example," Fioretti said. "Sometimes leader are loud, sometimes a leader works hard. You don't have to always be the loud guy to carry the load." New York Post
8/5/2013 – Olajuwon dominant even while fasting: Yet while these achievements are remarkable in themselves, it was Olajuwon's ability to play at a high level during Ramadan that caught the eye. While fasting and having taken on no fluids for more than 12 hours ahead of game time, when tip-off arrived, his statistics would go up rather than down. In February 1995, he was named NBA Player of the Month, despite Ramadan having started on February 1. In a 1997 report, the New York Times described a fasting Olajuwon as "depleted" and "dominant" in a match against Jordan's Chicago Bulls. "I always felt bad for him," Robert Horry, a teammate of Olajuwon's from 1992 to 1996, said recently. "I don't mean for that to come across wrong, but when you are playing an NBA game, you gotta have massive reserves of energy. "There are 48 minutes to a game and for you to play 42 minutes of that 48 and not even be able to take a sip of water, that is just phenomenal." Olajuwon now lives in Jordan with his wife and children, but Horry occasionally meets him in Houston whenever the Nigerian, now 50, returns to visit. When that occurs, the former players – both of whom stand just under 7 feet – call each other "Softie". Throughout an interview with The National, Horry referred to Olajuwon by his `nickname "Dream". "I rate Dream as one of the top five players ever to play the game of basketball. He could do anything; there is nothing on the court he couldn't do," he said. The National
Greatest big man I have ever seen play the game. – FB
8/5/2013 – Clippers interested in Jamison: Veteran forward Antawn Jamison and Clippers coach and senior vice president of player personnel Doc Rivers had dinner Saturday night in Los Angeles, a source with knowledge of the situation told ESPNLosAngeles.com. No offer was made, but there are plans for the Clippers and Jamison's representatives to speak soon. The Clippers have been interested in Jamison, who played for the Lakers last season, for some time but this was the first meeting between the two sides. He had surgery on his wrist after the season, but is now recovered and back to performing basketball-related activities. ESPN.com
————————————————————————————————————————————————————
8/2/2013 – Gortat returns to the USA for testing: Marcin Gortat has taken permission to leave the training camp of the Polish national team for three weeks but, in principle, his participation at EuroBasket 2013 is not under question. The Polish center flew to the USA on Thursday to undergo medical tests, after completing the first stage of preparations for the EuroBasket together with the rest of the team, in Gdansk. "Physically, I feel better and better, the rehabilitation is going well, but I still feel the pain of the foot, even during training," the 29-year-old big man said."I have to make sure that I will be healthy for the whole season."Gortat had suffered an injury in his right foot while playing for the Phoenix Suns in early March and sat out the remainder of the regular season, as his team had already been eliminated from the play-offs. Eurobasket 2013
John Wall may be a little faster than you think. – FB
[youtube]http://youtu.be/VLyYLVbgJoM[/youtube]
8/2/2013 – Unknown NBA player involved in Biogenesis scandal: The NBA is hoping to have HGH testing in place for next season, according to CBSSports.com's Ken Berger. But it might already be a problem. The performance enhancing drug scandal linked to the Florida Biogenesis clinic that's wrapped up Major League Baseball with Ryan Braun being suspended for 65 games could include an NBA player. When the Miami New Times broke the story months ago, it was on the back of Porter Fischer's information. And now he's told ESPN's Outside the Lines that NBA players are among many others that have used the clinic. Fischer said he and associates have identified athletes from the NBA, NCAA, professional boxing, tennis and MMA, in addition to other professional baseball players who have not yet been identified. As far as he knows, Fischer said, Bosch had no clients from the NFL or NHL.He said the only sports entity he has heard from was Major League Baseball.The athletes not yet publicly named come from the documents Fischer took from the clinic, documents he said another employee asked him to take for safekeeping. The number of athletes involved with the clinic, based on what he saw and heard during his time with Biogenesis, is far more than people realize, he said. Fischer has had a few inconsistencies in his information. But the documents are hard to dispute, especially with named players on them. CBSSports.com
How to comb your beard with James Harden and something about a Euro Step. – FB
[youtube]http://youtu.be/R86li9RGSbw[/youtube]
8/2/2013 Jermaine O'Neal on the move: Jermaine O'Neal is ready to cash in his chips. The NBA big man has put his Henderson, NV, home on the market a mere six days after inking a one-year, $2 million contract with the Golden State Warriors. O'Neal previously listed the home during the 2011 NBA lockout for $3.55 million, the same amount he paid for the property in 2007. The NBA veteran is now poised to lose a considerable amount of money on the house after relisting it for just under $3 million.Built in 2006, O'Neal's posh desert pad offers a total of six bedrooms, nine baths and nearly 7,500 square feet of living space. The home has standard amenities such as a formal entry, a dining room and a total of four fireplaces, and also some not-so-standard perks such as an indoor basketball court, an in-house movie theater, a game room and a wet bar. The athlete's home rounds out with a five-car garage and an outdoor patio that includes a pool with a waterfall and slide, fountains and an outdoor kitchen. Realtor.com
8/2/2013 – Oden to choose new team today: Former No. 1 overall pick Greg Oden plans to choose his new team Friday, according to sources close to the situation. Sources told ESPN.com that Oden, after showing off his skills for several teams over the past few weeks, has not yet ruled out any of the six teams chasing him but is most likely to select his destination from the trio of Miami, San Antonio and Dallas. New Orleans, Sacramento and Atlanta are the other known suitors for Oden. One source close to the process said Thursday night that the Pelicans are the only team from that group still "in the mix." Every team from the final six but Dallas sent a representative to Indianapolis last week to watch Oden work out, with multiple witnesses telling ESPN.com later that Oden has noticeably slimmed down and is moving well more than a year removed from his last microfracture knee surgery. ESPN.com
————————————————————————————————————————————————————
8/1/2013 – Kirilenko wanted long term deal from Minnesota: Why'd you give up so much money? I opted out not because I wanted to sign with the Nets. At that time, I wanted to be in Minnesota for a long time. But there was a change in Minnesota. I respect Flip Saunders decision, but he decided not to sign me for a long time. I can't do anything about that. Conspiracy theories rooted in stereotypes? I can't do anything with what people think. I'm coming from the facts. I can't change it. I can't control it. …Those type of rumors I can't control. And I guess it comes from the history because of the Russian KGB. It makes it a little funny. What can I do?Relationship with Prokhorov? When he finally got the team, I was very happy that finally a Russian owner has a team in the NBA. It's a great platform. It's a great improvement for the Russian basketball at that point. I was in Utah, I was thinking it was great, especially in New York, with the Russian community. I had those thoughts that one day I would be with the Nets. New York Daily News
8/1/2013 – Wall admits with new deal comes added pressure: Last week in Las Vegas, Wall said he is "ready for anything" that comes with the new contract. And in an interview with Monumental Sports Network shortly after agreeing to stay in Washington through 2019, Wall said that he understands the challenges ahead of him."It's way bigger than what it was," said Wall, who will have a news conference this afternoon at 2 p.m. "Being the number one pick, it was big stuff I had to come in and try to do. Now being the franchise guy, there is a lot more that comes into it. On and off the court, you got to be very marketable, you got to have a great image."With no playoff or all-star appearances, Wall has a ways to go match the on-court accomplishments of Chris Paul, Derrick Rose, Russell Westbrook and Deron Williams, the other NBA point guards to receive max contracts. Washington Post
The @NBA has formally announced it will release the 2013-14 regular-season schedule Tuesday, Aug. 6, at 6 p.m.

— Josh Robbins (@JoshuaBRobbins) August 1, 2013
Tony Allen to the Oklahoman from his camp: "Any time I get on the hardwood, I'm competing 110 percent. I even fouled a kid today."

— DeAntae Prince (@DeAntae) August 1, 2013
Who doesn't want to send their kid to Toney Allens basketball camp so they can get fouled like a pro? – FB
8/1/2013 – Jamison looking for the right fit: Antawn Jamison doesn't regret his decision to join the Los Angeles Lakers as a free agent. He admits that, based on the team they had on paper in 2012-13, the Lakers didn't live up to their full potential. Looking back, he knows that they had too many issues to remain focused and too many injuries to remain intact.Still, he values the experience. That doesn't mean he won't be more careful in picking his next free agency destination, though.Jamison said he will definitely tread more cautiously through this latest decision on his NBA future. As he did when he chose to sign a one-year veteran's minimum deal with the Lakers last summer, Jamison has suitors. The Bulls, Clippers, Grizzlies and Bobcats have all showed interest in the 37-year-old free agent, who believes he has a couple more years left of competing at a high level. "I think last year, getting the opportunity to play for the Lakers and their organization, I really jumped into it," Jamison said. "Didn't really view my options, but this year I really want to make sure I'm going to the right situation, where I have a good rapport with the coaching staff and also with management I'm able to communicate and get an understanding of what they want from me. Sporting News
Still expecting news on Greg Oden by the end of the weekend. Still primarily between Pelicans and Heat, from what I'm hearing.

— Ethan J. Skolnick (@EthanJSkolnick) August 1, 2013
8/1/2013 – Knicks looking to add another point guard: The desperate-for-a-point-guard Knicks have until Aug. 15 to make a move on intriguing Euroleague point guard Bobby Brown, and he hopes they do. Brown signed a tentative agreement Wednesday to play for Donguam of the Chinese Basketball Association, but can break the deal before that date, according to a league source. The league source said Brown's top choice is to play for the Knicks and take less money than his roughly $1 million-plus Chinese pact. Brown is squarely on the Knicks board but they are first hoping veteran point guard Beno Udrih, who made $7 million last season, will come to New York for the $1.4 million veteran's minimum. The Knicks have been outbid on players all summer, so it could leave Brown as the Knicks' likelier signing. Still, the Knicks would be extremely lucky if they can land Udrih — a 6-foot- 3 point guard from Slovenia who averaged 8.2 points and 4.6 assists in 22.1 minutes per game for Milwaukee and Orlando. The Knicks, who are only able to offer minimum contracts, also are interested in Mo Williams but it is more likely he signs with Miami if it comes down to a minimum deal. An NBA source said the Knicks no longer have embattled Delonte West on their wish list despite prior inquiries. New York Post
Wrap on KD/OKC thing: Owners voted to reimburse OKC $8 million, ~ half of gap b/w KD's "old" contract and his actual deal, per league source

— Zach Lowe (@ZachLowe_NBA) August 1, 2013
8/1/2013 – Newts WAY over the luxury-tax threshold: One of the more entertaining diversions in today's NBA is doing the math on what a simple end-of-the-roster signing can do to the Brooklyn Nets' luxury-tax bill. Before this week's addition of Alan Anderson for a mere $947,907, Brooklyn was over the luxury-tax threshold by $29,515,102 … which projected to a 2013-14 luxury tax of $82,939,184. Now? Adding Anderson on a minimum deal nudges those figures to $30,463,009 … and a mind-numbing $87,199,293. So the signing of a player due to make just under $1 million next season will cost Brooklyn more than $4 million in additional taxes under the league's much more punitive tax laws that go into effect this season. ESPN.com
I hope the Nets management feels bad for blowing 87 Million Of Prokhorovs money on a team that wont even make the Finals. – FB
8/1/2013 – Branon Jennings left clues he was heading to Detroit: The Brandon Jennings era in Milwaukee is officially over after he was traded to the Detroit Pistons for Brandon Knight, Khris Middleton and Savla Kravtsov on Wednesday. This move surprised a lot of people as many expected Jennings to accept the Bucks one year, $4.5 million qualifying offer to return to Milwaukee for a final season. But this trade should have obviously been in the works for a while if you'd paid attention to Jennings' clothes and shoes over the recent days and years. First, Jennings wore a Pistons Bad Boys shirt to the Drew League last weekend. That seems like a pretty clear signal. NBA.com
8/1/2013 – LeBron named to International Best Dressed List: On Wednesday, the Miami Heat forward was named to the 74th International Best-Dressed List. The annual list appears exclusively in Vanity Fair (and on the internet). James is one of three athletes to make the cut, alongside New England Patriots quarterback Tom Brady and New York Rangers goalie Henrik Lundqvist. James' profile states that his favorite place to shop is Barcelona, and he takes his style cues from James Bond and Bruce Wayne. The Score
Terrence Jones has Sept. 6 court date on harassment charge. Atty O'Connell said "He's very embarrassed by this. He's really upset over it."

— Jonathan Feigen (@Jonathan_Feigen) July 31, 2013