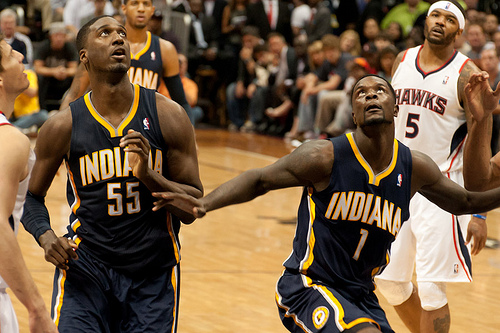 After knocking off the Toronto Raptors 91-84 last night, the Indiana Pacers are now 6-0 and giving up just over 84 points per game. It's an incredible, unbelievable start of the season for the blue and gold. They have done it with defense, team and individual. They have done it with bench players, starters, and players obtained in the offseason. They have done it on the road and at home. Mostly, they have done it averaging almost 19 turnovers a game and being behind in all but one on the young season.
At home, the Pacers should have won this game. They were down by as many as 12 points at different times in the first half, giving up 32 points in the first quarter alone, and Rudy Gay blew them up for 22 first-half points. Yet still, they hung on, hung around, went on a third-quarter 10-0 run, and by late in the third were up by three points and never looked back.
It was the return of George Hill that seemed to spark that fire in the second half—that and Paul George filling out his MVP resume for the sixth straight game, this time with a 23-point, 8-rebound and 6-assist performance.
Lance Stephenson, the spark plug of the first five games for Indiana, left early with an apparent knee injury when he connected knees with DeMar DeRozan after trying to drive baseline in the first half. The hometown fans watched him go back to the locker room in the second quarter. He wouldn't return until the third.
On to Brooklyn, where they park their walkers at the end of the bench before checking into the game (not that they are old or anything). Coming off an overtime loss against the Washington Wizards, they should be primed to want to knock off the undefeated Pacers at home in the Barclays Center.
Image courtesy Mark Runyon/Flickr