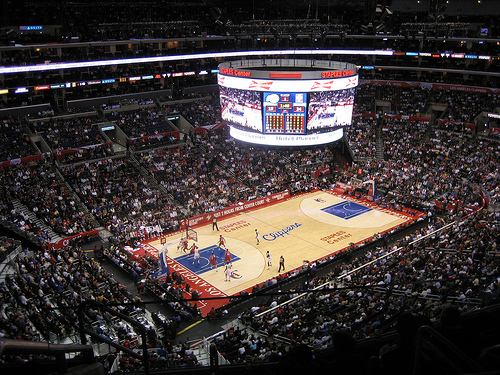 The Los Angeles Clippers couldn't possibly return home back to Staples Center 0-3 on their first major road trip of the season! It certainly appeared that way in the first half as the Rockets gave the Clippers another taste of the frustration sandwich, similar to the way Miami beat them Thursday night – defense. Houston point guard Patrick Beverly had a great early showing against Chris Paul, finishing with a career-high 19 points, 4 steals, five rebounds and two blocks, where as Paul poured in 14 points and 13 assists to mark his seventh consecutive double-double game.
The Clippers shot 48 percent in field goals on the night and 38 percent from the three-point line, their best 3-point shooting night on the 3 game trip. They would need to be sharp from the field as the Rockets opened up an early 4 point lead where Houston gave their best impression of Lob City as James Harden and Dwight Howard connected on a couple of alley-oop plays from poor Clipper transition defense. The Rockets would lead throughout the first half, and despite Chandler Parsons putting up a Rockets game high of 23 points on Clipper small-forward Jared Dudley, the Clippers would close an 11-point third quarter Rocket lead on the heels of great shooting from JJ Redick, and an 18 rebound performance from DeAndre Jordan.
"I kept telling them to hang in there," Clippers head coach Doc Rivers said, and with the Clippers trailing 71-60 with five minutes in the third quarter, his decision to leave Chris Paul and Blake Griffin in the game with four fouls each would pay off, as the Clippers would bolster their defense, forcing Houston to turn the ball over on its next five possessions which ignited an 18-0 Clippers run. The Clippers were led in the second half by JJ Redick and Blake Griffin who would end the game with 22 points each, and Jamal Crawford who had a huge tip in play at the end of the third quarter to put the Clippers up by 2 in addition to a pair of timely 3-pointers, including one from almost half-court.
The Clippers kept their run alive in the fourth quarter, with Dudley adding five points to increase the Clipper lead to 78-71, in a small-ball Clipper lineup with Blake Griffin at center. A lineup that would elevate their hustle and scrappiness, in addition to adding speedier defense to the Howard/Harden Rockets pick and roll, which burned the Clippers in the first half. Houston would eventually narrow the margin to 84-80 from a James Harden three, but Harden didn't have enough on the night as he was visibly bothered by his sore feet, evident in his lasting tally of 12 points, 12 below his current season average.
After a bit of hack-a-DeAndre and hack-a-Dwight, the Clipper would go on to win 107-94, the first time of the season they've held a team under 100 points in a win. Chris Paul commented on the win "Once we started defending – you know, that third quarter – we came out with a lot more purpose and a lot more passion. We showed up to the fight late, which we can't do. They were a little bit grittier and a little bit scrappier than us. Then we finally said enough was enough". Lesson being – the Clippers must begin to play 48 full minutes of consistent basketball on both ends of the floor. It's definitely a work in progress, and with only Sunday off until they return to Staples to take on Kevin Love's Minnesota Timberwolves, it's work that calls for a faster rate of progression to stay above the .500 mark.
Image courtesy astroot/Flickr