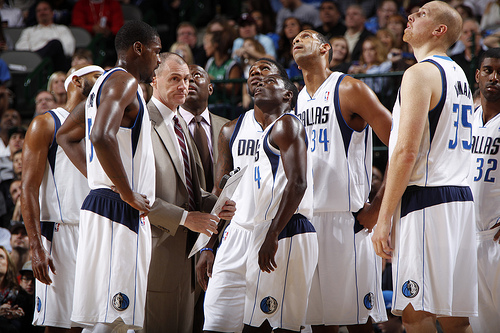 Dallas Mavericks faithful uttered a collective "Huh?" when the free agency dust settled a few months ago. Aside from the over-discussed failure of the front office to lure Dwight Howard, the Mavs had assembled a veritable circus in the backcourt. To be precise, not only had Dallas drafted two guards, they also signed Devin Harris, Gal Mekel, Monta Ellis, Jose Calderon and Wayne Ellington.
But the Mavs haven't yet felt the squeeze, what with Ricky Ledo NBDL-bound and both Harris and rookie Shane Larkin recovering from off-season injuries. Ellis and Calderon have done their thing, Mekel has played better than expected and Ellington has been adequate at about 5-7 minutes per game.
But now there's trouble in Trinity River City.* Larkin has returned to practice, Harris won't be far behind and second-year man Jae Crowder has been surprisingly effective in reserve behind Vince Carter. Truthfully, other teams should be so lucky as to have Dallas' relative comedy of riches, but the fact is that Cuban and Co. will have to decide sooner or later whether to underutilize talent or trade it.
With that in mind, I've done a process of elimination to determine who's most likely to go or stay, starting with the easiest.* Monta Ellis has been a borderline revelation in Dallas through the first week and a half of the season for his ability to penetrate and create opportunities for both himself and his teammates. "Monta Ball" looks like it's here to stay. Ricky Ledo is presently the most inconsequential piece of the Mavs puzzle, but being that he's a 2nd-round rookie project, the Mavs don't look poised to shut that down any time soon.
Next most likely to stay would probably be Wayne Ellington, simply by virtue of the fact that he doesn't present all that sexy as trade bait. He's a good shot and a serviceable defender but by and large has been unremarkable as an NBA player. I think the only way Ellington gets dealt is if Cuban needs to throw him in as an extra piece in a deal featuring a more prominent Mavs player. Also unlikely to move would be Devin Harris. I could throw out a handful of reasons why, but chief among them would be the mutual interest that was on display between he and the organization during the free agency period. An initial deal fell through, then both parties essentially waited on each other and made another deal.
Now it starts getting murky as we switch to trade likelihood, and we'll go in ascending order. Gal Mekel is a strange quantity. He's shown some impressive development since the start of the regular season and could prove to be a valuable backup in the long run at the PG position. That's the kind of stuff trade bait is made of. The reason I don't quite see the Mavs putting him on the table, however, is for the very reason he might be attractive to other suitors. Mekel's stock is on the rise, and you have to be extra careful selling rising stocks. The Mavs should—and I believe will—wait until they have a better idea of his true ceiling before making a trade a real possibility.
Next on the list is Larkin. As of now, he's a completely unknown quantity due to breaking his ankle almost the exact moment he was drafted. He's been hyped as "J.J. Berea Part II," but at least at this early stage, Larkin is on the outside of the PG rotation looking in. Personally, I'm really excited to see what the kid is capable of, but if he can't climb that ladder and quickly carve out a role, it's feasible to think he could be ripe for some rebuilding team's picking.
Now let's move on from murky to downright hairy. If you're reading this as a Mavs fan, you may have had growing panic as you progressed through the trade scenarios above. Where's Jose? Is he safe? Surely we're not going to trade the guy who's supposed to be the antidote to Darren Collison and Mike James? The guy we just signed to four years? In full disclosure, I can't take credit (to the extent that I'd want to) for this idea. I saw it in a blurb the other day from Kirk Henderson at SB Nation's Mavs Moneyball blog. His thought was that Calderon might find himself relegated to back-up minutes due to Monta Ellis' emergence as such a force at PG. I credit Kirk with the candor to let that thought fully mature. For my own part, I'd noticed the incongruity of Calderon's planned role and how Carlisle is actually channeling so much of the offense through Ellis, but I guess my more reserved constitution didn't want to follow that observance through to a conclusion.
Be that as it may, even if Calderon's role is necessarily reduced, a number of questions remain as to who would fill the void left by a trade. No one on the roster has Calderon's shooting ability. Even though the Mavs recently lost in Minnesota, Calderon's stroke from outside practically kept his team in the game in the second half. Would a defensive upgrade at the position in the form of Mekel/Harris/Larkin be enough to offset the shooting threat drop off? And who does Dallas get for Calderon? Who takes his—some would say—generous 4-year contract, and who does Dallas get in return?
Questions galore. At least this year it's a question of too much rather than not enough.
*I'm not including Jae Crowder or Vince Carter in this discussion because they're just not getting traded and I don't feel like pretending like they might.