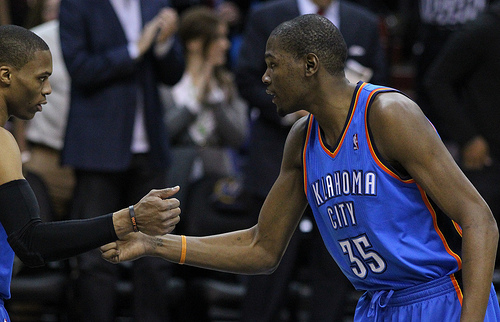 Looking for their second victory against the Oklahoma City Thunder in eight games, the Los Angeles Clippers tipped off as winners of their last four at home. With a bit of bad blood in the air stemming from the push-and-shove in their previous meeting, the Oklahoma City Thunder never trailed in the contest, at one point led by 15, and collected an easy win against the Clippers, 105-91 on the back of 28 points, 8 assists, and 6 rebounds from Kevin Durant.
With Matt Barnes out for at least two weeks recovering from surgery on his left eye after a run-in with Zach Randolph's backhand, the Clipper defense was miserable, allowing the Thunder to shoot 69 percent in the first 10 minutes and 58 percent in the second half, and although the Clippers had bright spots from Blake Griffin with 27 points and 10 rebounds, Chris Paul with 17 points and 12 assists and Jamal Crawford with 18 points off the bench, the Clippers were slower to the ball, lacked hustle and were outscored 58 to 32 from points in the paint. Once again Jared Dudley failed to break into double digits in points as a starter, and with 13 games into the young season, he looks like the odd-man out in a Clipper group that's trying to break out of the blocks and reach its full potential despite an inconsistent bench and an inability to produce defensive stops and collect rebounds in crucial moments; areas where the team thrived last season.
Averaging 109 points per game (second in the NBA), their 91 points against the Thunder is their second-lowest total of the season. They're 0-3 when scoring less than 100 points—a sign that the defense needs to be finely tuned.
A small cause for concern would be the Clippers' current play in the slower moments of the game. For a team that thrives on fast break opportunities, they only had 12 against the Thunder despite Oklahoma City's 17 turnovers. Chris Paul must return to his early aggressive style, and Blake Griffin will need to continue his same level of play, as his perimeter jump shot has improved, although not commanding the respect of defenders yet. The Clippers have a 62 percent field-goal percentage under the rim primarily due to fast break points. On the block, they're putting up an abysmal 34 percent, which screams for the need of a back-to-the-basket player who can post up and get easy shots for himself and others.
Although he's not a fan of platoon swaps, Doc Rivers might need to employ that strategy for a few games because the bench unit needs more chemistry to start winning games for the club. Their more popular bench lineup of Darren Collison, Jamal Crawford, Jared Dudley, Matt Barnes and Byron Mullens has shot a poor 36 percent from the floor, while removing Dudley from that lineup and inserting Griffin almost doubles that percentage to 63. Doc's eight-man rotations show more tinker, when more consistency might be in order for a team that still fumbles passes, misses rotations, and at times looks baffled on offensive breakdowns. Rivers and his staff will need to hurry that effort, or search for pieces that can fill the void.
A bright spot has been Clippers rookie Reggie Bullock, who scored five points (although on 3-11 shooting), but looks comfortable at game speed and has proven himself to be a possible contributor when needed.
Next stop for the Clippers is on Saturday against the Kings in Sacramento.
Image courtesy of Kieth Allison/Flickr