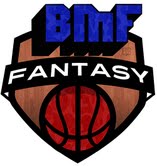 J.R. Smith returned to the New York Knicks rotation on Saturday after a fine, a DNP-CD and a ton of frustration from his fantasy basketball owners. He did return with a fantasy-friendly line of 14 points, six assists and three treys. His maturity, or apparently lack thereof, has shadowed him throughout his career. It's quite possible that the Knicks have finally had enough and are rumored to be looking for a new home for their fiery guard. Smith should still hold value even with a questionable future in New York and a new team could possibly give us a window of good enough behavior for him to be more statistically productive and less "let's tie his shoelaces together while he shoots free throws." Smith owners may want to take this opportunity to rid themselves of a headcase and package him in a trade deal themselves.
In other news, the Milwaukee Bucks' Khris Middleton was re-inserted into the starting lineup after several games of being moved to the bench in favor of Luke Ridnour. Middleton provided solid value during Ersan Ilyasova's absence due to injury and it was somewhat bewildering to onlookers as to why he was demoted to the bench. He did have trouble finding his shot as his team fell to the Oklahoma City Thunder in a 101-85 trouncing. He only made three of his fourteen shots from the field and was just one of three from the charity stripe. Middleton did manage to knock down a three and grab eight boards in his 36 minutes of action. His playing time is a good sign and his value could rise back to late-round levels if he can find his groove once again. Teams in deep leagues may want to get aggressive and pick him up in the FA pool, as he was likely dropped when he fell off fantasy radars.
Meanwhile, the Denver Nuggets have still not played Andre Miller, who has officially missed his sixth straight game. The Nugs have been trying to find Miller a new home via a trade, but it appears they have not been successful in finding the right deal and trade partner. Miller has not held any real fantasy value so far this season, but managers who picked him up on the outside chance that he would deliver at least low-end value if on another team, may have to cut him loose at this point.
Jared Sullinger of the Boston Celtics, after putting together a string of disappointing games, has vacated his starting job (for now) in favor of the recently more productive Kris Humphries. While it is not sure if the swap is permanent, the production trend is merit enough to grab Humphries and ride his current productivity as a starter. He has been a decent source of REB and BLK over his last five games and is worthy of consideration for any team's third-string big man. At this point, Kris gets a must-grab order for deep-league teams. Sullinger, on the other hand, can be dropped by standard-league teams in favor of the recently most productive FA available.
Featured image courtesy of Keith Allison/Flickr.