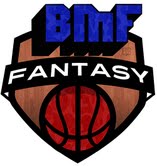 Think of the last dartboard you laid eyes on. You've got the red rows and the black rows rotating all the way down until the (most of the time) yellow bullseye. If you're an amateur at best dart player like I am, you know you can't always aim for the bullseye. Instead, you have to realistically set your sights for the 20 because it is a much larger and more reasonable target. Most of the time, you'll at least get close to what you thought you were getting into. When you aim for the bullseye consistently, a lot of the time you'll end up landing on two or three or even concentrate so hard you miss the board completely.
The same holds true for fantasy basketball trading. You can't always just aim to trade for the bullseye, or in fantasy basketball terms, Kevin Durant. Your team has more reasonable needs then just making every deal a blockbuster. If you shoot for guys that are in your price range, you are more likely to hit. Sometimes, like hitting on triple 20, you hit big. My goal is to find you the triple 20s of fantasy basketball that can be had cheaply at the moment. By the end of the season, their returns should be much higher than what you gave up to trade for them. Here is a list of four players I have compiled that are the absolute best candidates:
Marc Gasol – The superstar is back, but wait, where are the superstar numbers? We all understand a down game or two when coming back from an extended absence. Gasol has been back for six games and his shot has yet to start falling. For big Marc, I assume it is only a matter of time. In his second game back, Gasol posted a goose egg in terms of points. The following two games resembled typical Gasol lines:
1/17: 16 PTS, 3 REB, 2 AST, 2 STL and 4 BLK
1/20: 14 PTS, 8 REB, 4 AST and 1 STL (0 BLK)
Since then, his lines have gone back down the toilet. This is Marc Gasol we are talking about people. He didn't tear anything, he simply sprained his MCL. With no reconstructive surgery, there really isn't a lot to worry about. Gasol shot 49.4% FG last year in 80 games. So far in six games back, he's shooting a miserable 38.8% The law of averages says that FG% will rise a lot and very soon. While you still can, throw a trade offer out there and see if you can buy low. In no time, Gasol should be putting up top 20-30 overall type numbers if not better. Pounce.
Roy Hibbert – After earning a reputation as inconsistent last year, his reputation is once again preceding him. In his last seven games, Hibbert is averaging 8.6 PPG on 41% shooting and 7.4 REB. Fantasy owners are all too familiar with this scene: Hibbert averaged under 41% shooting in both November and December of last season. Not until March did he produce over 46.2% in a month and then he shot 57.3% in six April games. Unfortunately, Hibbert is just in another one of his patented slumps at this point. Trading for him as a risky proposition as he has a propensity for extended slumps, but at some point things will turn around. Don't forget this is still a guy who is second in the NBA in both blocks per game and total blocks. Even if he stays in the slump, he will have value as a one category contributor. When he snaps out of it, he is a solid fantasy center. Make a low-ball offer and see if you can steal him away from his annoyed owner.
Victor Oladipo – I know, I know, I'm like a broken record with this guy. Sorry, I am just absolutely all-in on Victor Oladipo starting with the second half of this season. Like most rookies, Oladipo has gone through an adjustment period, but that seems to be just about over. Over the last 15 days, only 30 players rank higher on ESPN's player rater. I'm not kidding at all every time I make the Dwyane Wade comparison. The numbers don't lie. Take a look for yourself, here they are over the last 15 days: 16.6 PPG, 0.9 3PM, 5.8 REB, 5.1 AST, 2.3 STL and 0.9 BLK. Seriously, this is one of the most talented all-around talents in basketball. It is only a matter of time until he puts it all together and he has lately. Before it's all over, Oladipo is going to be a top 25 type fantasy player year in and year out. Buy him before his value goes through the roof.
Enes Kanter – Tyrone Corbin has been the main obstacle for Enes Kanter recently. Well, that and Kanter's lack of defense. Corbin has only played Kanter 23.0 minutes per game in his last six and he's actually improved. Besides rebounds, Kanter's season per-36 numbers are actually on par with his (limited) career numbers. Kanter has had the hot hand recently and I think that may spark more playing time in the near future. The Jazz are a bad team playing Marvin Williams 20+ MPG and 33-year-old Richard Jefferson 25+ MPG. How long can that really last? Only logical explanation is they are showcasing the two of them for a trade. The Utah Jazz are second to last in the Western Conference. General Manager Dennis Lindsey must know the team is better off to just tank. That being said, Kanter should see extended minutes soon. He's the #3 overall pick from the 2011 Draft and has yet to get an extended look. I still see plenty of unfilled offensive upside. As a plus FG% guy that will score and rebound a sufficient amount, he is worth owning in 12+ team leagues. Acquiring his services could pay off big, but the downside is he stays the same. I would trade someone like Kenneth Faried for Kanter and take the shot on him turning things around.
For more NBA and Fantasy Basketball info check out Fantasy Basketball Money Leagues.
Featured image courtesy of RMTip21/Flickr.