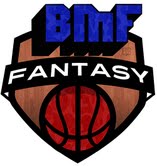 The Eastern and Western Conference All-Star game reserves were recently announced and now the rosters of both teams are complete. As you know, the starters were selected based on fan voting while the reserves were selected by each team's respective coaches and their coaching staff.
The overall selection is not 100% just a popularity contest. How these players performed for the first half of the season factored into their selection as well.
When it comes to fantasy basketball, however, the big names and bright lights don't matter as much. It's all about the numbers these players produce and how well they defeat our opposing managers of imaginary teams.
So in getting into the spirit of the upcoming All-Star weekend and All-Star game here is a look at who would make into East and West teams based on their cumulative stats from October 29, 2013 until January 31, 2014..
| | |
| --- | --- |
| Eastern Conference Starters |                                            Western Conference Starters |
| F Carmelo Anthony |                                               F Kevin Durant |
| F LeBron James |                                               F/C Kevin Love |
| G/F Paul George |                                               G Stephen Curry |
| G Kyle Lowry |                                               F/C Anthony Davis |
| C Spencer Hawes |                                               G Chris Paul |
| Reserves: |                                            Reserves: |
| G John Wall |                                            F Dirk Nowitzki |
| F Paul Millsap |                                            F Lamarcus Aldridge |
| G Kyrie Irving |                                            G Damian Lillard |
| C Al Jefferson |                                            G James Harden |
| C Joakim Noah |                                            F Blake Griffin |
For reference, here are the roster of the East and West All-Stars:
East
G – Kyrie Irving (CLE)
G – Dwyane Wade (MIA)
F – Carmelo Anthony (NYK)
F – Paul George (IND)
F – LeBron James (MIA)
G – DeMar DeRozan (TOR)
G – Joe Johnson (BKN)
G – John Wall (WAS)
F – Chris Bosh (MIA)
F – Paul Millsap (ATL)
F – Joakim Noah (CHI)
C – Roy Hibbert (IND)
West
G – Kobe Bryant (LAL)
G – Steph Curry (GS)
F – Kevin Durant (OKC)
F – Blake Griffin (LAC)
F – Kevin Love (MIN)
G – James Harden (HOU)
G – Damian Lillard (POR)
G – Tony Parker (SA)
G – Chris Paul (LAC)
F – LaMarcus Aldridge (POR)
F – Dirk Nowitzki (DAL)
C – Dwight Howard (HOU)
Aside from glaring discrepancies like the appearance of Spencer Hawes as a starter for the Eastern Conference Fantasy squad, most of the real-life all-stars did indeed perform up to snuff as far statistical production is concerned.
Featured image courtesy of RMTip21/Flickr.