Admittedly as the title suggests, the principle of this column will be more so a rant on analytics/huge data dump than some of my earlier pieces that involved such things like screen shots and synergy videos. It wasn't necessarily what I attended it to become, but it's hopefully a better outcome. I stumbled upon a video on Twitter from a friend of mine (@A_Naqvi_WoA if you want to give him a follow, which you should) about Randy Wittman and the value of analytics. To say that Randy Wittman has been questioned by the Washington Wizards Twitter-sphere is sugar coating it, but I found it very fascinating nonetheless:
Basketball has made huge progress in terms of "Advance Metrics" and incorporating higher thinking towards the values of various things like Player Tracking on the NBA's website, the dangers of the mid-range game (we'll get to this shortly), and overall having a better understanding on how much variance can carry within certain aspects in the NBA. Some of the problems that remain are the same that have been part of baseball for a while and has seeped into hockey and soccer, which is the blending of what analytics is supposed to be for and what statistics are actually for, which is a problem I have with Randy Wittman's response to some of those questions. Analytics and statistics are two different things yet they're treated the same way. Here's how Wikipedia defines the word analytics:
Analytics is the discovery and communication of meaningful patterns in data.
Now here's the definition of statistics according to Merriam Webster:
a collection of quantitative data
An example of statistics is "The Portland Trail Blazers are taking the most mid-range shots per game at 28.8." Analytics takes us through why possibly that has happened, the personnel they have, and tests our original thoughts on the subject. Richard Whittall from The Score expertly wrote about it in relation to occasional problems that have surrounded the game of soccer:
Put another way, analytics is about absence where statistics (and the bulk of essentialist football commentary) are about presence. Analytics tests our assumptions about what certain numbers mean with regard to football. It is a tool for opening up doubt where blithe certainty used to be. It makes no absolute claims over ideal tactics or players. And if analytics work does note a strong correlation between two different metrics, it is always one of degree. Teams that regularly outshoot opponents tend to get more points in the league table. Shot conversion rates tend to be heavily influenced by random variation. From here it can offer profound insight to any team in separating signal from noise. Analytics lets you say "I don't know" in good conscience, whether to a stat or a cliche.
Not every basketball coach needs to be someone cut in the mold of Brad Stevens, who'll casually reference eFG%. Kevin McHale would be an example of someone who's not necessarily cut in the same mold, but he's helped create one of the most numbers friendly, and, incidentally, most efficient offenses in the last couple of years for the Houston Rockets. Personnel obviously helps in it, but repeating the same mistakes over and over again is the epitome of insanity. The Wizards offense has toiled in perpetual mediocrity with Wittman as coach. The stubbornness he has for the values of analytics, merging the worlds of statistics and analytics even though they're a bit different, paints a picture of him as a defiant, embattled coach. There's something very admirable about being so defiant in the beliefs he has offensively, but it's also rather dumbfounding considering the results it's yielded.
Data Dumping
Over the NBA All-Star break, I was glued to Excel and decided to do a bunch of data crunching. It caused me to miss the All-Star Game and part of All-Star Saturday night, but I found it pretty cool nonetheless. It might've also ended with me having Carpal Tunnel but I'll neither confirm nor deny it. First up is the correlation between rate of mid-range shots and offensive efficiency. The data complied here is from the 1996-97 season to the 2012-13 season.
| | |
| --- | --- |
| Pre Hand Checking Era | Post Hand Checking Era |
| R2= 0.0155 | R2= 0.0732 |
| Talent/Variance Ratio = 12:88 | Talent/Variance Ratio = 27:73 |
I decided to break up the data into what happened before the implementation of the hand checking rule because of the effects that it helped garner. It coincided with the "Seven Seconds or Less" Phoenix Suns, one of the most enjoyable teams in the modern NBA. A rather sizeable difference but they still are very much driven by statistical variance more so than talent. I must say that I'm very surprised that the R2 pre-2004-05 is so little considering how different the NBA was back then, though perhaps it's more so correlated with restricted area shots than mid-range jumpers. How about three-point rates relative to OffRtg:
| | |
| --- | --- |
| Pre Hand Checking Era | Post Hand Checking Era |
| R2 = 0.1083 | R2 = 0.1283 |
| Talent/Variance Ratio = 33:67 | Talent/Variance Ratio = 36:64 |
A rather big jump particularly when it comes to how much more it mattered in the pre-hand checking era, relative to how much variance drove mid-range rates. Post-hand checking is still rather low relative to what I thought would be the case (I very much was thinking much higher correlations than what turned out to be).
So how does the rate of mid-range shots effect overall win percentage? Here are the results:
| | |
| --- | --- |
| Pre Hand Checking Era | Post Hand Checking Era |
| R2 = 0.0072 | R2 = 0.1375 |
| Talent/Variance Ratio = 9:91 | Talent/Variance Ratio = 37:63 |
That's quite the jump from only a 9 percent talent influence to 37 percent, though we still haven't hit even 40 percent on talent influence. Let's see for three-point shot rates and overall win percentage.
| | |
| --- | --- |
| Pre Hand Checking Era | Post Hand Checking Era |
| R2 = 0.028 | R2 = 0.077 |
| Talent/Variance Ratio = 17:83 | Talent/Variance Ratio = 28:72 |
This perhaps could be more explained with the gradual importance of the three-point shot in today's NBA homogenizing the effects that rates have on wins. The thing is this is only taking one end of the court into account. Perhaps a better method of choice should've been what correlated more to win percentage: offensive rates or defensive rates. I'll probably do a study similar to this over the summer when there's more time to do these type of experiments. The same thing applies to field goal percentage to win percentage. Here's for mid-range field goal percentage:
| | |
| --- | --- |
| Pre Hand Checking Era | Post Hand Checking Era |
| R2 = 0.1241 | R2 = 0.1375 |
| Talent/Variance Ratio = 35:65 | Talent/Variance Ratio = 37:63 |
And now here's for three-point field goal percentage relative to overall win percentage:
| | |
| --- | --- |
| Pre Hand Checking Era | Post Hand Checking Era |
| R2 = 0.1426 | R2 = 0.2192 |
| Talent/Variance Ratio = 37:63: | Talent/Variance Ratio = 47:53 |
We finally hit a talent percentage over 40 with the success that shooting from three brings. In fact over the last four completed seasons, it was an even 50:50 ratio for talent/variance in relation to overall success.
Finally, I tried to see how repeatable field goal percentage is in terms of the mid-range area and from three. The data used here is from the 1996-97 season to the 2011-12 season, using back-to-back seasons which excluded last season from the data plot. The x axis is Year 1 and the y axis is Year 2. First up is three-point field goal percentage:
The last one is mid-range field goal percentage: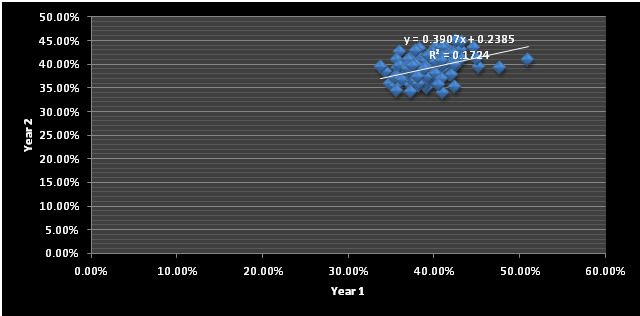 So mid-range shooting is a safer bet to bank on as a repeatable measure with a talent percentage of 42. Three-point shooting comes in at a talent percentage of 35. Both are still under 50 percent, indicating strong volatility with the two stats in question. Over the summer, I'll explore the repeatability for these type of statistics defensively, and see which side of the ball has stronger talent-driven metrics. Until then, enjoy the rest of the NBA regular season and gear up for many many "Leastern Conference" jokes during the playoffs.