Baller Mind Frame's No Layups brings you the hottest NBA stories on the web mixed with personal opinion from our very own Aaron Lanton
Just one month into his role as Knicks president, Jackson has already clashed with James Dolan, the chairman of Madison Square Garden, over personnel decisions, the Daily News has learned. According to a team source, Jackson is looking to remove several staff members, which is commonplace when a new administration takes over, but Dolan opposes removing certain employees.
According to the source, Dolan's reaction to Jackson's request was to tell the 11-time NBA championship coach to simply focus his attention on building a winning team. To say that "minor friction," as one Garden source called it, can be classified as Jackson's honeymoon with Dolan being over may be stretching it a bit.
But at the very least it proves that Dolan — surprise, surprise wasn't being entirely truthful last month when he claimed he was "willingly and gratefully" giving up control of the basketball decisions to Jackson, the Hall of Fame coach.
"In his role as president Phil will be in charge of all basketball decisions," Dolan said after signing Jackson to a five-year, $60 million contract.
Of course, Dolan also lied about giving Donnie Walsh full autonomy when he hijacked the Carmelo Anthony trade negotiations from the long-time and respected basketball executive. Although Walsh wanted to acquire Anthony, his advice to Dolan was to wait until the trading deadline to strike a better deal with the Denver Nuggets. Dolan ignored Walsh and eventually gave the Nuggets a promising young center in Timofey Mozgov and the Knicks' 2014 first-round pick, which is now a lottery pick. New York Daily News
This is as predictable as an anime hero almost being defeated by an overpowering enemy, but not losing because of the power of friendship.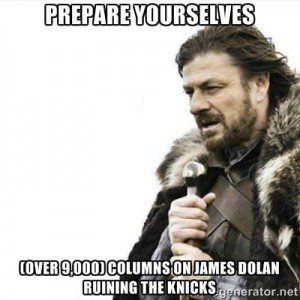 I'm not covering this saga anymore until some actual news comes out of the Knicks' front office. We have to quit giving the Knicks attention for being the Knicks.
Jackson went from the dysfunctional (as far as basketball) Buss family with the Lakers to the dillusional one-man wrecking crew with Dolan and the Knicks. I would say he regrets becoming the Knicks' president but I'm sure he's too busy swimming in his money to care.  
– AL