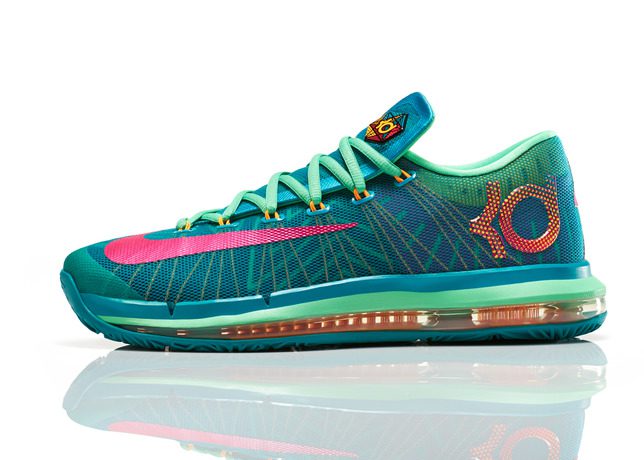 Courtesy of Nike — featuring the Nike KD VI Elite Hero >>
Fictional heroes take on superhuman characteristics in comics, films, books and television. From speed, strength, vision and intellect, these heroes rise to the challenge when the pressure's greatest. 
LeBron James, Kobe Bryant and Kevin Durant are real-life heroes that electrify the basketball universe.  The Nike Basketball Elite Series Hero Collection represents the best for the best: footwear designed to the superhuman specifications of James, Bryant and Durant.
Prolific colors, premium materials, advanced construction and athlete insights inform this advanced trio of signature shoes in one collection featuring the LEBRON 11 Elite, KOBE 9 Elite and KD VI Elite, all in hues representing the superhuman skills each brings to the court.
KD VI ELITE HERO
Maximizing strength and breathability, the KD VI Elite Hero moves precisely and naturally with the foot. Designer Leo Chang's vision to mimic the precision craftsmanship and fine details of a wristwatch are visually revealed in the KD VI Elite Hero. For the first time in a KD signature shoe, this new version boasts a full-length, visible Nike Zoom unit that runs through the entire midsole. This turbo green colored shoe features Flywire technology, reinforced with Kevlar® aramid fibers, providing Durant with lockdown support for his versatile style of play.