He only played 18:02 in Game 3, took three shots and had three personal fouls in that time span, but there was such a profound presence when Andray Blatche was on the court. He's a load to deal with at his listed 6'11" and 260 pounds, with average to above average rebounding rates and soft hands. Combine that with his capable mid-range shooting and you have the makings of a solid offensive contributor.
The Toronto Raptors simply couldn't offer much resistance in guarding Blatche, evident by the eight free-throw attempts and his +11 (plus/minus ratio) on the night. His Points per Possession according to Synergy Sports was 1.71, by far the highest number on the team. His possessions came from a variety of plays: pick-and-rolls, cuts to the rim, some post-ups and even him simply setting screens for Marcus Thornton from the second quarter. It was a fun cameo and Jason Kidd should get credit for the way he's jiggered his rotations to keep Kevin Garnett at a 16-20 minute time limit while getting 31.3 minutes per game from Paul Pierce.
A few things to note from Game 3:
Psycho T:
Tyler Hansbrough has only played 16 minutes in the three games in this series, but this just isn't the series for Psycho T to play in. He's always been nothing more than a player with one gift: his offensive rebounding rate, which admittedly is a good gift to have as a niche player. His old teams in Indiana were always really good at offensive rebounding whenever he was on the court. In fact, the Pacers last year had a 33.4% Offensive Rebounding rate with Tyler in the lineup, a mark that would easily be the best in the NBA. This year with Hansbrough on the court the Raptors have a 29.4% Offensive Rebounding Rate which would be the second best in the NBA, an increase from the 27.2% they sported overall on the year which ranked 11th in the NBA.
He's very good in terms of impacting offensive rebounding, but it's just really hard to run an efficient offense with him on the court because he can't do anything else at a high level. The Raps were 6.6 better on offense with Tyler on the court (100.9 to 107.5) and the shooting metrics were significantly better without Hansbrough. Plus with Toronto already sporting a 31.8% offensive rebounding in the three playoff games against Brooklyn, there's just no need for him to play much and risk having such a stagnated offense, unless Jonas Valanciunas, Amir Johnson, and Patrick Patterson are in severe foul troubling.
Joe Johnson; Rinse, Lather and Repeat:
I've mentioned in the first two games how Joe Johnson has eaten alive the wing players for Toronto with the exception of Landry Fields, and the same continued with 29 points on 11-of-17 shooting. It's gotten to the point where it's becoming DEFCON 1 for Toronto. I mean, they're even running Johnson as a big man in horn actions to get Fields away from him: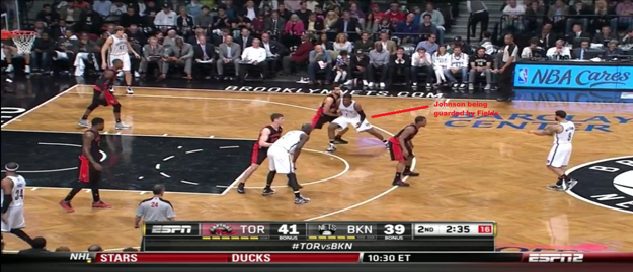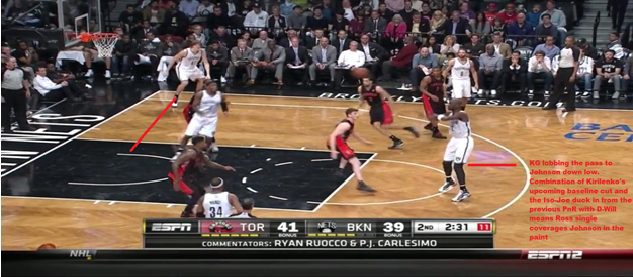 It just combines so much of the great attributes of the five players on the court (Kevin Garnett's passing, Deron Williams' growing gravity in this series in the pick-and-roll, Paul Pierce's spacing, Andrei Kirilenko's cutting, and Joe Johnson's abilities against smaller wings). Just great play calling by Jason Kidd.
Terrence Ross' Disappearing act:
He's only 3-of-16 from the field, 2-of-11 from the three-point line, and averaging only 21 minutes per game in the playoffs, a far cry from the 26.7 he was averaging during the regular season. Some of this can be attributed to the 4.6 personal fouls he's averaging per 36 minutes in the series, but this hasn't been the best matchup for him. He's been stuck at times guarding the likes of Joe Johnson and Paul Pierce, which is a massive disadvantage on his end. In Game 3 Toronto moved him more towards guarding Deron Williams and Shaun Livingston, which in theory would be more advantageous for Ross' defensive skill set but similar results occurred.
It's not a surprise that with all this happening for Terrence Ross, Greivis Vasquez has been playing more minutes in either three-guard lineups with DeMar DeRozan and Kyle Lowry, or playing with Lowry and Landry Fields on the perimeter. The shooting itself could simply just be a three-game aberration that is indirectly heightening the shortcomings of Ross's defensive exploits, but even then, the Raps need much more from him.
DeRozan's usage:
DeMar DeRozan is averaging a USG% of 33.5% which is where Kobe has primarily averaged during his prime years, which is interesting considering he's got a TS% of just over 51.2%. On the surface, those are very bad returns for a wing player to have that many possessions, but it's very encouraging that despite this he's averaged 11.6 free-throw attempts to compound the bad shooting on his end, which was very much one of Kobe's best attributes. The Raps actually did very well in isolation attempts against Brooklyn, going 7-of-15 on that end with 1.38 PPP via Synergy. DeRozan himself shot 6-of-12 in isolation situations, drawing two shooting fouls. It just seems like a waste of DeRozan's improving abilities as a pick-and-roll ball handler if isolations are where the Raps will have to depend on him for production, though that may have to ultimately be where DeRozan makes his hay.
So Game 3 is in the books with Game 4 coming Sunday. A series hangs in the balance, who will write its next chapter?