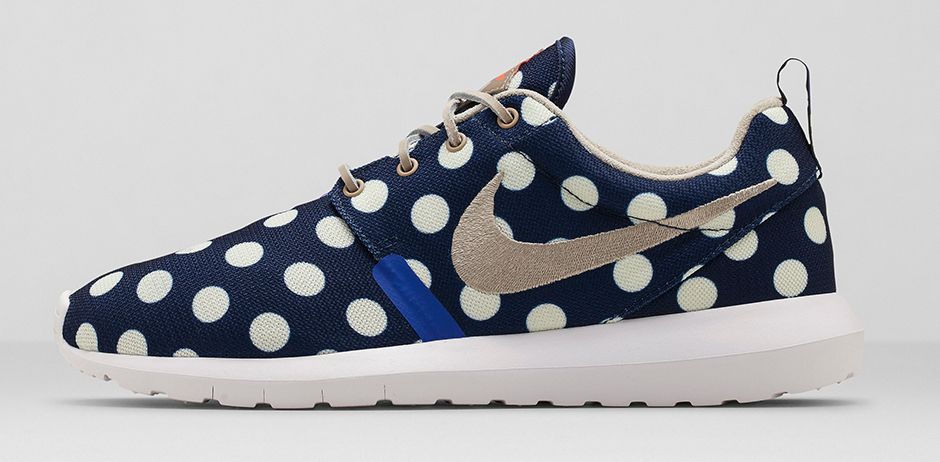 BMF Style: Because balling is more than the roundball – it's the lifestyle that surrounds the ball. BMF Style brings you the best styles in sportswear and fashion apparel for when you're away from the court, whether you're checking for new gear or checking for your favorite NBA players' pieces outside of the locker room.
Courtesy of Nike | featuring the Nike Roshe Run NM City 'NYC' >>
Summer is a time for unfettered self-expression. The warmer weather requires fewer layers, more color, and a minimal mix of materials. New York City, in particular, demands a dramatic change in dress from previous months, as the scorching sun turns the coolest of cool into puddles of perspiration. To beat the heat and combat the elements, the latest City Pack makes over two fresh silhouettes for the summertime.
Both, the Air Max 90 Ice and the Rosherun NM, draw inspiration from the leisurely lifestyle of New York vacationers. Featuring an all-over polka dot print, both designs employ a sublimated canvas upper for a lightweight feel. To tie the design together, distinct Nike and NYC badging are found on the tongue, a nod to the seasonally reoccurring City Packs. Summer is quickly creeping up. Keep it breezy and embrace the forthcoming dog days of summer in the new, NYC-inspired City Pack.
The BMF Kicks & Sportswear Take >>

The Nike Roshe Run NM City 'New York' is a boat shoe made extravagant in subtlety – clearly the polka dots are a bit bombastic in look, but the soft mesh upper and Midnight Navy and Light Stone combination settle the shoe into easiness. The Natural Motion sole, either a Phylon or Phylite foam, gives the shoe additional shape on the platform and add dimension to the shape. This particular version of the Roshe Run is greater than the sum of its parts; it all makes a delightful shoe when combined as is.