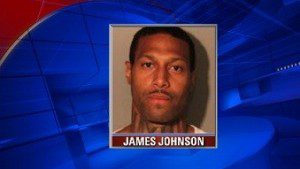 Baller Mind Frame's No Layups brings you the hottest NBA stories on the web mixed with personal opinion from our very own Aaron Lanton. Check it often and absorb the knowledge we're dropping on you!
Memphis Grizzlies free agent James Johnson was arrested early Saturday morning after a domestic dispute with his wife at their home in downtown Memphis. Investigators say the couple got into some type of altercation as they were leaving Beale Street around 2 am. The 27 year old's wife called police after she says Johnson hit her in the face with his open hand and choked her.
She also told officers the NBA player punched a hole in their bathroom door, which is where she was waiting while holding their child. Officers say the victim gave the baby to her mother and Johnson then pushed that woman and took the baby before running away from the scene. Johnson eventually returned and was taken to jail.
He's been charged with Domestic Assault-Bodily Harm. The victim refused medical treatment, but officers say she did not have any visible injuries to her face or neck. Officers say the couple had been drinking in their home earlier that evening. Johnson is currently an unrestricted free agent with the Memphis Grizzlies. The Grizzlies released the following statement Saturday:
"We are currently gathering information regarding this morning's report involving James Johnson. We have no further comment at this time." Fox 13 Memphis
This is a trivial point considering the seriousness of the charges against Johnson but his free agency will affected by this situation although it's not clear to what degree. Production and potential always trump ethics in professional athletics.
During his rookie season, Lance Stephenson pushed his girlfriend down a flight of stairs and continued attacking her after her descent. Stephenson is now an unrestricted free agent and certain to be paid handsomely for his services by the Indiana Pacers or another franchise looking for a productive wing player. Stephenson was given another chance to set things right, and hasn't been in trouble off the court since. 
Johnson averaged 7.4 points, 3.2 rebounds, and 2.1 assists in 18.4 minutes per game during the regular season. He became a fan favorite in the Grindhouse during Marc Gasol's absence from injury, and a legitimately argument could be made he should have played more often. But real life comes before sports and Johnson should be held responsible for his actions if the allegations are true. Everyone should wait until the facts are verified and then make our assessments at that time. – AL