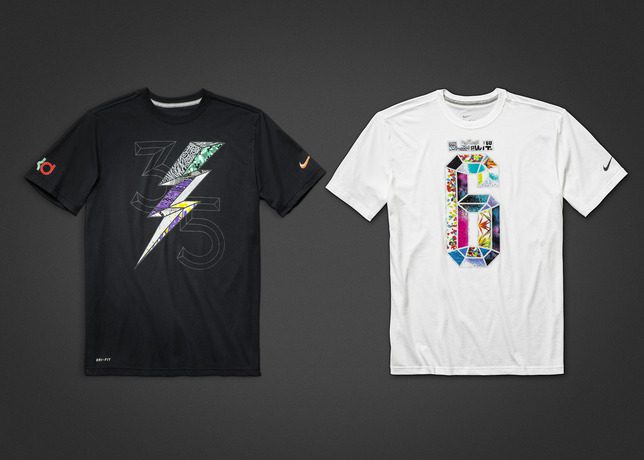 BMF Style: Because balling is more than the roundball – it's the lifestyle that surrounds the ball. BMF Style brings you the best styles in sportswear and fashion apparel for when you're away from the court, whether you're checking for new gear or checking for your favorite NBA players' pieces outside of the locker room.
Courtesy of Nike | featuring the Nike "What The" KD & LeBron Tees >>
To provide consumers with a hookup to their "What The" KD and LEBRON kicks, Nike has created for the fist time two T-shirts that will release in tandem with the eclectic footwear. The KD VI "What The KD" T-shirt will be available June 13 for $35, while the LEBRON 11 "What The LeBron" T-shirt will launch with the shoe.
The  KD VI "What The KD" T-shirt incorporates 35 graphics and colors from all of the past KD VI colorways. Reflectivehe elements include the block "35" graphic, KD logo on the back and pieces of the thunder bolt.
 The LEBRON 11 "What the LeBron" T-shirt mashes eight product design motifs from past LEBRON signature shoes, along with 20 different graphics and colors from previous editions. Included in the "6" graphic are the most popular details from James's iconic storytelling arsenal. The block "6" graphic and logo on the back are reflective.
The KD VI "What the KD" t-shirt can be purchased on nike.com.