[dropcap]S[/dropcap]outhwest Airlines is running a New Kids On The Block Facebook contest until June 29, where two lucky winners will win pairs of tickets to fly the friendly skies with Jordan, Jonathan, Joey, Donnie, and Danny and party it up on their way to Las Vegas. Called "The Official NKOTB Party Plane Experience," the contest is said to offer "the ultimate NKOTB Fan Experience," as the Kids are set to perform in Vegas in July.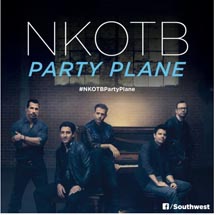 We're not sure what that all entails, seeing how the core fan base for New Kids On The Block during their heyday are now all 30-something women, many of them probably mothers by now; so quite possibly the ultimate experience simply entails a non-stop flight filled with cosmos, peace and quiet away from the kids, and NKOTB to serenade you and your BFF to sleep with "I'll Be Loving You Forever" and "Please Don't Go Girl" (because really, do you think your husband wants to be on that plane? Well, maybe if he's a fan of Blue Bloods…)
All interested parties can check out Soutwest's Facebook page or their website for more info and contest rules.
image via Southwest Airlines
[author title="About the Author"]
[custom_headline type="center" level="h2″ looks_like="h3″ accent="true"]Recent Posts[/custom_headline]
[recent_posts count="1″ orientation="horizontal"] [recent_posts count="3″ orientation="horizontal" offset="1″]