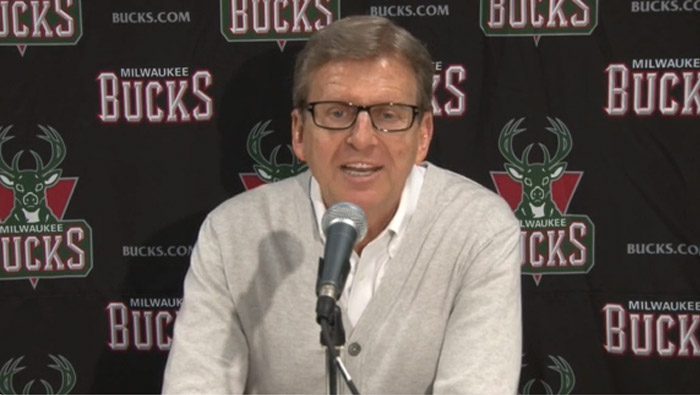 The Milwaukee Bucks started off the 2014 NBA Draft with the second overall pick, but pretending to be Bucks GM John Hammond, I wanted to re-make the team to something more athletic, as well as think a bit more fiscally and receiving projected value. There were some definite contracts I wanted to unload and was both successful in doing so, but also not so successful. Here are my thoughts on what to do if you're the Bucks.
Note that Baller Mind Frame's mock draft occurred before Joel Embiid's surgery that will have him out for several months. Personally, I never wanted Embiid because of John Henson's presence. I'm really high on Henson and his 15.1 points on 53.8 percent shooting from the floor, 9.6 rebounds and 2.3 blocks Per 36, as well as his 18.0 PER in his first two years makes me really comfortable with that decision.
Jabari Parker was intriguing to select, but with Larry Sanders already manning the four, it just seemed like a duplication – not of skill, of course – but of position. And, I'm not really sure that Parker is ready to guard threes in this league, so there's already a mismatch on that end of the floor. And, there are questions about his conditioning, and since I want more of an athletic team as stated, conditioning is important.
So, Andrew Wiggins is a no-brainer, right? Maybe to some, but he seems too thin to me, and thin is fine… if you're almost seven-feet tall with a killer jumper like Kevin Durant. Wiggins does not have those attributes, but then again, not many do. And, while it was only one game, his last where he played 34 minutes, scoring only four points on 1-for-6 shooting still irks me. It's kind of ridiculous to hang your hat on one game, but it was a big one and the team needed him to step up – certainly to take more than six shots – especially with Embiid out. I love the perimeter defense though.
That all said, I love bigger sample sizes, particularly those in already in the NBA. My goal was to leverage the hype of the aforementioned Big Three of this draft, shed contracts and add young, athletic and certainly more established players while keeping myself within range to select a player I'm still very high on. Hence, the trade proposals began! Below are the ones that were successful, as well as the player the Bucks drafted.
Parker was selected first overall by the Cleveland Cavaliers.
Trade of the second overall pick to the Philadelphia 76ers along with Larry Sanders for the third overall pick and Thaddeus Young
I'm a big fan of Young and his skill set. He's definitely an upgrade at the small forward position and fits the athletic model I'm going for. I knew how much the Sixers wanted Wiggins, so I played that up a bit in trade negotiations. Getting rid of Sanders contract ($11 million per for the next four seasons) was a goal of mine. He's a talented player, but the contract and his behavior isn't something I want on this team. While Young can exercise his ETO next offseason, having his Bird Rights and, hopefully, showing him a winning culture will have the just turned 26-year-old forward stay with the team. If not, we'll have about $10 million to play with next offseason, as well as an almost-guaranteed spot for Giannis Antetokounmpo.
Wiggins was selected second overall by the Philadelphia 76ers.
Trade of the third overall pick to the Utah Jazz along with Epke Udoh, Carlos Delfino and the 31st overall pick for the fifth overall pick and Derrick Favors
As big of a fan I am of Young, I'm even higher on Favors. He'll be turning 23 this summer and showed improvement last season, averaging career-highs of 30.2 minutes per game, 13.3 points, 8.7 rebounds, 52.2 percent shooting from the floor and a steal, as well as 1.5 blocks. His 19.0 PER is also a career-best. Considering I plan to have him play major minutes, his career Per 36 has him doing what you want from a big: double-doubles, shooting at least 50 percent and a couple of blocks per game. His recent four-year extension (about $49 million) is more expensive than Sanders', but for a young player with a great work ethic, I'm totally willing to take that on.
Embiid was selected third overall by the Utah Jazz.
Dante Exum was selected fourth overall by the Orlando Magic.
I tried to trade away O.J. Mayo and Ersan Ilyasova's contracts, but wasn't successful. I even added the 36th overall pick as incentive, but no one was biting and I didn't want to take back any contracts that were worse than Mayo's. So, I kept the pick.
Marcus Smart was selected fifth overall by the Milwaukee Bucks.
I was looking for a player that could eventually take the place of Mayo and/or Brandon Knight. I do like Knight a lot and his ability to play off the ball on offense, as well as his overall skill set. Drafting Smart allows either one of the current backcourt duo to play alongside him since Smart is able to play either position. I really like Smart's toughness (shoving a fan, aside), versatility and strength. His going back to school after his freshman year when he could have been a lottery pick, really shows me something about his character and willingness to improve and be prepared for the NBA. I'm a big fan of his and look forward to the pressure and competition he creates off the bench (initially) toward the incumbents.
In the end, this is how I now picture the eight-man rotation:
PG – Brandon Knight
SG – O.J. Mayo
SF – Thaddeus Young
PF – Derrick Favors
C – John Henson
Bench – Giannis Antetokounmpo, Ersan Ilyasova and Marcus Smart
Go Bucks!