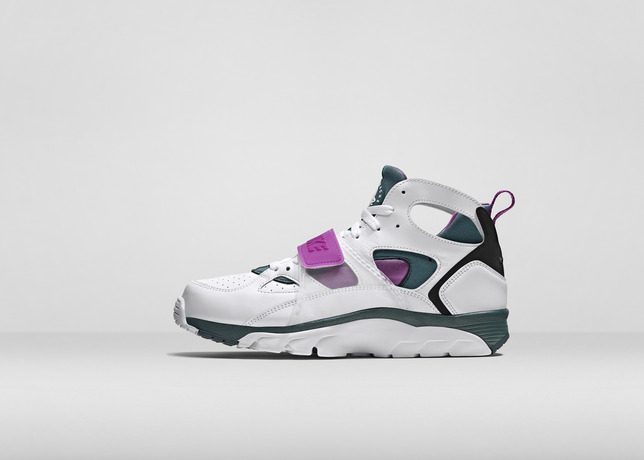 Courtesy of Nike | featuring the Nike Air Huarache Trainer
Like Nike Flyknit, Nike Flywire, and Nike Air technologies, the Nike Huarache platform was born in performance running and swiftly applied to other sport categories. Designed under the lens of reduction, the Huarache platform was one of Nike's earliest attempts to give athletes exactly what they need to perform and nothing more. Twenty-three years after the debut of the Air Huarache, Nike Sportswear reintroduces shoes that combine the functionality of South American sandals and the fit of neoprene waterski boots ­– the Air Flight Huarache and Air Huarache Trainer.

In 1992, Tinker Hatfield and a young Eric Avar put their heads together to repurpose radical innovation to fit the needs of hoopers everywhere. The Air Flight Huarache, the fruit of their brain merger, delivered a superior fit thanks to a neoprene innersleeve and leather exoskeleton that worked in tandem to offer players a responsive and comfortable fit. Among a select few sneakers to not bear a Swoosh, the Air Flight Huarache is a testament to the "less is more" philosophy.

Having successfully created a basketball rendition of the Huarache, Hatfield and Avar set out to create a cross-training shoe as well. The upper utilized a similar exoskeleton-innersleeve combination — with one addition. Recognizing the need for superior lockdown during resistance training and aerobic activities, a mesh strap was added, giving birth to boundary-smashing performance footwear.

The minimalist design of the Huarache dramatically reduced weight and inspired a new generation of Nike footwear designers to create footwear stripped to only the necessary components for elite performance.
>>>