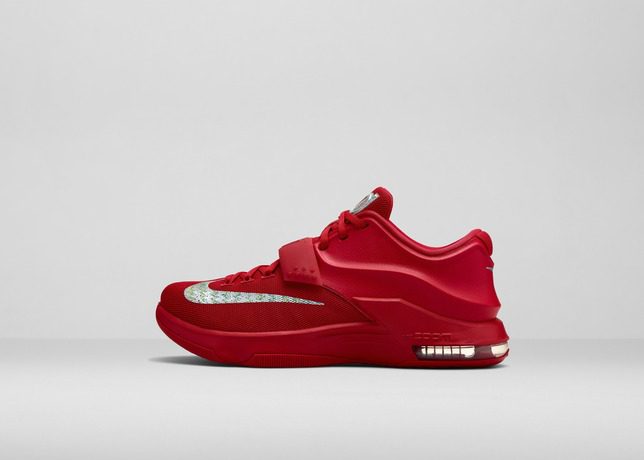 Courtesy of Nike | featuring the Nike KD7 Global Game
The KD7 fuses performance innovation with inspirations from Kevin Durant's journey on and off the court.  Durant's insights are brought to life through color blocking, graphics and textures to tell stories that are personally inspired.

The KD7 Global Game pays tribute to Durant's worldwide travels. Basketball has provided Durant with the opportunity to travel extensively throughout Asia, Europe and the US. Nike has been on this journey with Durant, almost every step along the way.

"With the KD7 we want to build strong storytelling," said Durant, basketball's reigning MVP. "Leo and the team are always technically focused, but we also want to have some fun with hidden stories that make me who I am."

Nike designer Leo Chang drew on Durant's favorite color red for the KD7 Global Game. The shoe features a globe graphic on the tongue. The Swoosh is adorned with confetti in celebration of the two gold medals and tournament MVP honors Durant has earned playing internationally for the USA.

Durant will lead the USA Basketball team through a series of important global games this summer beginning in Chicago at the World Basketball Festival, August 14-17, and culminating at the FIBA Basketball World Cup in Spain, August 30 to September 14.

Personal cues that are featured on each KD7 include a silhouette of Durant's home state of Maryland embedded on the outsole; and the names of his mother Wanda, his grandmother Barbara, his father Wayne and his brother Tony are featured on the forefoot strap.
>>>