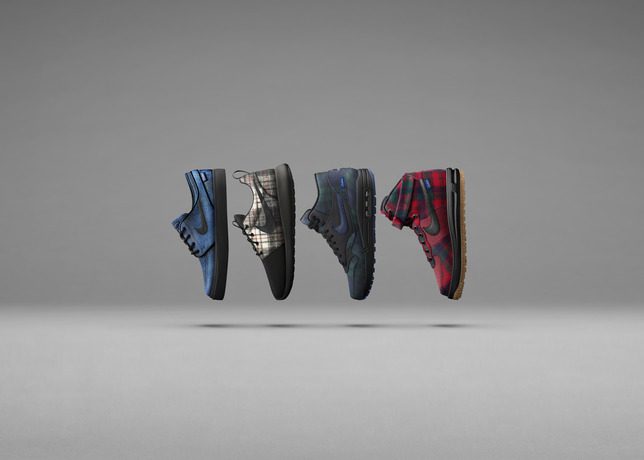 Welcome to Oregon — a state with a unique heritage and its own share of options to fit any lifestyle. Channeling the state in which they were founded, two of the region's most iconic brands have united for a limited run of NIKEiD customization choices.

From the early explorers of the Oregon Trail who inspired Pendleton Woolen Mills' warm, woven products to the tracks where Phil Knight and Bill Bowerman forged the spirit of Nike, the Pacific Northwest is ingrained with innovation. Pendleton® is as renown for wool shirts and blankets as Nike is for sport apparel and footwear. Their relationship modernizes a legacy of custom creations by taking their collaboration to NIKEiD, the definitive online platform for self-expression.

Pendleton® by NIKEiD shoes bring legendary craft and personal details to modern looks. Eight iconic silhouettes — the Nike Roshe Low and Mid, Nike SB Janoski Low and Mid, Nike Air Force 1 High and Low, and the Air Max 1 Low and Mid — are available in three tartan patterns, one plaid, and four solid-color wool fabrics, 10 leathers and an array of accent colors.

Pendleton's Umatilla fabric has been the basis of their men's shirts since 1924. This medium weight, 100 percent virgin wool material is named after Oregon's Umatilla County, where the wool is still bought from the same family ranches that Pendleton purchased from 90 years ago, with their natural benefits tried and tested over the decades.

The tartans available on NIKEiD bring their own individual histories. The Black Watch Tartan (Blue/Green) is based on the pattern worn by the Scottish 42nd (Royal Highland) Regiment in the 1700s, while the MacRae Dress (Grey/Red) and Robertson (Red/Blue/Green) Tartans are traditional Scottish clan patterns.

Pendleton® customization for the Nike Air Force 1 Low, Nike Roshe Low & Mid, and Nike SB Janoski Low & Mid will be available Oct. 6. The Nike Air Force 1 High and Nike Air Max 1 Low & Mid will be available Nov. 3, all of which are exclusively available on nike.com/nikeid.
>>>
BMF Style: The Baller Mind Frame is more than the ball – it's the lifestyle that surrounds the ball. BMF Style brings you the best styles in sportswear, fashion apparel, and accessories for when you're away from the venue of play, whether you're checking for new gear or for your favorite athletes' pieces outside of the locker room.