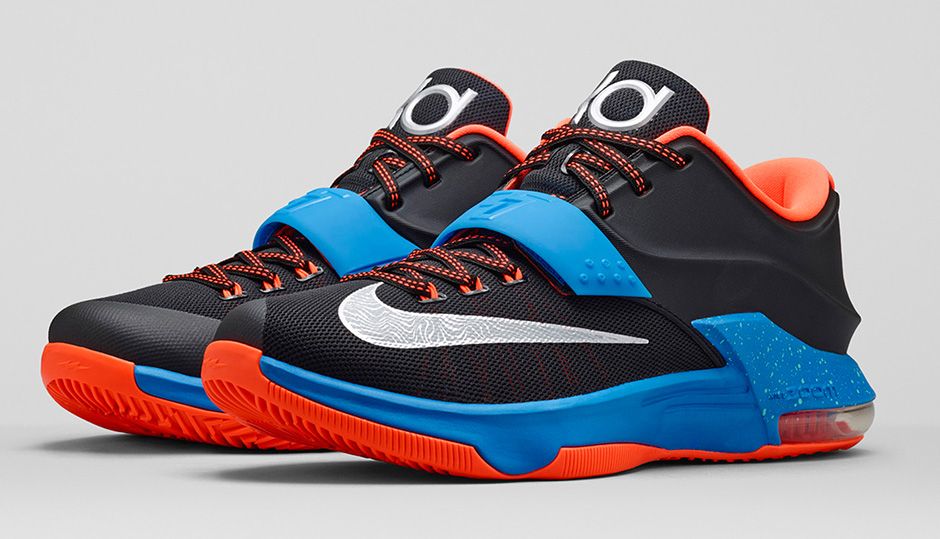 Kevin Durant's journey on the road has brought him around the world and back multiple times as he enters his eighth year in the pros. Durant has logged roughly 225 hours of playing time in away games since turning pro, which has prepared him well for the demands of road trips.
As reigning MVP on one of the league's most successful road teams, Durant has faced a fair share of opposing crowds. The pressure builds character, and Durant has welcomed the pressure with open arms. Being tested on the road leads to success. "Success is not a destination, it's a journey," said Durant. "I approach each road game like a business trip where we have a job to do — this is part of the journey."
At every chance on the road, Durant looks for an open gym for training and shooting even beyond his team commitments. Even if it's 30 minutes for a shoot-around, it's worth the effort to Durant. He's a road warrior who never takes time off.
The KD7 On the Road pays respect to his team with a blue, orange, silver and black color scheme that's set off with a distinctive blue strap. As the eighth KD7 colorway to release since the shoe's debut in June, the KD7 On the Road's tribute to thunder continues the creative narrative related to weather. Atmospheric graphics on the orange outsole and a silver Swoosh are nods to the weather and Durant's fascination with meteorology.
>>>
BMF Hoops: Bringing you the best and latest in basketball footwear, sportswear, and equipment in amateur, NBA, and world pro hoops – only at Baller Mind Frame.