No one, including myself, wanted to be confined into a medium sized room with Dallas Mavericks head coach Rick Carlisle after his team narrowly beat the visiting Boston Celtics in a nail-biter. Funny thing was – this game wasn't supposed to be close. The Mavericks had the win in the palm of their hand after closing out the first half ahead 67-41. Despite the 118-113 win, you could actually hear the pulsating noises of blood rushing from journalists' hearts as they sat in the interview room preparing to face Carlisle.
"We have to do better, but I will take it," Carlisle expressed about blowing such a substantial lead. "To continue getting the leads – that would be great. If we can keep doing that, we will deal with the other stuff. We will get it solved. It's hard against a young, athletic team that is pissed off coming out in the second half. They came right at us and we didn't do a good job. We are going to have to do better and our guys know that."
Whew, we all escaped without our faces getting melted off by a man who has plenty reason to set fire to his locker room. The Mavericks went in at full force, shooting a scalding 72.7 percent during the first quarter where they led 40-19. They even wound up setting a franchise record by scoring 65 plus points in the first half of three straight games in a row before heading into the locker room with their enormous lead.
Then? Well, the third quarter happened. After Al-Farouq Aminu was taken out due to a left knee injury during halftime, Mavs insiders took to Twitter to express their frustration as they helplessly watched as Dallas was outscored 18-8 in the third with nine minutes left in the quarter.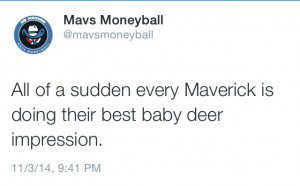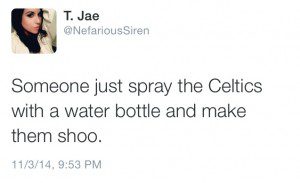 The Celtics would only trail by a measly 12 points as the Mavericks diddled about, leading only 91-79 entering the fourth. However, the last 12 minutes turned into an all out cage match. Monta Ellis was taken down by Rajon Rondo, who only received an offensive foul despite cries of "flagrant!" being tossed about, and was sent to the line with 5:31 remaining. With under three minutes left and their desperate minuscule lead wavering, Dirk Nowitzki nailed a clutch jumper and Chandler Parsons managed to drill a corner three, thus relieving some of the tension in the American Airlines Center by stretching the lead to 114-104. The Mavs, who once had a 31-point lead during this particular game, were now clawing their way into keeping this game in the win category. Dallas narrowly escaped sure-fire doom by winning the home game, 118-113.
But it shouldn't have been that close.
"We'll be alright," murmured Tyson Chandler after the game. "We're coming out and having such great first quarters and first halves that I think it is kind of natural to have a little bit of a letdown and take a breath. We'll get it fixed. We've got to be better than that."
Mavericks fans hope so for the sake of their sanity.
Dallas moves on to play the Portland Trail Blazers on Thursday in Portland.