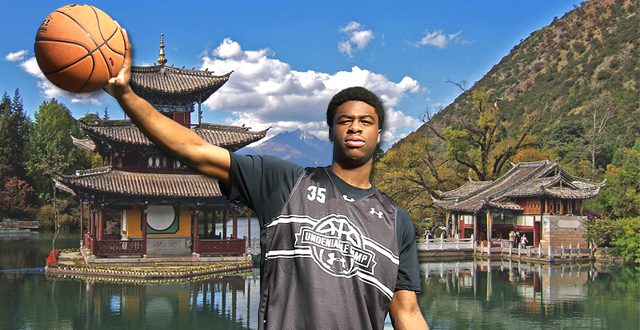 The class of 2014 is already showing their worth on the collegiate scene.
Chicago products Jahlil Okafor and Cliff Alexander are all ready looking like men among boys for their respective squads. If you take a trip down to Lexington Kentucky and you'll see a 7'1 phenom named Karl Towns Jr. who can score from all over the floor with ease.
And those are just three of the best freshman that fans will get the pleasure to see this year.
It's the one player who we won't get to see this year who could have the largest impact on NCAA basketball and how the college scene is viewed among his peers.
Thousands of miles away in China is Emmanuel Mudiay.
Standing at 6'5, he was widely considered one of the top-three players in this years class of freshman. He shrugged off the advances of Coach Calipari and the University of Kentucky to sign with Larry Brown and the SMU Mustangs. Unfortunately, any hopes of seeing the player many consider to be John Wall 2.0 were quickly dashed when the NCAA deemed him academically ineligible. Twenty years ago a player like Mudiay would've played a year or two on the JUCO level before coming up to play Division 1 basketball. In 2014, players have other options.
Mudiay decided to head to China to play for a season and get paid rather than sit out a year and wait for the NBA Draft. His deal with the Guangdong Southern Tigers for $1.2 million is one many wouldn't turn down either. While Mudiay looks like a pioneer right now, he wasn't the first to make this huge jump from one culture to another in hopes of playing basketball and getting paid for it.
California native Brandon Jennings made the bold move before. For Jennings, it worked out. After graduating from Oak Hill Academy, he played a year in Italy where he sharpened his point guard skills. He was later drafted No. 8 overall by the Milwaukee Bucks.
So far, Mudiay has played well in China. The 18-year-old is averaging 20 points per game for Guangdong Southern. He showed his full potential last week when he posted a triple-double in a win over QiangDao.
His name is frequently mentioned as the possible first overall pick in the 2015 NBA Draft. It's looking like the decision to play overseas was an intelligent move on his part.
So will his decision impact others? Many current seniors and juniors are watching Mudiay as more footage of his conquests hit YouTube.�Are we close to seeing an era where fans of the college game will never see the best high school players log a single minute of NCAA basketball?
While skipping college and playing overseas seems like a new era for the sport, many players who went on to to become faces for schools like UNC and Kansas also had the opportunity to take the road less traveled.
In 1996 Elton Brand was one of the best young players walking the earth. The 6'8 bruiser from Peeksill, New York was widely considered the top player in a class that included Ron Artest, Lamar Odom, Shane Battier, and Baron Davis.
After leading his Peeksill High School team to back-to-back State Championships, Brand joined Battier at Duke University. His decision to play for Coach Krzyzewski wasn't easy though, as Brand was approached his senior to play professionally in France.
"I actually had the opportunity to make that jump," said Brand during the Atlanta Hawks Media Day. He went onto explain why it was decided that he spend some time in college rather than chase the dollars that were being offered overseas.
"My mom turned it down. It was about $300-400k they were offering. She wanted me to turn it down because she wanted me to have the college experience. Once you're a pro, you loose all your amateur status. That was a dream of hers, to see me go to college."
Brand's decision was a good one for him. In college he would team with William Avery, Corey Maggette, and Shane Battier to lead Duke to a National Championship. Brand decided to declare for the NBA Draft in his sophomore year, being selected first overall by the Chicago Bulls. Thirteen seasons later, the two-time All-Star and has no regrets about his decision. But he understands why others would make a different choice.
"People have different interests. If you need to earn a living, then you might have to head overseas. You can earn a living over there," said Brand.
There are others who feel that no matter how great you are or think you could be, playing with professionals right out of high school should be something you think twice about.
NBA legend Dominique Wilkins chimed in on our conversation. Wilkins was part of the 1979 high school class that included James Worthy, Isiah Thomas, Ralph Sampson, Sam Bowie, and Clark Kellogg. Widely considered the deepest high school class ever, Wilkins says that he nor any of his peers were ready to make the jump from high school to the pros.
"I came out with the greatest high school class ever. Not one of use went to the pros out of high school and didn't think about. The league was too physical. It's was a different time, brother."
Despite the early success of Mudiay and Jennings, going from dominant high school player to dominant pro is hard to do whether you do it in the states or overseas. If any stars think that they're going to go overseas and dominate from the beginning, they might be in for a rude awakening.
Take the story of Jeremy Tyler.
Tyler was a standout player from San Diego. As a 6'10 power forward, Jeremy had every school on the West Coast begging for his time. In 2009, Tyler did the unimaginable. He would break his commitment to play for Louisville forgo his senior year in high school to go pro. He would go on suit up for one of the toughest teams in the world, Maccabi Haifa in Israel.
With the backing of family and supporters like Sonny Vaccaro, Tyler set out to play in the ultra competitive Israel Super League in 2009-10. Citing personal matters,�he left Maccabi after a short stint and headed home to San Diego.
Tyler played just 10 games, averaging a minuscule 2.1 points and 1.9 rebounds in 7.6 minutes per game.
He has had a few brief encounters with NBA teams, but as we speak, he's back in China playing.
"There is high level basketball being played over there," Brand reminded me. "Don't just go over there and think that you're going to dominate."
Whether dominating the competition or just getting their career started earlier, high school players are looking toward other options to improve their game and make a name for themselves. Elton can attest to this.
"If you're trying to brand yourself as a player, there's no better way than playing in the U.S."
Only time will tell if players will follow Mudiay's lead and take a chance at going pro early or go the traditional route and play in college.