The extreme talents of famous Los Angeles guard Kobe Bryant are variegated and often difficult to fathom, his power stemming from the fact that his opponents never know what to expect. There is a reason why he's called the Black Mamba. This irrefutable bit of information has seemed to have momentarily slipped from the memories of the sports media, who lean toward castigating Bryant and believe that he tends to hoist himself up on a cross after every venomous loss. As of late, Kobe has been carrying the weight of the Lakers' offense up on his back and took them on a two-game winning streak after an atrocious start, and even beat the impervious Houston Rockets. So it was a toss up on what version of the Lakers the Dallas Mavericks would face on Friday evening at the American Airlines Center. One thing was for certain; The Black Mamba would be going toe-to-toe with Dallas' new predator missile, small forward Chandler Parsons.
"When you play a team that's so dominate by one player, I wanted to take that challenge, I wanted to guard him," Parsons said of his game against Bryant, whom he held to only 17 points in the Mavericks incredible 140-106 win over Los Angeles. "I wanted to do whatever it took for our team to win. You stop him, you stop them."
LA, in a surging moment of adrenaline, opened up the game playing as if they wanted to turn back the clock and expunge those first few pitiful games. They jumped ahead 15-12 briefly as Parsons kept pacifying Bryant so much so that by the time the 2:52 mark hit in the first quarter and the Mavericks were leading 25-21, Bryant was 0-and-5 from the field. It was Jordan Hill who kept the team slightly afloat with his eight points in the first, but it was a Parsons party as he held Kobe to only four points and 0-and-7 from the field. Mavericks took their 38-27 lead into the second, and casually smirked as 36-year old Dirk Nowitzki danced all over LA's defense with his 16 points. Jeremy Lin and Hill tried to breathe life into their struggling team with very little help during this quarter, but the Mavs headed into the locker room ahead 68-59.
Now, Dallas hasn't had the most stunning luck when it comes to third quarters, so it was obvious that this was the time the Lakers were waiting for. But what they entered into was nothing short of a minefield.
"Our second half was much better than the first," Dallas head coach Rick Carlisle stated. "We gave up, what was it, 57 in the first half? I think we can do better than that, and in the second half we did."
Nowitzki, Parsons, and Monta Ellis ran a clinic on the Lakers for two more quarters, until Carlisle, knowing that his starters needed rest before facing the Rockets in a back-to-back the following night in Houston, decided to send in his bench, a bench that included Greg Smith, Al-Farouq Aminu, Brandan Wright, Jae Crowder, Charlie Villanueva, and the dynamic J.J. Barea, who kept knocking down three after three during the final 12 minutes of the game. The bench appeared to be feasting on the leftover remains of the Lakers after the Dallas starters ripped out their heart.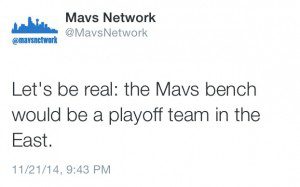 The Black Mamba will just have to find another team to bite, because the Mavericks will have none of it.
This was a win that the Mavs needed in order to head into Houston with an abundance of confidence since they need that to beat the Rockets in their own house on Saturday evening.