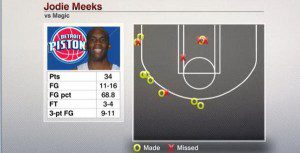 Playing in their fourth game in five nights, the Orlando Magic came into this one with barely anything left in the tank. Needing to dig deep, the Magic ultimately succumbed to Jodie Meeks's big night, falling to the Detroit Pistons 109-86 .
Things started out well for the Magic as they jumped out to a quick five-point lead early on in the game, but they couldn't take care of the ball and Detroit was able to turn five Orlando turnovers into seven easy points. Detroit also imposed their will on the boards, with Greg Monroe, and Andre Drummond grabbing all six offensive rebounds in the first quarter.
After leading by just one heading into the second, the Magic found themselves in a bad situation, one that would get worse as the game went on. Jodie Meeks would get the hot hand from deep, making six three-point attempts in the second quarter. The Magic on the other hand, shot 53.7 percent from the floor, but just went 1-for-10 from deep. A foreshadowing of things to come.
Out of halftime, the Pistons would begin to blow the game wide open. Taking advantage of a Magic team who ran out of gas, the Pistons ballooned their lead to as many as 18 in the third quarter. The Magic tried to muster up all the energy they had left and managed to cut the deficit down to 10. Detroit still managed to control of the game with their dominance on the boards, out-rebounding the Magic 44-31 heading into the fourth.
In the fourth qurter, the Magic had nothing left from the starters. Fatigued from playing four games in five nights, the Magic couldn't stop Detroit from pushing their lead back to 20 and would ultimately fall to their opponent.
Jodie Meeks had a big night for the Pistons as he put up a game-high 34 points while going 9-of-11 from three. Andre Drummond was beast on the boards, grabbing 22 rebounds to go along with 17 points. D.J. Augustin finished with 11 off the bench.
Victor Oladipo led the Magic with a team-high 16 points. Tobias Harris finished with 15 points and eight rebounds. Nik Vucevic tallied 10 points in the losing effort
The Magic get two days off before facing Brooklyn on Friday. Happy New Years!
Featured image courtesy of Keith Allison/Flickr.