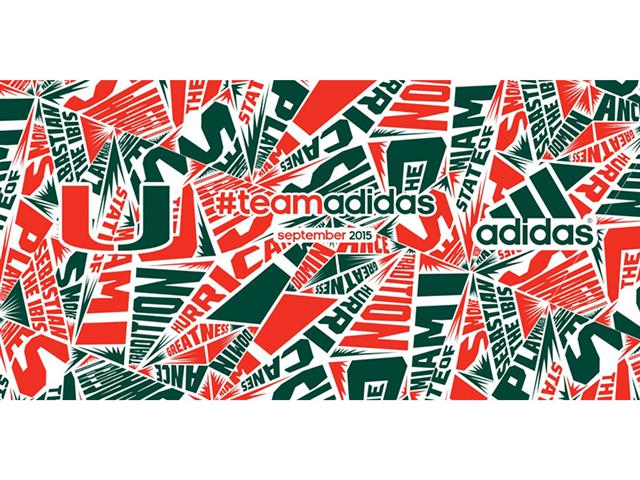 adidas and the University of Miami today announced a landmark 12-year partnership making adidas the official athletic footwear, apparel and accessory brand of the Hurricanes through June 2027.

"The University of Miami was the first college program to excel as a national brand with championship play on the field, changing the game of college athletics," said Mark King, adidas Group North America president. "Their unmatched success, national relevance and cultural significance make them a perfect fit for adidas as we continue to significantly invest and grow our business in the U.S. Florida is a key battleground and home to some of the best athletic talent in the country. We're proud to have Miami as a key pillar of our future business."

"The University of Miami is thrilled to partner with adidas, a world-class organization whose creativity, technology and quality have made it among the world's leaders in athletic apparel," said Blake James, Director of Athletics for the University of Miami. "The multi-year agreement will enable us to enhance our student-athlete experience by providing top-quality apparel and equipment to our students and coaches in addition to adding significant resources to support our Department. Our new partnership will help expand the UM brand locally, nationally and globally and will help Miami to continue to be one of the nation's premier athletic programs."

The partnership, which makes the University of Miami one of adidas' 13 licensed NCAA programs, begins on September 1, 2015 and includes investment, product and uniform development for all 18 intercollegiate Hurricane athletics programs.

adidas partners hailing from the University of Miami include NFL stars Jimmy Graham of the New Orleans Saints, Frank Gore of the San Francisco 49ers and U.S. Olympic hurdler T'erea Brown.

"It is an exciting day for the brand I love and my university," said Graham, class of 2009. "adidas brings sports and culture together and that is a perfect fit for the U and the city of Miami."

adidas is the official uniform and apparel provider for the National Basketball Association and Major League Soccer and develops high-performance footwear, apparel and accessories for more than 70 collegiate programs including Michigan, Texas A&M, UCLA, Nebraska, Wisconsin, Louisville, Mississippi State, Indiana, Kansas, Cincinnati, North Carolina State and Arizona State.

About University of Miami
The University of Miami's mission is to educate and nurture students, to create knowledge, and to provide service to our community and beyond. Committed to excellence and proud of our diversity of our University family, we strive to develop future leaders of our nation and the world.

About University of Miami Athletics
The University of Miami Department of Athletics sponsors 18 varsity athletic teams and features over 400 student athletes that compete in the Atlantic Coast Conference. Located in Coral Gables, Fla., Miami's athletic teams have won 16 national championships. Through athletic competition, the department prepares its student-athletes for excellence in academics, athletics and life.
---
BMF Gridiron: Bringing you the best and latest footwear, sportswear, and equipment in collegiate and NFL football – only at Baller Mind Frame.