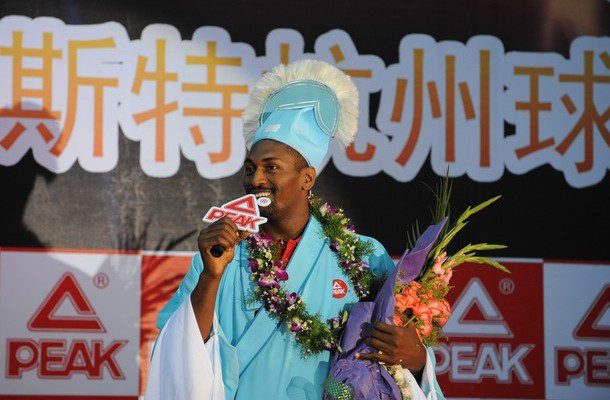 2015 has arrived, and I am sure most people are succeeding in regards to their New Years resolutions, but I feel as though everybody could benefit from resolving to do one more thing throughout the rest of their year: Make Ron Artest, Metta World Peace, Metta Minaj, The Panda's Friend a bigger part of their life.
While that may be a bit difficult to do simply by following Mr. Panda's Friend's on-court performance (as he is dealing with injuries in China–coupled with the fact staying updated even on healthy CBA players is never easy), anybody who truly wants to embrace TPF needs to look no further than the official "The Panda's Friend" web shop!
You may think that you have enough basketball jerseys in your closet, but really: if you would have told me 5 years ago that I could one day rock a jersey with "The Panda's Friend" on the back, I would have thought you were crazy, and probably would have asked incredulously, "why the hell would I even want to do that?"
Obviously a lot has changed in the past five years and I am now aware that "The Panda's Friend" is the current, impossible-to-hate moniker of beloved former-NBA player, current rapper, and lifetime entertainer Ronald William Artest. Not only do the "The Panda's Friend" jerseys come in a variety of styles and nine (Nine?! That's almost as many different names as TPF is planning on working through during his career) different colorways, but for those who are still loyal to his time spent as Ron Artest, many of the styles offer the option to couple Artest's original last name on the back of the jersey with his newly-minted panda logo–that looks as though it may have porkchops for eyes–on the front!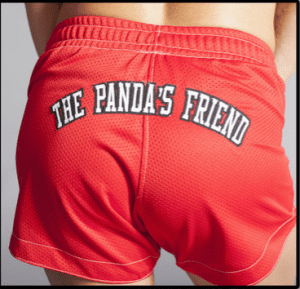 The selection of quality apparel does not end there though, no! Why not buy a pair of mesh booty shorts for the lucky lady in your life? Not only do they boast the pork-chop-eyed panda logo on the front, but also have "The Panda's Friend" posted on the back as well! If you have taken my advice and have actually decided to dedicate a bigger portion of your 2015 to Ron Panda Peace, these are a must-buy! Not only are they fashionable, but the backside printing is basically The Panda's Friend's stamp of approval on your companion's bottom!
I understand that not everybody needs clothes. Luckily, The Panda's Friend online shop offers one non-apparel item for sale at the moment as well: a picture book titled "Metta: The Panda's Friend".
While the cover art doesn't look very much like Artest, it is tough to deny the synopsis of the story: Metta and his daughter meet a panda named Bernie and end up on a journey full of spicy foods, animals jumping, and helpful lessons! Even better: the lack of a single Amazon review of the book makes it seem as though nobody in the world has bought the book yet. You could be the first! A true trendsetter, just like The Mettartest!
The arrival of a new year doesn't mean that we should forget our old (Panda's) friends, and this web store aims to ensure that this one Panda is never forgotten. It has been a long, interesting journey for #15 (and #23, #91, #93, #96, #37, #15, and #51) but by buying a Panda Friend product, you will be purchasng a piece of basketball history. Who knows, if you bought the Ron Artest CD "My World" with hits such as "Hood Luhv" and "I Like My Song", you and your collection may be contacted by the Naismith Basketball Hall of Fame one day in order to negotiate an arrangement to acquire such important pieces in the shaping of the professional basketball landscape.
At the very least, you will have a nice prop for future Throwback Thursdays whenever The Panda's Friend debuts his newest name.