Baller Mind Frame's No Layups brings you the hottest NBA stories mixed with personal opinion from our very own Aaron Lanton. Check it out and absorb the knowledge we're dropping on you!
[youtube]https://www.youtube.com/watch?v=PtYqmW4VpPs[/youtube]
People get bored with greatness. Sustained excellence is hard to appreciate no matter what we're talking about. Even winning championships in sports doesn't silence critics, it just raises the stakes. Winning creates expectations and sports narratives are woven around those expectations. Cinderellas, Comeback Kids, failures and so on are all defined by what was expected to happen.  The Phoenix Suns were a fun surprise last year led by Goran Dragic. Expectations were very low for the Suns prior the 2013-14 season and many people assumed the team was actively tanking after they traded Marcin Gortat to the Washington Wizards before the regular season began. ESPN literally ranked Phoenix as the worst team in the West prior to the 2013 preseason, slating the team for 22 wins. Ball Don't Lie had the Suns at 16 wins. They were actually considered the front runners for the number one overall pick.
Give Dragic and Bledsoe a year to work out their roles together and then draft Wiggins? Future looks bright in Phoenix #ESPNForecast

— Hunter Smith (@FatHunty) August 14, 2013
This is very recent history and Dragic was the guy credited with turning the Suns' lottery fate around. Keep that in mind as we go forward.
The 2013-14 Phoenix would go on to notch 48 wins and miss the playoffs by one measly game in a historically competitive Conference race. The Suns' front office felt like they had something special, and just needed a nudge from another piece that fit in their system to push them into the West's elite. Somehow, the Suns convinced themselves this player was Isiah Thomas, a shoot-first player occupying the same position as Dragic, and signed him for 4-years, $28 million.  Two months later, Eric Bledsoe, a teammate of the same position and nearly identical numbers as Dragic, got a 5-year, $70 million deal from the Suns after a lot of posturing and external pressure from LeBron James.
But here's the thing that keeps getting looked over: Dragic has been a part of the Phoenix Suns on three separate occasions.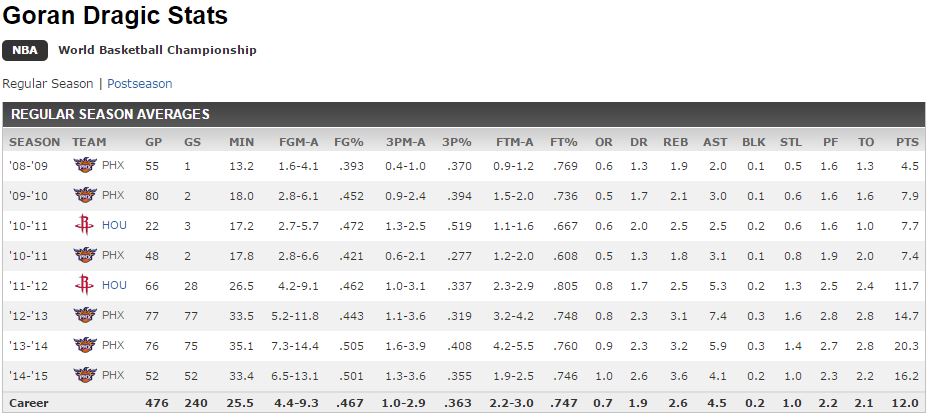 Dragic isn't just being irrational when he said in the video that the Suns lied. Verbatim he said, "I didn't trust them anymore. It happens too many times. Two or three times. They give promises they don't keep." The Houston Rockets also treated him as a disposable asset which is why he refuses to consider Houston as a destination.
Three facts we knew going into the 2014-15 NBA season:
Fact #1: The Phoenix Suns missed the playoffs last year.
Fact #2: Signing Isiah Thomas to the squad was never going to improve the team (for more on the obvious reasons striving to put three talented players under 6′ 4″ on the court is a bad idea, see this column). No improvement means no playoffs so the signing would be considered a failure. The Suns are currently the eighth seed but the time for leapfrogging is upon us via the Thunder (0.5 games back) or New Orleans Pelicans (1.5 games back).
Fact #3: One of the point guards was going to be pissed off before the trading deadline. Surprise, surprise – the guy without a long-term deal is the one complaining. Signing assets and acquiring depth is never a bad idea but good ideas can reach a point of oversaturation.
The Suns' point guard situation was never in dire straits. Some teams have atrocious positional depth situations such as the Cleveland Cavaliers who had to play James Jones for 30 minutes in the power forward spot versus the Bulls right before the All-Star break – that's what happens for them when Timothy Mozgov gets in any foul trouble.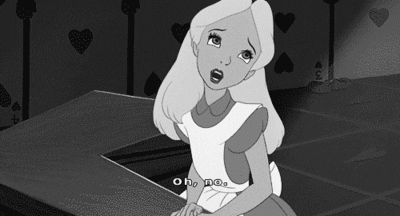 That's what poor depth at a given position looks like. The Suns never had that issue with Eric Bledsoe and Goran Dragic. Both can handle playing the point just fine. In the worst case scenario, Bledsoe and Dragic would be out with injuries but any team would be screwed if their two best players got hurt for more than a few games (see, Oklahoma City Thunder). The Suns' front office completely botched this whole thing: the team is no better than last year but the chemistry is undeniably shaken. Perhaps the weirdest part of this entire saga has been Dragic's demands once every knew he was on the trading block.
Lmao @ Dragic only wanting to play for the Knicks, Lakers or Heat.

— Greg (@SwishNBA) February 19, 2015
I just let someone else say it in a facetious manner so I wouldn't have to do it. But let's be real, Dragic just wants to be the guy at his position, a lucrative contract (which he has earned), and some national recognition. He's been the company man, now he just wants to be compensated for his hard work. The problem is that the New York Knicks, Los Angeles Lakers, and Miami Heat have no assets (or in the Heat's case, they are simply not handing over Hassan Whiteside). There's no way Dragic re-signs with the Suns, but they don't want to lose Dragic for nothing which is basically what's going to happen no matter how this goes.
No one should blame the Suns for attempting to make their team better. That wouldn't be fair. On the other hand, this was an obvious outcome to an avoidable situation. This is the kind of stuff that makes the average Joe believe the can be a sports general manager. It's not even that deep. Sometimes simply respecting your employees making all the difference.