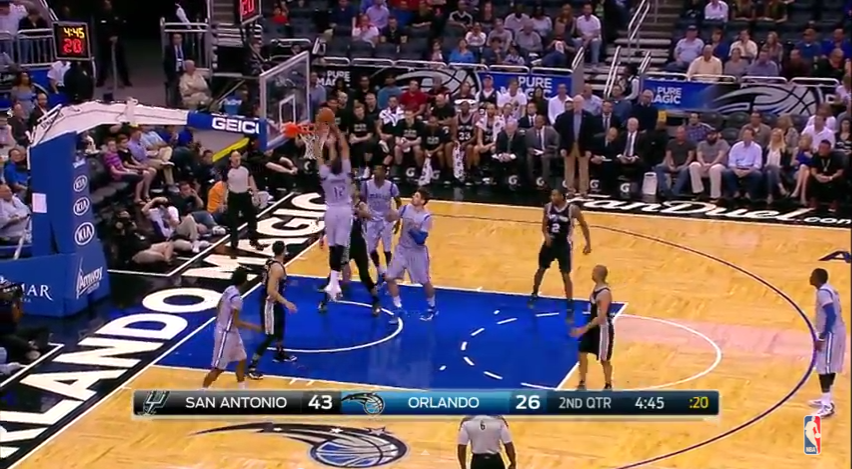 After having four days off since losing to the Detroit Pistons, the Orlando Magic returned to action Wednesday evening to face the San Antonio Spurs. Orlando never had a chance as the defending NBA champions dominated the home team all night long, and cruised to a 103-91 victory to clinch its 18th straight playoff berth.
Things seem to go the Magic's way after tipoff. With four days rest, and the Spurs playing fresh off beating the Miami Heat, the Magic were able to get off to a 10-7 start. However, after a timeout, things would quickly turn south quick. Despite crashing the boards for nine offensive rebounds, the Magic simply couldn't get any offense going. With the Spurs settling in and getting their offense up to speed, all signs pointed to a long and rough night for the Magic. San Antonio led 23-19 at the end of the first quarter.
The free-fall continued for the Magic into the second quarter. While they were able to grab 29 rebounds, including 13 on the offensive glass, it didn't do much for the hosts as they only made three field goals in the second. The Spurs, on the other hand, were just getting started. With their bench on the floor, the bench would go on to outscore the Magic's starters 33-19 as well pushing their lead up to as many as 17 heading into halftime, making it the 12th straight game holding a double digit lead on the season. The Magic would trail 52-40 at the end of the first half.
Using their impeccable ball movement and floor spacing, the Spurs continued to school the Magic in the art of team basketball. Knocking down open shots and getting easy looks at the rim, San Antonio pushed their lead to over 20 points. The Magic's struggles on offense continued with no end in sight; and with the Spurs keeping them off the glass, the game was all but over for Orlando at that point. Trailing 82-60 at the start of the fourth, the Magic were able to cut the Spurs' lead down to as few as 17 off a couple of three-pointers. It would all be for naught as the Spurs would push their lead back up 25. With nothing left for the Magic to do, the Spurs would cruise to an easy victory at Amway.
The Spurs were led by Aron Baynes with 18 points. Manu Ginobili had 13, with Marco Belinelli adding 12 points. Boris Diaw and Kawhi Leonard both finished with 10 points
Victor Oladipo led the Magic with 24 points, followed by Tobias Harris who had 18 points. Nikola Vucevic finished with a double-double of 16 points and 11 rebounds. Elfrid Payton had 14 points, 7 assists, and 7 rebounds. Dewayne Dedmon didn't score in double figures, but did finish with 10 rebounds.