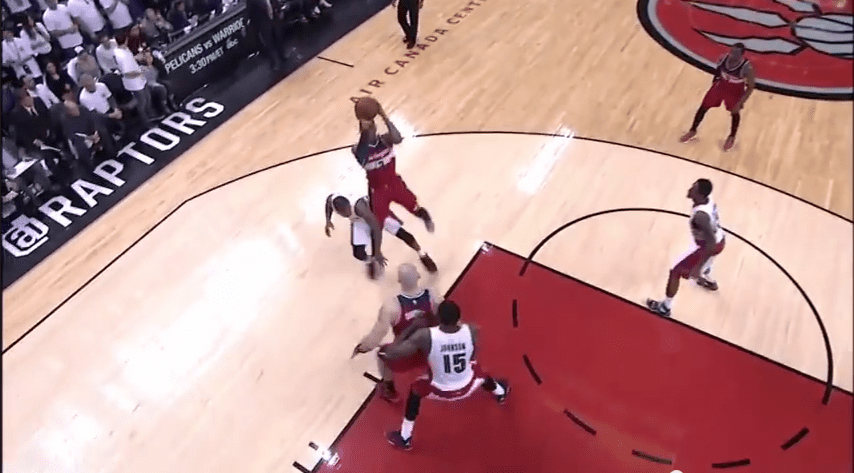 Kyle Lowry
did too. In Game 1, on Saturday afternoon, the Raptors point guard tried so hard that it lost his team the game.
Not only did he foul out, he did so in just over 33 minutes. He shot 2-10 from the field and missed all four of his three-point attempts.
He almost had as many turnovers as he did assists (3:4). Yikes.
The thing is, Lowry isn't outmatched. It's not a question of effort either. He's one of the most determined athletes in the game. However, just like Teddy Geiger, sometimes, he just tries too hard. He wants to be the best. He wants to lead Toronto out of the first round so badly that his desires sometimes overflow into bad decision-making on the court.
It's a better problem to have then no effort at all but if the Raptors have any chance at winning this series, they'll need Lowry at his best. He's their emotional leader and he sets the tone on both ends of the court.
But, you know what also hurt the Raptors? The Truth. The Truth hurts.
So, it was little surprise that Paul Pierce, the oldest man on the court, by some eons, led all scorers with 20 points in Game 1 — it was a cruel case of deja vu for Raptors fans after Pierce famously barked 
"that's why they got me here"
 on the same court last year.
(Surely, this is a "
James Johnson
situation" for Dwane Casey, surely?!)
Despite Paul Pierce's heroics, in the end, this was a game between two teams with a combined record below .500 in their past 30-odd games.
Somebody had to win, and, on this occasion it was the Wizards who stole one on the road.
That being said, the Wizards did what they've been prone to do all season, squandering a 15-point lead in the fourth quarter, and almost gave it away. It was if the Wizards felt bad about stealing Game 1 and thought about giving it back. Likewise, the Raptors were too polite, "No, no, we don't deserve it, please take it, it's yours".
It was anything but pretty. Both teams shot below 40 percent from the field. The Raptors shot just a hair over 20 percent from deep — the Wizards weren't much better.
Fortunately, for the Wizards, they cleaned up on the glass, pulling down 13 more rebounds than the Raptors. Nene and
Drew Gooden
had more offensive rebounds than the entire Toronto team combined.
Another positive for Washington was escaping  with the W despite a subpar performance from star point guard,
John Wall
. Indeed, Wall shot just 5-18 from the field. In nine games this season when Wall shot less than 30 percent from the field, the Wizards went 2-7. Now, they're 3-10.