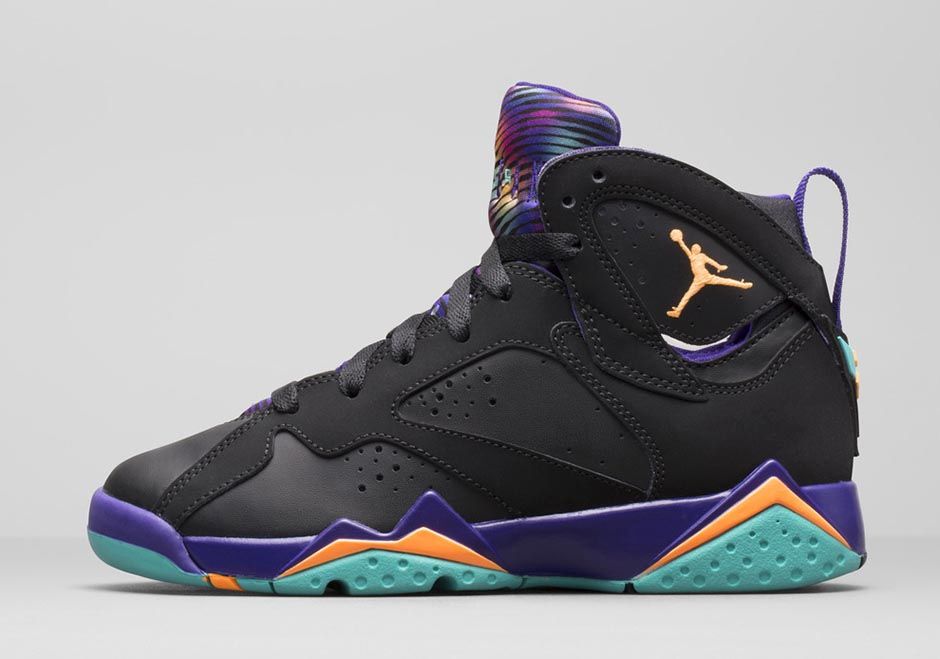 As a person who appreciates sneakers that don't go too wild on colors. I've always been quite happy with the fact that I am a size 8 in men's, a regular size and all the men's models are available to me. All the GS (grade school) models haven't been interesting to me, most of the time, until this happened. Jordan Brand is releasing the Girls' Air Jordan 7 Retro 'Court Purple', which looks feminine, but not too immature and girly.
The black base, with the purple, orange and teal accents looks ILL! Even though it's not an OG colorway, the colorway does look retro, without going overboard and making the shoe look corny. Besides the shoe's tongue being slightly too loud and flashy, the Girls' Air Jordan 7 Retro 'Court Purple' is the best new colorway Jordan has brought out in a long time. Actually it's the coolest shoe they have released this year, in my opinion. Even though the tongue bothers me, it could actually look different in person, combined to the right outfit.
Jordan Brand finally did a GS shoe that won't make a woman who has small feet and has to wear GS shoes look like a 4 year old who's stuck in the body of a grown woman. Sucks I don't have GS feet. Why didn't Jordan Brand to extend grade school sizes to size women's 10, though?
Photos courtesy of Nike