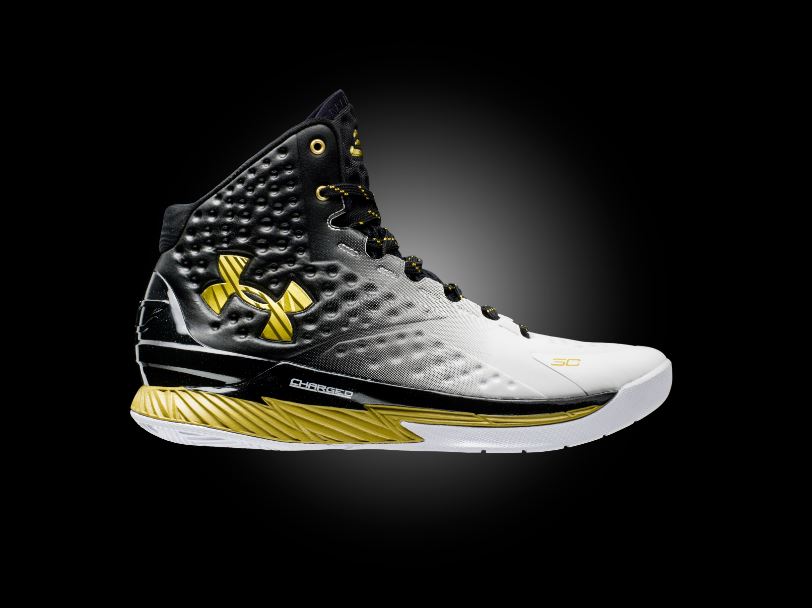 Stephen Curry, son of Dell Curry, a former NBA role player; native North Carolinian; former Davidson College star — he is now honored as the best player in the world for the 2014-2015 NBA season, and in his honor, Under Armour has produced a new video featuring the great Bill Russell of the Boston Celtics.
But not without debuting his Under Armour Curry One MVP shoe.
See all of the details on the video and his shoes, courtesy of our friends at Under Armour.
Stephen Curry's legacy in the game is defined by an uncompromising self-belief and tireless work ethic. Time and again, he has smashed through barriers to elevate his game, and his performance this season has culminated with him receiving the 2014-15 Kia NBA Most Valuable Player Award.

"Stephen Curry is a once-in-a-generation talent and a game-changer who is driving basketball into a new era," said Kevin Plank, Founder and CEO, Under Armour. "He is truly an innovator on the court, and his impact off the court reaches new heights every year. As Stephen continues to defy expectations, nothing is more exciting than knowing we'll be with him every step of the way as his performance partner."

To mark this new milestone in his journey, the brand released a short film titled "Stonecutter," narrated by NBA legend Bill Russell, which can be viewed here:
[youtube]https://youtu.be/MrQQLOJID3I.[/youtube]
Curry's underdog journey from overlooked son of an NBA star to becoming the league's most "unguardable" player is well-chronicled. What the competition and fans haven't seen is his commitment and belief in the process of getting better everyday through hard work. In the film, Russell recounts the credo of a stonecutter who hammers away at a rock, not knowing when, but believing his hammer will eventually split it open, which characterizes Curry's path to becoming one of the game's best.

In addition to the film, a special colorway of the Curry One basketball shoe will launch at UA.com and select retail locations in June, and a graphic t-shirt is available now on UA.com.

Curry, widely considered to be one of the sport's best-ever shooters, combines world-class ball handling, uncanny court vision and elite level defense to play the game in a transformative way.

Curry's regular season accomplishments include hitting 286 three-point field goals, breaking his previous record for made three-pointers in a season, leading the league in steals and receiving the most All-Star fan votes, while helping to lead his team to a league-best 67-15 record.

For more information visit record.underarmour.com, UA.com and @underarmourbasketball.