Okay, so, as we all know, shit happens.
We deal with the shit, helplessly analyze the shit, and begrudgingly move on. True character is revealed when these sort of storms present themselves and can either make you a stronger person, or unmask the secret charlatan within.
That being said, we should all go easy on Clippers center DeAndre Jordan for becoming the brand new face of indecent public castration.
While I understand that Jordan is a decent man, fun-loving, and rather likable, his blatantly improvident "ghosting" tactics make him appear less like a man of character, and more like a giant scared blob who seems to be pandering about without a spine. And yet, this cowardly blob managed to destroy one of the most powerful NBA franchises without uttering a single word.
July 3rd, 2015
After losing big man Tyson Chandler (again) to the Phoenix Suns during the NBA free agency, the Dallas Mavericks found themselves in a particular quagmire (one lined with panic attacks and alarming cuss words): Chandler was the Mavericks' safety net – and Chandler, a brilliantly talented player, didn't deserve under any circumstance to be that safety net – and now the front office was walking a tightrope over a black abyss of denial and destruction. Owner Mark Cuban had his sights set on something bigger and would risk everything on it. After securing Wesley Matthews from the clutches of the Sacramento Kings the night before, Cuban and eternal golden boy, Chandler Parsons had managed to lock down the Mavericks Plan A (that would be you, Jordan) in a drunken, gleeful Los Angeles afternoon complete with bear hugs, clubbing, Parsons running in the streets, and the legendary Dirk Nowitzki.
July 6th/7th, 2015
In the midst of all the celebrating on the Mavericks part, one person in particular was remaining rather mum – the jellyfish himself. Yet, it seemed as if all the patting-each-other-on-the-backs clouded Dallas' judgment and Jordan's silence went over looked to everyone but the Los Angeles Clippers. Sources close to the Clippers claimed that Jordan had communicated with his former coach, Doc Rivers, late Monday night/early Tuesday morning to inform him that he was having second thoughts about verbally committing with the Mavericks.
Okay, that just sounds like a drunk-and-dial to me.
No one is fucking happy at midnight when they're doing laps in a bottle of Johnnie Walker Blue while listening to Drake and crying like a little girl into their jersey that still reeked of LA smog. Yes, you ARE going to get downright stupid and call or text your ex with nonsense declarations of ardor.
Thing is, hopefully your ex isn't cunning enough to take advantage. Unfortunately for the Dallas Mavericks, the Los Angeles Clippers were in a position to cozen a moronic Jordan, and they were going to pull every dirty trick in order to do so.
July 8th, 2015
It started with a rumor late Wednesday morning that the Clippers were lobbying Jordan to stay in Los Angeles just one last time, and ended in a all-out emoji Twitter war.
Parsons, one of Jordan's good friends, fired the first shot, indicating that he was en-route to Houston, Texas (where Jordan lives) and captivated a Twitter audience complete with Dallas media, other NBA players, and sports analysts.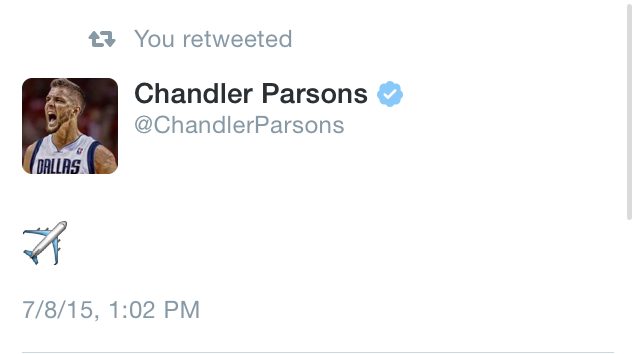 Soon, J.J. Redick joined in.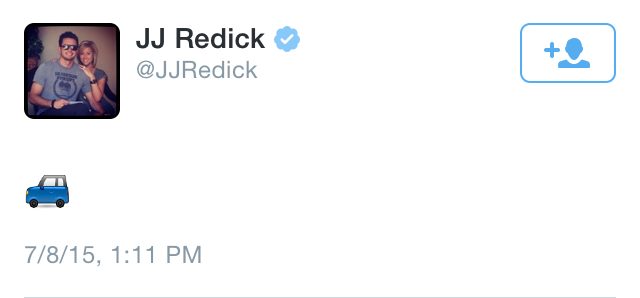 Followed by Blake Griffin…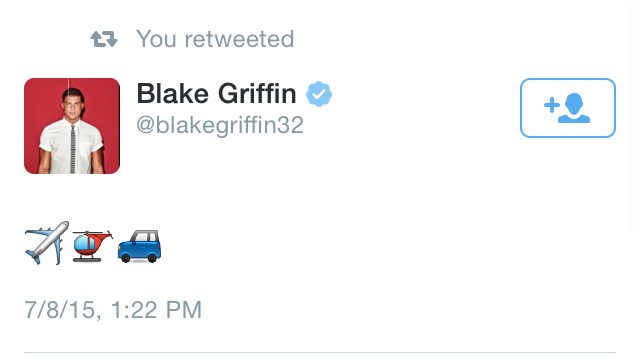 Along with Chris Paul…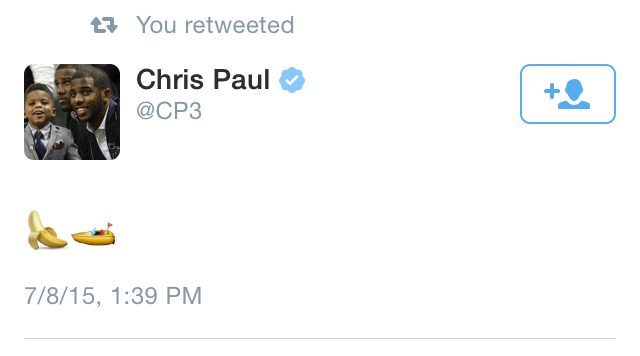 And pretty soon, it turned into the first 20 minutes of Saving Private Ryan.
Around three central time, Marc Stein of ESPN announced that sources claimed DeAndre Jordan promised the Mavericks a face-to-face meeting that evening before he makes his final decision.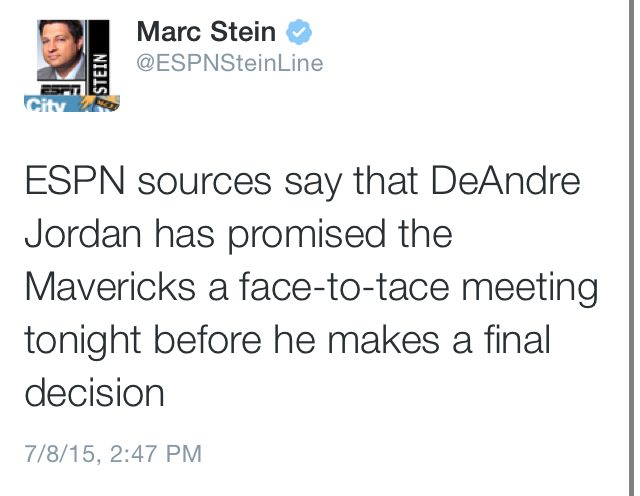 Yet, that never happened.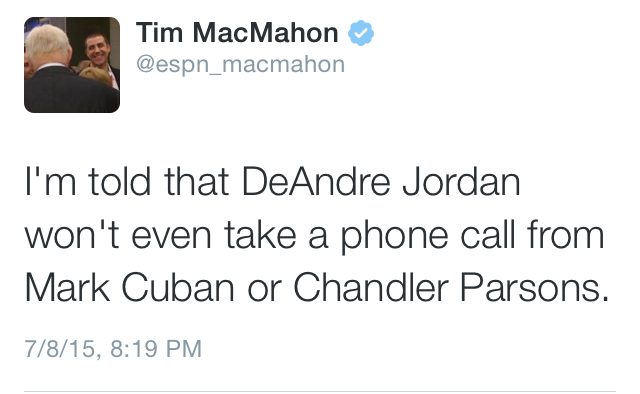 July 9th, 2015
At midnight eastern time, free agent DeAndre Jordan resigned with the Clippers on a four year, $84 million dollar deal with an opt-out after third year only five short days after verbally agreeing with the Dallas Mavericks.
Now, while this may have been all giggles for those peering in on the outside, for the Mavericks this particular disappearing act of Jordan's will be the unraveling of a franchise and could possibly destroy many lives that are embedded in the fibers of the foundation. For example – since the Mavericks were planning to build around Jordan and make him a star (something that cannot and will not ever be done with the Clippers considering the world revolves around Chris Paul and Blake Griffin over there), their Plan A evaporates, and they're left looking at Nowitzki retiring in just one year, head coach Rick Carlisle leaving after the fact (an extreme possibility considering his has expressed that he's not a "rebuilding" coach), and Parsons opting out.
No one would have blamed Jordan for backing out if he hadn't been too weak to express his discontent with anyone in the Dallas organization early on after verbally agreeing to come to the Mavs. That would have given Cuban time to form a Plan B and line-up another powerful center. Instead, he tucked his head inside his shell and pouted silently, before going all school-girl moronic by crying dragon tears to his ex, who then diabolically aided him in lighting the fire.
You, DeAndre Jordan, are a coward in the lowest form and should refrain from calling yourself a "man".
You, Clippers, are pricks in the highest form.
And the Mavericks, along with their fan base, are seriously fucked.