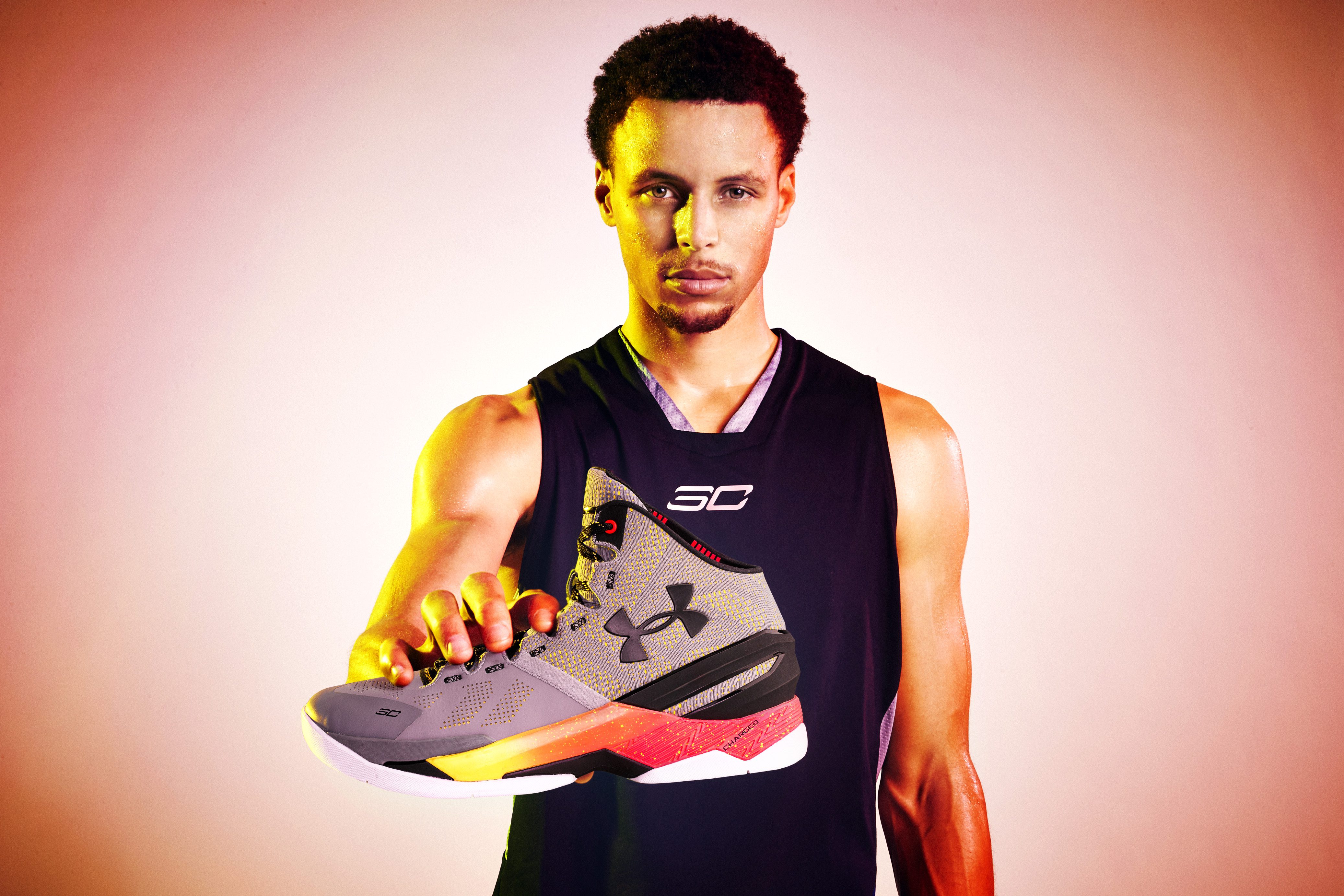 Simply put, Stephen Curry, the most elite player on Planet Earth not named LeBron James, had a helluva year with the Golden State Warriors, and produced that year in one of the most surprising shoes to hit the market in the Under Armour Curry One. Now, the Under Armour Curry Two is here for debut — in the "Iron Sharpens Iron" colorway — and it looks to be everything the Curry One was and more.
Can I be frank? I'll be frank. The Curry Two is clearly more 'teched-out', it's more avant-garde, it's openly designed to appear more sophisticated from a technical place, but it's also a visually interesting shoe. I'm excited for its future.
See more of the Iron Sharpens Iron here, courtesy of our friends at UA.
This summer, Stephen Curry will visit China, Japan and the Philippines on his first-ever tour of Asia with Under Armour.

The Curry Two is the first basketball shoe to feature a full-length Charged Cushioning midsole unit and a UA SpeedForm seamless upper. The precision fit of UA SpeedForm technology and adaptive responsive nature of Charged Cushioning optimizes Stephen's one of a kind skill set.

"The first time I put my foot in the Curry Two, I knew having Charged Cushioning through the whole shoe would be a performance difference-maker," said Curry. "I've been wearing the Curry Two all summer in my workouts, and I'm excited that the design and performance of the shoe will not just enhance my game, but it will provide all basketball players with real innovation that works."

Charged Cushioning® System

The full-length Charged Cushioning unit in the midsole absorbs impact and converts it into a responsive burst to enhance Stephen's first-step and change of direction.

UA SpeedForm® Technology

The UA SpeedForm Technology upper molds precisely to Stephen's foot, providing free range of motion and strategic stability so he can stop and go, cut and change speed without restrictions.  The perforated engineering in the UA SpeedForm keeps the Curry Two lightweight with durable breathability.

Locked in Stability & Control Technology

The Curry Two's external heel counter locks in the foot and eliminates sliding for a secure fit. The rubber outsole with an organic herringbone traction pattern offers supreme underfoot control and multi-directional grip of the court. External shanks in the arch and forefoot provide midfoot and lateral stability. A high abrasion skin on the toe tip increases durability to support Stephen's quickness and change of pace.

"In the Curry Two, Stephen has freedom of movement, responsive cushioning and strategic stability," says Dave Dombrow, Vice President of Design, Footwear and Accessories, Under Armour. "What makes Stephen great is that he plays the game like no one we've ever seen, and at any moment he's going to do something on the court we didn't think possible. We drew from that to build him a shoe that allows him to play untethered and unpredictable, while staying in complete control of his every movement and speed."

"Iron Sharpens Iron" Curry Two

The lead colorway of the Curry Two, "Iron Sharpens Iron," is inspired by Stephen's relentless commitment and dedication to make his teammates better through his play and leadership. Stephen's motto, "Make My Teammates Better," serves as the foundation for how Stephen mentally approaches the game of basketball. His strength and fortitude serves as a source of strength for his teammates and the team.

The grey upper features a back layer of yellow that pops through perforated patterning. The midsole's orange to yellow fade also incorporates detailed speckles to represent the forging of metal. 

Curry Two Availability

The "Iron Sharpens Iron" Curry Two, and three additional colorways, will go on sale in China beginning on September 6th. Limited pairs will also be available in Tokyo and Manila on September 7th. 

The "Iron Sharpens Iron" Curry Two also launches globally on October 24 for $129.99.

Follow @UABasketball on Twitter and Instagram for information about additional global retail launch dates and colorways.