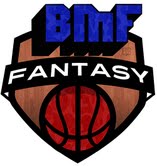 You've been there once or twice in the past. The draft is winding down, your fantasy basketball team is pretty much set, and your last pick is just around the corner. Who do you pick? Who do you go for? Ah, the flier pick, a player who with some upside, but is not guaranteed to produce. I've been asked once, or twice, in social media who I would recommend they should take as their last pick.
Here are a few rules of thumb when it comes to selecting those last picks. First of all, don't waste it. Some drafters jokingly select "trash picks." It's still a roster slot on your team and if you choose wisely enough, who knows, your guy might just surprise you. Second, this is the spot to truly take risks. Go for players who have upside, but lack opportunities to shine. Third, you can use this spot as an opportunity to grab a handcuff pick for one of your earlier picks who are injured or have had a history of injury risks.
Most standard sized leagues are comprised of 12 teams and have 13 roster spots, that's 156 players. I've taken the liberty of looking up the current Yahoo rankings and found players who are ranked lower than 156, but might just be worth that last remaining spot on your fantasy squad. For managers drafting in deeper leagues, feel free to consider this list of players as a queue of suggested picks.
| | |
| --- | --- |
| Yahoo Rank | Player |
| 161 | Taj Gibson, CHI |
| 164 | Aaron Gordon, ORL |
| 165 | Kentavious Caldwell-Pope, DET |
| 166 | Zaza Pachulia, DAL |
| 167 | Courtney Lee, MEM |
| 170 | Myles Turner, IND |
| 172 | Lou Williams, LAL |
| 175 | Jeff Green, MEM |
| 183 | C.J. Miles, IND |
| 184 | Kelly Olynyk, BOS |
| 191 | Wesley Johnson, LAC |
| 197 | Andrea Bargnani, BKN |
| 199 | Michael Kidd-Gilchrist, CHA |
| 201 | J.R. Smith, CLE |
| 202 | Brandon Bass, LAL |
| 203 | Channing Frye, ORL |
| 251 | Nick Young, LAL |
| 263 | Chase Budinger, IND |
| 326 | Maurice Harkless, POR |