It never fails: whenever a man in-the-know manages to dodge some dingbat member of the media bottom-feeders' question, the dingbat in question takes it upon himself (or herself) to make a huge lava spewing mountain out of a molehill.
[youtube]https://youtu.be/2gR0iD8XIJ8[/youtube]
Following a dully noted hectic off season, it's clear that there were more than a few questions journalists wanted to ask the Dallas Mavericks during their media day on September 28th:
Have you spoken to DeAndre Jordan?
Has DeAndre Jordan spoken to YOU?
You even ask why DeAndre Jordan didn't return your phone calls?
Have you seen this quote of DeAndre Jordan's?
Does DeAndre Jordan wear boxers or briefs?
Oh, and how's … whatshisname… oh yeah – Chandler Parsons – how's his knee?
So, it was likely the question would arise regarding newest Maverick Wesley Matthew's torn left Achilles tendon, an injury he acquired on March 5 of last year when his former team, the Portland Trail Blazers, faced (ironically enough) the Dallas Mavericks. The Dallas press was blessed enough to speak with coach Rick Carlisle, the first in a long line of interviews that Monday. Carlisle was asked if it was possible that Matthews would make his Mavs debut around Christmas time (as a more realistic starting point). Carlisle, in his famous sarcastic manner, answered facetiously:
"It's a definite maybe." (insert press giggles here)
Of course, the media took that as a big, fat YES, which was a big fat lie.
Coach Carlisle decided to address this candidly at training camp the following day: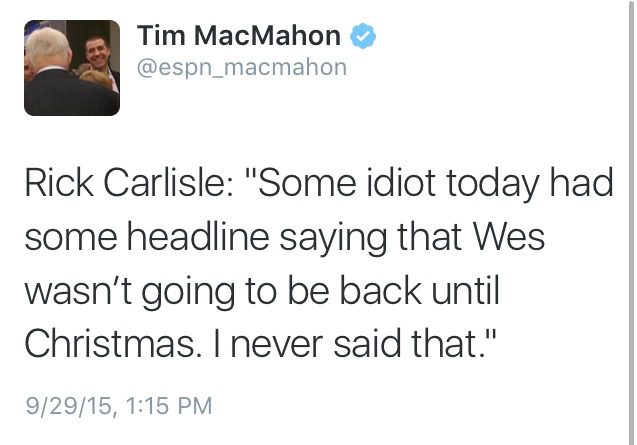 As the above video shows, he, in fact, did not.
Coach: "Wes is going to take a little longer (than Parsons in regards to starting), he's not gonna want to tell you that, we're gonna have to fight to keep him off the court. But we've gotta make sure we do this the right way and that he's really 100 percent healthy and conditioned and those things before getting into an NBA game."
Reporter: "I know you're not a fan of timelines necessarily, but is Christmas realistic for a guy like Wes Matthews given his injury?"
Coach: "I'd say it's a definite maybe. It could be sooner it's hard to say. He was cleared for an increase in activity a week or seven or eight days ago so his core activity has been ramped up some. He will participate in certain aspects of training camp but nothing live to start with.
Aside from press fabrications, the day was energetic and full of curiosity as the press cozied up with new players including Matthews, Deron Williams, rookie Justin Anderson, Zaza Pachulia, JaVale McGee, and Jeremy Evans while reintroducing themselves to Samuel Dalembert. Players had fun at each other's, AND the media's, expenses (Chandler Parsons on Dirk Nowitzki: "He's REEEAAAAAAALLLLLLYYYYY old") and goofed around with photographers while taking an abundance of selfies.
If media day is any reflection of what the upcoming Mavericks season looks like, it's sure to be an incredibly fun one – just hopefully void of more moronic word play.
Yeah right.
[youtube]https://youtu.be/bEGJgq56rXw[/youtube]