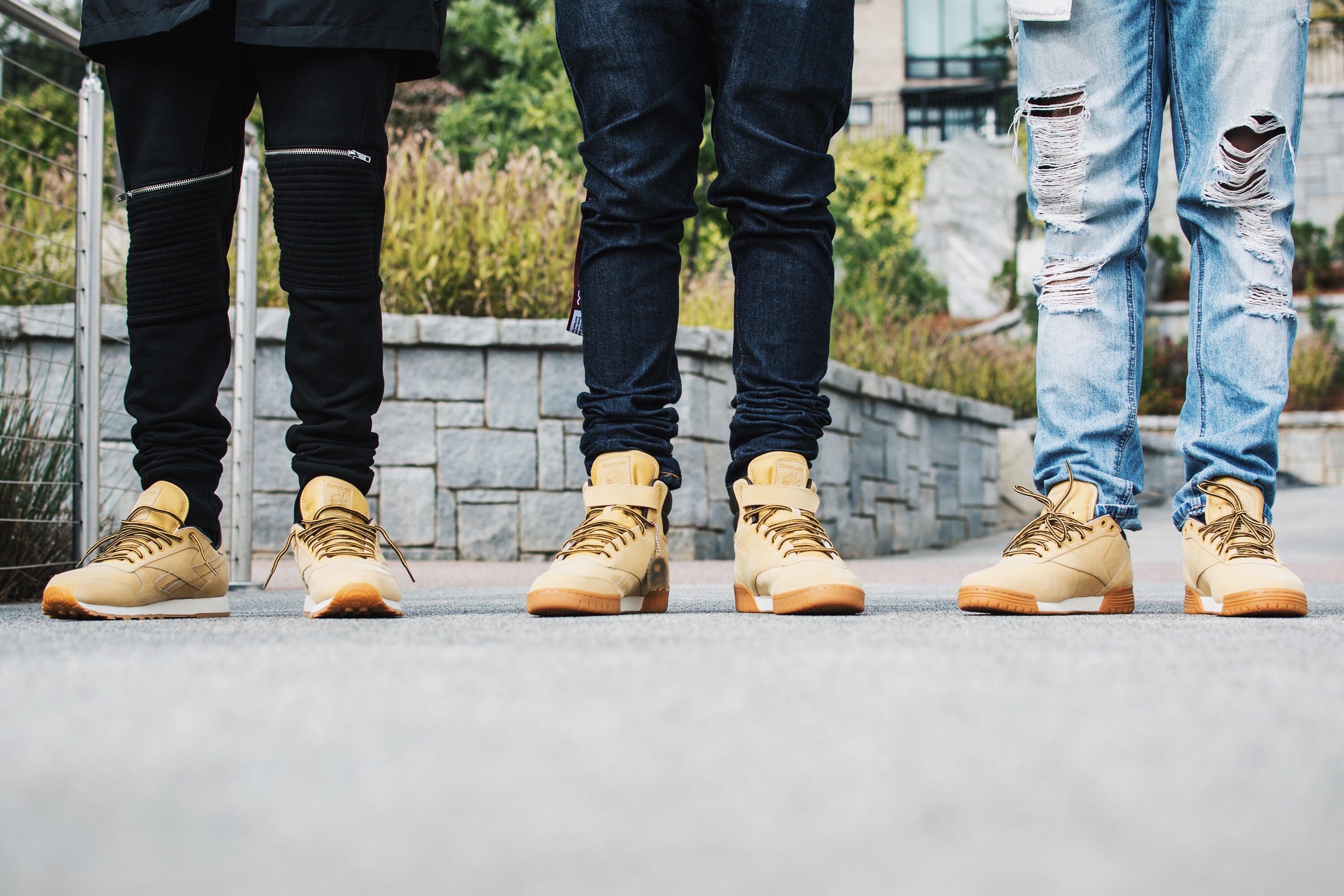 Sometimes, Timberland boots are just a bit too cumbersome to get around in, no matter how funky and stylish for the last x amount of years. The Reebok Classic Wheat Pack remedies that with the Classic Leather, Ex-o-Fit High, and Ex-o-Fit Low.
Wheat without the weight.
See more of the Wheat Pack here, courtesy of our friends at Reebok Classic.
Wheat Pack:

Step into Fall this season with one of three polished looks from this year's latest "wheat" pack. Inspired by one of the best cold-weather staples, the work boot, the Reebok Classic Leather, Ex-o-Fit High and Ex-o-Fit Low all incorporate elements of the tried and true go-to footwear this Fall. Each style in the Wheat Pack features a supreme wheat-colored nu-buck upper, brown lining and winterized boot laces to give it that rugged treatment. Stand out from the rest by pairing any of these go-to kicks with your warm weather wardrobe. You can pick up your favorite style on November 1st for $74.99 at Finish Line and Urban Outfitters.

Classic Leather "Wheat":

Modeled by the popular work boot, the Classic Leather "wheat" features a light beige color, a white midsole, a gum outsole, a brown heel collar, and winterized boot laces. It is the perfect way to add an unexpected casual element to your polished look. Retailed at $74.99 you can pick them up at Finish Line and Urban Outfitters.

ExoFit Low & High "Wheat":

Take on brisk days and colder nights with the Reebok Classic Ex-o-Fit Hi and Ex-o-Fit Low. The clean and crisp Ex-o-Fit Low in wheat colored nu-buck will effortlessly accent blue jeans and joggers alike while the Ex-o-Fit Hi relates even closer to the footwear it was inspired by with a high top design and black accents. Pick them up for $74.99 at Finish Line and Urban Outfitters.