If sneakers are your passion, 2018 was either a fantastic year for your habit or a terrible year; hardcore fans were once again able to own gems from 20+ years ago, and hypebeasts had more hype shoes than they knew what to do with (or could afford?).
I spent nearly every day of 2018 writing about sneakers and streetwear at WearTesters — from the latest drops to industry scandals — and I have some thoughts. Like every year, my Top 5 of 2018 list only includes shoes I actually owned this year. (Readers familiar with my work will not be alarmed at the lack of Nike/Jordan Brand on this list.)
TOP 5 SNEAKERS OF 2018
LANE EIGHT Trainer AD 1
Lane Eight is a new brand started by brothers James and Josh Shorrock out of Hong Kong, and it came out swinging. With its first shoe, the Trainer AD 1, Lane Eight showed that it could do better than the adidas UltraBoost — in both comfort and price — in its very first go around (and now, the Trainer AD 1 is only $140, $40 cheaper than the UB). With tech that destroys most of what's on the market today and stunning colorways, Lane Eight is proof that the footwear industry is blossoming outside of what the big brands are doing.
Reebok Daytona DMX
Finally, Reebok went back into its packed archive to resurrect one of famed sneaker designer Christian Tresser's best designs. 20 years later, the Daytona DMX is just as fascinating — and it is getting a second life in 2018, thanks to the focus on its aesthetics (just look at what Boston's Bodega has done with the shoe).
Under Armour Forge 96
While nearly every brand threw their hat in the "dad shoe" ring (gotta stay "on-trend" amiright?), Under Armour came with something to buck the trend. The Under Armour Forge 96 retailed for only $120, featured a full-length EVA sockliner and EVA midsole, and didn't look like anything else on the market. Bravo, UA.
ASICS Gel-Kayano 5
Since my original pair disintegrated a few years back, I have been dying for ASICS to retro the Gel-Kayano 5. After spotting it on the runway in July during Fashion Week, I got super excited. For just $120, Asics brought back a brilliant build of this classic 1999 runner. It's supportive, comfortable for all day wear, and looks great on-foot — especially top-down.
Nike Air Zoom Pegasus 35 Shield
This shoe was an easy addition to the list for two reasons: full-length Zoom Air, and then, a water-repellent build that holds up on the slushy NYC streets. The Cushlon midsole is the cherry on top of this comfort sundae, and the looks aren't bad either. Maybe it's just Erik at SNS and me, but this shoe was a W for the Swoosh this year.
Honorable Mention: ARKK Copenhagen Apextron Mesh
One of the best "on-trend" shoes from an overseas brand that has made big waves in 2018. ARKK does design better than nearly any other brand right now so don't sleep.
(While I've worn the majority of the sneakers/pieces in my next roundups, I haven't owned them all.)
Best Collabs of the Year
BAIT X MARVEL'S VENOM 
I will say it until people recognize: BAIT does some of the best collaborations in the business. This year, the West Coast retailer added MARVEL to its long list of AAA collaborators. That team-up resulted in several collections of premium apparel for comic book nerds that respect the Golden Age.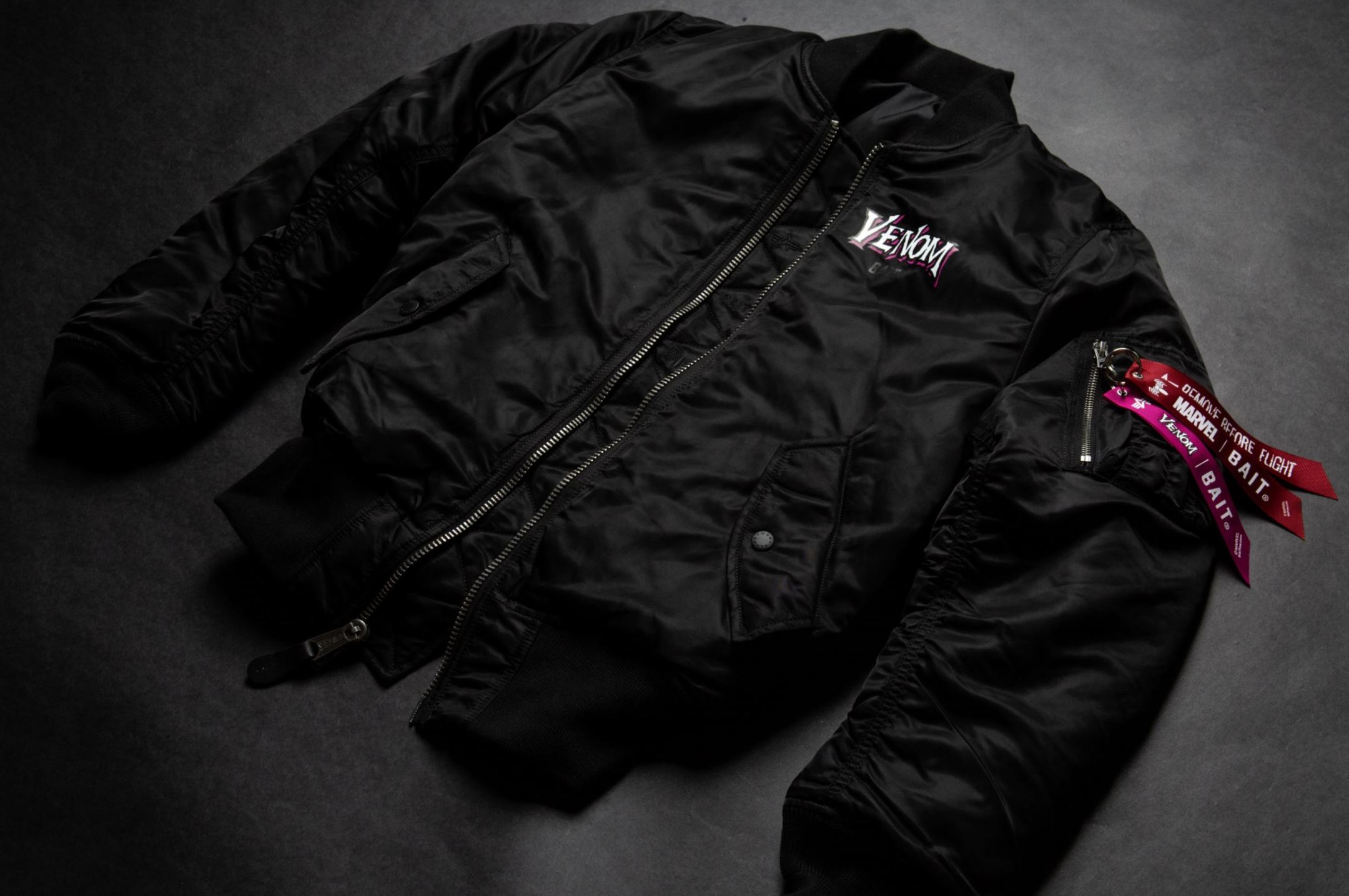 However, the BAIT x Marvel Studios' Venom x Alpha Industries MA-1 Reversible Jacket for NYCC is by far my favorite piece of them all. It gets me stopped in the street several times a day and more people than I can count have offered to buy the jacket off my back — they just couldn't believe retail was $250. The matching Venom and Carnage shoes were also fantastic.
DMX DAYTONA EXPERIMENT 2 BY PYER MOSS
If there's one footwear designer that has been doing nothing but kill it this year it's Chris Hill. He's responsible for some of Reebok's best collaborations — think Curren$y, Cam'ron, Pyer Moss' Kerby Jean-Raymond, and even 20th Century Fox's The Predator. Footwear News named Hill's latest shoe, the DMX Daytona Experiment 2, "Collaboration of the Year" and I couldn't agree more. I spoke with Hill about Curren$y's shoe in April.
ASICSTIGER GEL-YETITOKYO HI G-TX "DESERT" for nonnative
Those that made their top ten lists early may have missed this shoe, and that's a shame. AsicsTiger, ASICS' streetwear division, linked with the Tokyo-born streetwear company, nonnative, which uses workwear and military gear to inform contemporary styles. While the fit of this shoe runs way big, AsicsTiger did this boot justice by adding GORE-TEX, tactical lacing, and very aggressive outsoles.
adidas Consortium x Saint Alfred Temper Run
Slept. On. This collab sneaker came from a historic boutique, and it launched alongside absolutely stunning artwork by Chicago artist Stephen Eichhorn. The shoe shipped with three extra rope laces and a print from Eichhorn's series for St. Alfred — and it was available in sizes 4 to 14.
K-Swiss for United We Dream
After the year that was 2018, this was a project that sneakers needed. To celebrate Hispanic Heritage Month, K-Swiss teamed up with United We Dream, the largest immigrant youth-led organization in the United States. K-Swiss donated 50% of the proceeds generated from the sale of the DREAMer pack to pay renewal fees for DACA recipients so this wasn't just a marketing exercise. More of this in 2019 please.
Best Retro Sneakers of 2018
Reebok Aztrek / Reebok Pyro / Reebok Daytona DMX / Reebok BB 5600
We — hardcore Reebok addicts — have been waiting for these silhouettes for years. The Vector brand finally dug some of the aforementioned Christian Tresser's best designs out of the archive and gave some of them proper re-introductions. Others completely flew under the radar, but that meant that steal sale prices.
Fila Grant Hill 2 HOF
Grant Hill and FILA are back. FILA is re-upping contracts with some of its athletes that made waves in the '90s — Basketball Hall of Fame inductee Grant Hill and champion marathon runner German Silva — so we've got plenty more retro product to look forward to. However, 2018 gave us the Grant Hill 2 HOF in two premium colorways that tastefully pay homage to Grant Hill, and they weren't called the Fila 96. Oh, and the apparel for Grant Hill's collection is 🔥🔥🔥.
BAIT x Reebok Question Mid 'Snake 2.0'
Technically a collab, this shoe is a 2.0 version of the 2013 BAIT x Reebok Question Mid 'Snake GITD'. It's a premium, luxurious, and striking rebuild of the 2013 version, and while the latest version isn't GITD, it's one of my favorite shoes of the year. BAIT FTW.
Air Jordan 3 Retro 'Mocha'
I'm not a Jordan Brand fan, and even I was excited to see this Air Jordan 3 return. It's one of the more interesting AJIII colorways, and after reading several years worth of "we need this shoe back" from fans, I'm happy people are picking it up on sale.
Nike Kobe 1 Protro
It's great to see the retro company finally — after decades — do retro product right. Re-engineered to be a functional performance tool in 2018, but look like a 2006 masterpiece, the Kobe 1 Protro is a retro finally worthy of the Mamba Mentality — and it may have been the best basketball shoe of 2018.
HM: Air Max Deluxe
Fans really seemed to want this shoe to return, so now it's here. Nike has already given the shoe far more colorways than anyone needed, so it's the usual retro fare. The silhouette is clean and historic, but that Air unit will never be comfortable enough for me to let go of $180.
---
2018 was wild, but 2019 will most certainly be crazier. I can't thank you all enough for rocking with me this year — liking, commenting, reading, etc. — you all have made this journey worth it.
2019 has big things coming, so stay tuned.