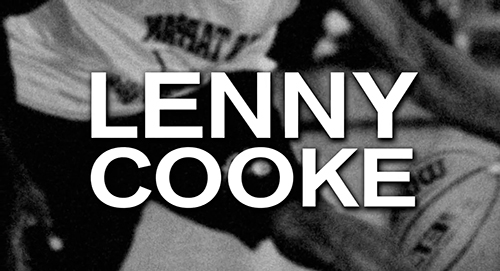 If you're one if those die-hard, gym rat type of basketball fan, then there is a good chance you have seen some players who you knew would be stars.
Mine was Wayne Turner. Growing up, he was a legend in Boston. He was part of a high school class of point guards that included Steph Marbury and God Shamgod.
As far as I was concerned, I was watching greatness in the flesh. As he went on to Kentucky, I was certain that he would jump from their to the pros.
Nothing in life is that simple. Wayne never became the star I thought he'd be. He did go on to play in the league and overseas. He's continued to be an integral part of the Boston basketball scene. He just never was that star.
The dream of being a "pro" is one that is more like playing a lottery, just with added obstacles to winning. At least with the lottery, all you have to do is think of the right configuration of numbers on the right day in the right city at the right time.
Going pro, becoming that star, all that takes alot. It takes being skilled enough to get into the conversation about being great.  Once you get to people to speak about you, the next is to show yourself on a bigger stage. It's after that stage that you're supposed to get to that next level call the N.B.A.
The truth is, that as many people will attempt to live their lives by those stages, most if any will never even get close to going "pro" on any level.
Like most fans, I wonder often where some of the players who I thought were destined for greatness found their self stuck in the basketball matrix. Thanks to a conversation on Facebook, I was reminded of many one-time high school stars who, depending on where you grew up, were the best players you ever saw.
This list wont consider players who passed to early such as Len Bias or players who just didn't make it was a big as many thought but did make the pros like Rafer Alston.
No, this list is for the talented players who had the potential to make it big in the league, yet for one reason or another, couldn't catch that lighting in the bottle.
Many of these players never got a chance to suit up in the NBA. Some became coaches or lifetime journeymen. Others, their current state is unknown. What is known is that in the mind of people like myself who grew up going over rankings and chasing camps, knew they saw greatness at one time. They saw the next big thing.
Here are 5 players how many wonder, "why didn't they make it to the pros"
Ronnie Fields: When a teenager named Kevin Garnett started making noise around the basketball circles that he would bypass offers from North Carolina and Michigan and go straight to the NBA draft, he was playing his ball in Chicago alongside a point guard named Ronnie Fields.
It's hard to explain to a generation that was before YouTube what this man was capable of doing. Standing at 6'3, he ran the point guard spot for Farragut High School in Chicago. Garnett made the move to Chicago after destroying competition in his hometown of Gaffney South Carolina.
It was already word that Garnett was going to go pro after he got his diploma. He plays his last year in Chicago at Farragut. That's where he connected with an electrifying player named Ronnie Fields. You see how Russell Westbrook jumps out the gym during fast-breaks or when catching an alley-oop. Ronnie Farragut was all that!
Where he excelled athletically, his actual basketball game was what needed refining. Before he could actual refine his skill set, he declared himself for the 1996 draft alongside his homie Kevin Garnett.
Garnett went 8 that year to Minnesotta. From there, he's won an NBA championship, MVP award, picked up numerous All-Star appearances and cemented himself as a Hall of Fame player.
Fields went undrafted that year. He bounced from league to league across the world before he settled into his new word
Schea Cotton: Again, without YouTube being around back then, it's hard to know how I even knew about Schea Cotton. When I was reading about this 15-year old kid (who might be older at the time depending on who you speak with) was killing his kids his age looking like a man amongst boys. At 6'5, Schea Cotton was a monster of a human being at that time.
The Southern Cali native tore up the California HS competition. Cotton at that time something that just wasn't seen. His size, strength and ability to go to he hole. Lets just say that he was hard to stop. Matter of fact, the only thing that could've held back Schea Cotton was school.
Cotton's college entrance exam caused concerns for the NCAA. After a lengthy back-and-forth that kept Cotton from playing D1 ball. He went the JUCO route Long Beach Community College before eventually enrolling and playing at the University of Alabama. By that time, his hype was still alive, but dwindling. He went from being a sure-fire star to just another guy. On a level where everyone is big, strong, fast or worse, all three, it's hard to stand-out.
Schea played overseas as well and had some pre-season games for pro teams. Currently, he's coaching. The documentary, 'Man Child' portrays his life perfect.
Lenny Cooke: If you want a cautionary tale of what fame too early can do to a person, look no further than Lenny Cooke. At the time, Cook was a star in his own galaxy. Standing at 6'6, he beat up everybody in the high school ranks. Well, almost everybody.
A victim of the system, Cooke bounced from school to school during his high school years. During that time, he developed a reputation as a talented, yet troubled star. Like many players who's pride rivaled his talent, he was truly humbled when he met a player who is now widely considered one of the best of all-time. After getting handed his hat by Lebron James, Cooke was never the same. He attempted to go pro right out of high school and bypass college. But by then, the scouts who looked at him as a can't miss talent, now saw him as flawed individual with a flawed jumper and no position.
Cook would go on to play overseas and in several smaller basketball leagues in New York. He did get a chance to try-out for an NBA team. His short-time with the Boston Celtics was the only real time that Lenny spent in the NBA. While he never made it to the pros or became one of those once in a lifetime type players, his high school games are still a thing for the ages.
Rashard Griffith: You talk a beast of a man. Playing at the legendary King High School in Chicago, Griffith was a dominant figure on a dominant team for 4-years. Standing 7'1 inches tall, he was built like a tree and was equally had to move. One of the top prospects in his class, Griffith decided to play his collegiate basketball at Wisconsin.
Myself, like many at the time expected Griffith to be one of those one-and-done players who just pass through the college level on their way to the NBA. While having a solid career at Wisconsin, Griffith never turned the success he had in the high school into college success.
Griffith would also make the rounds playing overseas and for minor league leagues, but the man we saw dominate the high school level could never really get it going once he left 12th grade.
Ed "Booger" Smith: Ever see 'Soul In The Hole?' If you, then there's a good chance you're agreeing with me. Ed "Booger" Smith was the man in NYC. At one point, Booger might've been the best point guard in the city of New York. That says a lot! At the time, his only peers were Stephon Marbury and Rafer Alston. He literally looked like he had the basketball on a string when he played. He was almost impossible to guard thanks to his speed, court vision and yo-yo handles.
The only thing that could stop Booger Smith, was Booger Smith. Living life during the violent 90's in NYC, Booger lived a life that no other could comprehend. He would spend as much time in and out of trouble thanks to drugs then he did on the court.
There were many players who did make it to that next level that tried to help Booger leave the streets and achieve his potential. Yet, the street dream was stronger than his hoop dream sad to say.