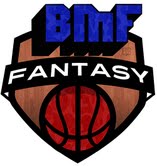 It's the holiday season and it's time to plan out which fantasy basketball players to shop for, at currently discounted prices of course, to stuff our fantasy teams stockings for 2016. To be clear, most experienced managers also know that you are trying to acquire their players at lower than regular market value, so be sure to approach teams that are currently struggling as they should be more receptive to deals.
Forget about targeting Kyrie Irving. He's too close to a return and his owners who have been sitting on him this long, committed for the long haul and were prepared to wait it out. So don't bother, because you're not going to get him cheap.
Neither should you go out of your way to make a move for Chandler Parsons. Yes, he's currently hampered by an injury and should be in line to be able to contribute more once he's 100%, but his improvement within this season. Remember how his numbers dropped off when Rajon Rondo joined Dallas? Well, Deron Williams is in the midst of a Renaissance season and unless D-Will gets injured Chandler won't be able to do much facilitating from the forward position like he used to do in Houston. Will he do better than he currently is doing? Yes, but temper your expectations because he's not going to rock your world.
Anyway, here is a list of "big items" I'd seriously consider trading for and stashing.
Off the top, Markieff Morris. It's just a matter of time til the Suns offload their disgruntled stretch four. Small-ball has become quite popular this season, even for teams that didn't normally play that kind of style. Morris is fantastic piece for any team that wants to frequently adopt such as system, so it isn't far fetched to expect him wearing different colors on or before the trade deadline.
Al Jefferson could be out until January. I just saw him dropped in my 18-man H2H league. It's set to daily roster changes and Al-Jeff's owner was in the lower half of the league standings and apparently could no longer handle Big Al as "dead weight." Yes, I am burning my waiver eight for him and crossing my fingers that I get him. Al is worth the wait. The Hornets are surprising many teams this season and they need him in the middle to take some pressure off Kemba and Nic Batum.
Nerlens Noel has been underwhelming this season and while it appeared that the addition of Jahlil Okafor stole some of his thunder, he still should be able to turn things around in the second half. He's currently dealing with an eye issue and if it's found to be not serious, Noel is worth acquiring. Once Tony Wroten and/or Kendall Marshall are up to speed, the Sixers' dynamic will shift. There will be less pressure on their big men to produce. Noel started off slow last season, but eventually blew up later on. His solid contributions in those defensive categories make him a great addition to any fantasy team's front court.
Jonas Valanciunas is still a few weeks away from being cleared to return and his owners might be getting antsy. Send out a feeler offer. Who knows, they might just bite.