Being a lifelong LeBron James fan has been a tricky endeavor. For example:
Watching your favorite player win two NBA Championships: Fun
Watching your favorite player lose in the NBA Finals four times: Not Fun
Having your favorite player take his talents to South Beach the year you decide to move to South Florida: Fun
Having your favorite player announce his intentions to take his talents to South Beach with a horrible televised announcement special and welcome party: Not Fun
Having your favorite player be one of the most talked about athletes alive because he's one of the ten best basketball players to ever live on planet earth: Fun
Having your favorite player be one of the most talked about athletes alive because he unfollows the team he plays for on Twitter, or because he may or may not be cryptically tweeting his teammates, and because he's openly discussing the idea of playing on the same team as three of his best friends … all of whom play for different basketball teams in much bigger and more appetizing markets than Cleveland: Not Fun
That's what brings me here today. Last week LeBron made news when he announced his desire to team with buddies Dwyane Wade, Chris Paul and Carmelo Anthony at some point in his career (mind you, LeBron is in year thirteen, and Wade and Anthony have already showed clear signs of decline). He even went as far as saying he'd take a pay-cut to do so, and with the salary cap exploding over the course of the next couple of seasons, this is a possibility that might not be too far in the distance. The only looming questions are where King James would take his talents next, and what's to be of the Cavaliers teammates who James has practically hand-chosen over the last year and a half?
LeBron's use for, appreciation of, and relationship with teammates, of all varying degrees of talent, has always been a frequently critiqued portion of his career. In his first Cleveland tenure LeBron was often flanked by dudes that are better suited to be the fourth, fifth and sixth best guys on teams … not second, third, and fourth. When LeBron took his talents to South Beach the narrative changed: all of the sudden LeBron needed superstar teammates. He needed help. He couldn't win on his own. That's a whole lot of malarkey if you ask me.
Regardless, one of the most singularly talented basketball players ever is forever tied to the teammates who have helped him succeed and the ones who have held him back. Basketball is the ultimate team contest, but it feels totally bizarre the most iconic basketball player of the last twenty years is so tied to the guys he's stopped on the floor with, not against. As a lifelong King James supporter, I am more than qualified to tell you about those teammates. I'm also able to tell you that some of those teammates have been extremely likeable. Others have been merely tolerable. A few have been hard to stomach on a nightly basis.
Below you is a chart; a chart with various names and numbers and words. Running up and down the chart is a given players likeability. Running across the bottom of the chart is the given players effectiveness on the floor when he was a teammate of LeBron. Where they land on the chart is their composite ranking, or something. I'm not a mathematician so, umm, ignore the lack of proper mathematical terminology. I would apologize to all of the math teachers I had in the past, but clearly not knowing which is the X-Axis and which is the Y-Axis hasn't hindered me in any way.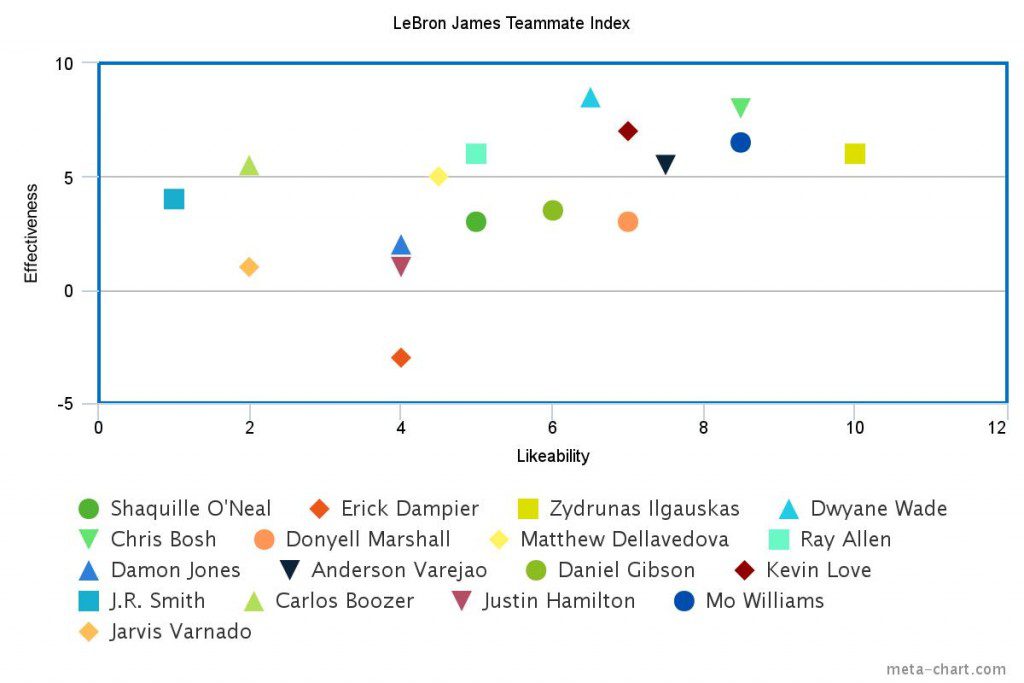 Here are some notes on all of the players you saw on the chart above:
I don't think there was a person alive who was more excited about the Shaq being traded to the Cavs the summer of 2009 than yours truly. Shaq was going to Cleveland to "Win a ring for The King." WIN A RING FOR THE KING! Shaq and LeBron and Mo and Z. You kidding me? How does that team not win a title?
Here's the problem … getting Shaq in 2009 was the equivalent of buying a carton of milk ten days after its expiration date. Getting Shaq in 2009 was like being able to watch any Robert De Niro performance and picking Meet the Fockers. Getting Shaq in 2009 was like someone handing you a thousand dollars in 2009 and saying, "Invest this in any company you want," and you chose Blockbuster. You get the point, right? Getting Shaq in 2009 was a massive disappointment. Okay, let's move on.
I'm sure as you surveyed the chart you thought to yourself, "Wow Sonny, a negative-three in effectiveness for Erick Dampier … what's up with that?" I've been afforded the opportunity to go to many NBA games in my lifetime, and let me tell you, there hasn't been a more uninspiring basketball player that I've ever seen in person than Erick Dampier.  When I say he was bad I mean he was terrible. There was no way you could watch the man warm-up and say "That's a good basketball player right there." No, you watch Erick Dampier warm-up and you think, "Fuck, why didn't I grow to be that tall?"
But then you think, "Man, he must feel weird out there because he's such a bad basketball player compared to all of the other guys." So then you feel bad for him and start to feel develop feelings for him. Erick Dampier is like an ugly puppy; so ugly it's kind of cute.
A perfect ten on the likeability scale, and I suppose since I dropped Spot Dampier lower than zero on the effectiveness scale, I could have given Big Z a higher score than ten. Either way, Zydrunas was the perfect teammate and sidekick for LeBron James. I could make an extended list of the things I liked about Zydrunas Ilgauksas, but instead I made one only seven entries long:
1: The Cavaliers first possession of almost almost every single game with a post shot for Big Z. I'm fairly certain every single shot was a fall-away jumper.
2: My Aunt once referred to him as "Big Zeke." I had a Great Uncle named Zeke. I don't know if Uncle Zeke and Zydrunas Ilgauskas looked alike. I can't imagine they did.
3: Despite being one of the least intimidating looking 7'3″ guys to ever live, Z was down to get in the grill of literally any other dude in the NBA. Kendrick Perkins, Charlie Villanueva, John Wall, Zaza Pachulia. Z didn't back down from anybody.
4: Even after Cleveland traded Ilgauskas during the 2010 season to acquire Antawn Jamison (yuck), he returned to the Cavaliers after the Wizards waived him. He's forgiving, and that's a great quality to have.
5: Of all of the athletes who would sporadically opted to rock a large beard but usually owned the clean shaven look, Z made the best transition.
6: There isn't a better individual alive at tip-ins that Zydruanas Ilgauskas. He could get four buckets a game just by put-back tip-ins. He'd be one hell of a volleyball player.
7: Just look at this picture. HOW ADORABLE IS THIS PICTURE!!!
Dwyane Wade
Chris Bosh
Bunched together because when you're discussing LeBron James it's hard to differentiate between Wade and Bosh, LeBron's Big Three running mates in Miami. Wade, Bosh, and LeBron collectively became the biggest story in sports for four years, and one of the most successful professional teams in that same time span. Don't agree? Name me all of the other teams that have played in the NBA Finals in four straight seasons. The list isn't too long.
Wade gets the slight edge over Bosh on the effectiveness scale. Wade was a multiple time All-NBA performer while LeBron was a member of the Heat. As much as Erik Spoelstra liked to talk up Bosh as the most important player on the Heat, there was a clear-cut pecking order and Bosh was third in line. It wasn't until year four that Bosh supplanted Wade in terms of effectiveness.
Bosh is miles ahead of Wade on the likeability scale. He did things like this:
And like this:
And like this:
Back in the day my mom was a HUGE Utah Jazz fan. Don't know how it happened. I know it was a late 80's choice of hers which would manifest into a full-blown obsession with the team by the time I was four-years-old. Like, the only thing my mom loved more than the Utah Jazz was my Dad and myself, and sometimes when I was a bratty five-year-old I imagine I slid down to third on that list.
Anyway, in 2002 we went to Toronto to see the Jazz play the Raptors. We got to the Air Canada Centre early enough to see some of the players warming-up. The arena was empty for the most part, and when we got inside one of the only players shooting around was Donyell Marshall. Rather than acting like a normal human being, my mom literally went ape shit, started waving her arms like a maniac and running down the steps and screaming "MARSHALL!!! MARSHALL!!" The only way to describe Donyell Marshall's immediate reaction is terror. He was momentarily terrified of a middle-aged woman who was running towards the court screaming his name. I'd bet money it was the only time that's ever happened to him.
After the initial shock, Donyell waved back to my mom (I don't know this for a fact, but I like to think that the reason Donyell didn't play in this game was because he was fearful that my mother was a stalker). While he was a member of the Cavs, Donyell Marshall was a seldom used bench player on a squad that went to the NBA Finals in 2007. I have no complaints about the Donyell Marshall experience.
The day that LeBron James and Matthew Dellavedova are longer teammates will be the day Dellavedova plummets down to a negative-six on the likeability scale. This guy is a gnat. He's a 6'4″ Australian gnat that endangers the well-being of all nine players he's on the floor with at any given time. He's like the kid in a pick-up basketball game who plays wearing a baseball cap and is reckless as hell and doesn't quite know where to be at any given time and keeps running underneath guys when they're taking jumpers … only Dellavedova is the most talented version possible of this type of guy.
Fundamentally it's hard to get behind a guy like this, but then again, there's something endearing about watching a 6'4″ Australian point guard post-up smaller guards and bug the ever-living hell out of everyone to the degree that the media is in a frenzy debating whether Delly is a dirty player.
This was the apex of one of the most stressful nights of my life. Thank you so much, Ray Allen.
I have nothing against Damon Jones. He was nothing more than a so-so role player, but LeBron James likes Damon Jones and Damon Jones loves LeBron James. Maybe a better way to put it is Damon Jones belongs to LeBron James. LeBron and Damon have the same kind of relationship that Johnny Truelove and Elvis had in Alpha Dog. 
NOTE: If you've never seen Alpha Dog, just know that everyone who has seen Alpha Dog and understands the dynamic of the LeBron/Damon Jones relationship will find the above joke absolutely hilarious. I swear. And watch Alpha Dog.
Points are docked from Varejao's score because he hijacked the nickname "Wild Thing" from Ricky Vaughn. Those same points are added back to his score because he looks like Gina Montana from Scarface. Neither of those facts impacted Varejao's effectiveness score, though, watching him find a niche on the potentially-soon-to-be repeat NBA Champion Golden State Warriors probably has.
Daniel "Boobie" Gibson
The 58th greatest moment of my life is Game 6 of the 2007 Eastern Conference Finals when Boobie Gibson unloaded a barrage of three-pointers down on the mighty Detroit Pistons to help send the Cleveland Cavaliers to the NBA Finals. At the time this was like the 7th best moment of my life. Not much was going on for me before I turned 16 years old.
I feel bad for Kevin Love. Misused under David Blatt. Misused under Ty Lue. The victim of several-hundred dirty looks from LeBron for blown defensive assignments and even more over-critical evaluations from media members who have claimed Love was just an overrated good stats/bad team guy. In reality, he's still in the 2011 Chris Bosh phase of playing with LeBron. Love was an offense all by himself in Minnesota … now he's the most overqualified third scoring option in the league, a glorified decoy, standing in the corner on most offensive possessions. It's frustrating.
Will LeBron the Cleveland coaching staff ever find a way to make Love's a real priority in the Cavs offense? Will he even close out games for Cleveland in the postseason? Would the Cavs consider moving Love if they fall short of winning a title again? Will I ever be able to duplicate the hair style Kevin Love is rocking right now? These are the four biggest Kevin Love related questions out there right now. I'm hopeful that the answers will turn out to be yes, yes, no and yes.
You know how some guys are described as "players you love if they're on your team, but hate if they aren't"? Well, I just hate J.R. Smith. Nobody commits more bad fouls in horrible spots than J.R. Smith does. Nobody has more great shooting games in meaningless regular season matchups against teams like the Bucks, then disappears in big games. Nobody has more tattoos (this one actually might be a fact, and it's actually not a bad thing, I was just running out of points to make).
This clown left Cleveland after LeBron's rookie year to play in freaking Utah! I know there are more attractive markets than Cleveland, but Salt Lake City isn't one of them. And how in the world does Booz come to the conclusion that it's a good career move to leave behind the most unselfish young superstar since Magic to play for a team that employed Howard Eisley, Carlos Arroyo and Keith McLeod as point guards. Dumbfounding.
Back in college I watched a lot of basketball with my buddy Weston. One of the landmark moments of our basketball-watching friendship was when Justin Hamilton was getting garbage time minutes for the Heat, playing with a broken nose and face mask, and Weston referred to him as "Whip Hamilton" … aka the White Rip Hamilton. It brought the house down, let me tell you. Ever since then I've rooted for Whip, even now as a member of Valencia Basket. I'm a big fan of those Valencia Basket guys.
Mo was probably the most successful free agent signing that the Cavs made in either of LeBron's tenures in Cleveland. That says a lot about Mo's level of success (he was an All-Star in 2009) and the startling lack of high-quality free agents Cleveland has been able to secure to play with LeBron. Regardless, LeBron's mini-leap after the 2008 Olympics coupled with the acquisition of a picture perfect point guard counterpart to play second-fiddle to LeBron led to Cleveland jumping from 45 wins to 66 wins and the #1 seed in the Eastern Conference, and Mo's sweet shooting stroke from downtown elevated him to the tippy top of the list of my favorite LeBron teammates.
Of course, Mo was never qualified to be a second-option on a title team. He overachieved in 2009 but then fell back down to earth during the Playoffs. Spoiled Milk O'Neal came to Cleveland before the 09-10 season and he was supposed to be option number 2, but we all know how that worked out. Now Mo is a seldom-used bench vet playing behind Dellavedova and a guy much more well-equipped to be a second option on a title team.
Not on the graph, but he had to be mentioned somewhere in this column. The 2016 NBA Playoffs will drastically alter both of Kyrie's scores. Right now, I'm not sure where he sits. Give me three months to decide.
I played a lot of pick-up basketball when I was enrolled at Florida Gulf Coast University. I'm talking at least three or four nights a week for four straight years. I don't want to say I'm a pick-up basketball legend at FGCU, but it would be incorrect if I said that I wasn't. Anyway, this one time we were out there playing, our team had a pretty good string of victories piling up, and then we played a game against a team that had this kid who no lie was probably 6'7″ or 6'8″. I know the exact number because I counted, so when I tell you he had 17 blocks in a game to eleven points I'm not bullshitting you. Homie had 17 blocks.
When I got back to my apartment I legitimately checked the internet to double check on what Jarvis Varnado looked like, because I was like 70 percent sure that I had just played against him on FGCU's campus. It wasn't Jarvis Varnado.