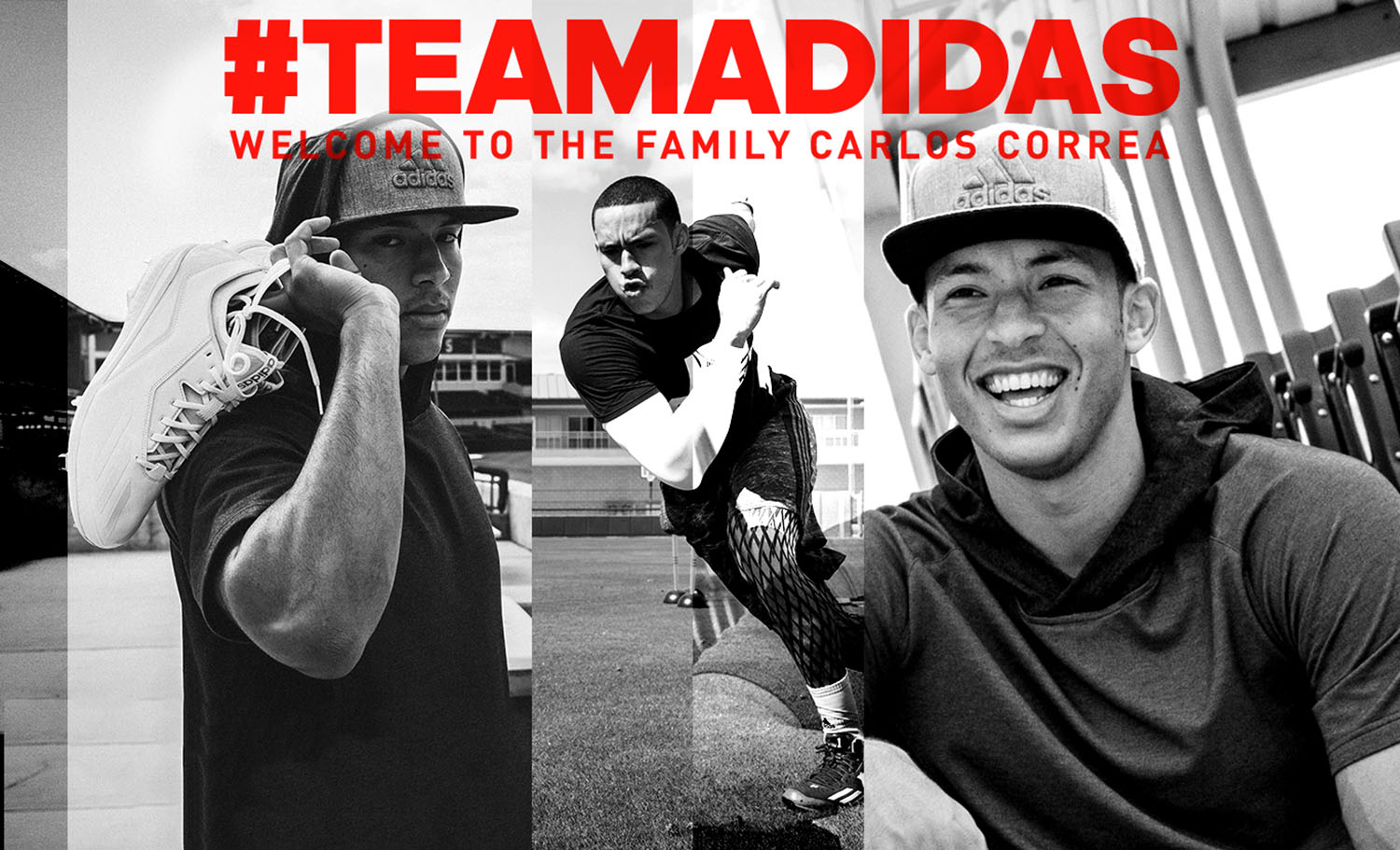 Carlos Correa, a former No. 1 overall pick in the MLB, is a rising star of the league and now joining The Brand With The Three Stripes as one of its premier players in adidas Baseball.
See the release here, courtesy of our friends at adidas.
adidas today officially announced a multiyear partnership with 2015 Major League Baseball (MLB) American League Rookie of the Year, shortstop Carlos Correa of the Houston Astros.

Correa will unveil a custom pair of adidas Boost Icon 1 Player Edition cleats on April 5th when the Houston Astros take on the New York Yankees for Opening Day. Additionally, the Astros' shortstop will bring his unique sense of style to the diamond throughout the season by debuting a variety of unique styles of adidas cleats and footwear.

"adidas has a ton of energy and momentum right now and I just knew that I had to be part of this brand," said Correa. "I love what adidas stands for and what they are doing with innovation and fusing sports and culture."

Carlos Correa Tweet: https://twitter.com/TeamCJCorrea/status/717005036392431616
Carlos Correa Instagram: https://www.instagram.com/p/BDyClc_HyGQ/?taken-by=teamcjcorrea

A true 5-tool player, Correa will take a leading role in upcoming adidas brand marketing campaigns and collaborate on future baseball cleats and accessories.

"Carlos Correa is an incredible story," said Mark King, adidas Group North America president. "In fourth grade, he told his dad he wanted to learn English so he could speak for himself when he got to the big leagues. His success isn't an accident. From a very young age, he had the ambition to pursue a big dream and then did the things he had to do to get there. He set goals, worked hard and took risks to become the great player he is today. You can't hope or wish for success; you have to plan for success. There's no way to compete at Major League Baseball at the age of 21 unless you have both great skills and unbelievable confidence. His poise comes from preparation and planning and he expects success every day, every game. He's both humble and self-assured and has already accomplished so much. I couldn't be more happy to have him as part of the adidas family."

Correa made his major league debut on June 8th, 2015 and went on to hit .279 with 22 home runs, 68 RBIs and 14 stolen bases in his rookie season. Correa reached 15 home runs faster than any other shortstop in the last century and just three months later, became the youngest player to hit a home run in the playoffs, hitting .292 with two home runs and four RBI during the postseason. At the end of the 2015 season, Correa was named the 2015 American League Rookie of the Year.

"Carlos' personality, confidence and style of play exemplify what adidas Baseball is all about and we are excited to welcome him to the adidas family," said Aaron Kahn, Senior Director for adidas Baseball. "Partnering with both the 2015 AL and NL Rookies of the Year, Correa and Chicago Cubs' third baseman Kris Bryant, truly makes the statement that adidas is the future of baseball."

For more information, visit http://news.adidas.com/US and follow the conversation on Twitter and Instagram via @adidasBaseball.