The title of this column ideally should have read Five Questions And Probable Answers That Will Define the NBA Finals, but that's far too wordy. We could all agree that it would be pretty shitty of me if I just typed out five questions and then was like, "Yo that's it, thanks for coming!" I'm not gonna do you like that … I have far too much to say about this highly anticipated NBA Finals rematch between the Golden State Warriors and Cleveland Cavaliers. I've prepared five vital questions, along with five well-thought-out (probable) answers that should serve as a nice preview for the games to come over the next two weeks.
Stylistically, what will this series look like? 
For a variety of reasons, this series will be played at a much slower, clunkier pace than either the Cavaliers (106.9 points per game this postseason) or the Warriors (110.9 points per game) have been playing so far this Spring. Over the last 15 years, only six of the 30 teams to play in the NBA Finals have scored more points per game in the Finals than they did in the regular season. In their six Finals games last June the Warriors and Cavs each scored ten points fewer per game than they did in the regular season.
Now sure, this dip in scoring was partly a product of the broken-down Cavaliers intentionally mucking up the game, slowing the pace, limiting turnovers, crashing the glass and taking the Warriors out of their rhythm offensively. But it also laid out the blueprint for toppling a juggernaut that had displayed unprecedented firepower all season long. If you can't simply out-gun the Warriors, you have to beat them in other areas.
The recipe for beating the Warriors is controlling the glass and limiting turnovers. If you don't win both of those battles you stand no chance to win four of seven games. It's no accident that both the 2015 Cavaliers and this year's Oklahoma City Thunder are the only two teams to seriously threaten the Warriors in a Playoff series; they're the only two teams that have out-rebounded the Warriors AND committed fewer turnovers. By creating numerous extra possessions for themselves via offensive rebounds and forced turnovers, the Cavs and Thunder have both been on the brink of upsetting Golden State.
The Cavs and Thunder, who held 2-1 and 3-1 leads respectively, both know that "on the brink" doesn't mean the job gets done. Even if you do just about everything right, the Warriors have a very well-known ace up their sleeve that makes the prospect of beating them in a series an effing nightmare.
RELATED SIDENOTE: If Cleveland tries to play fast and run with Golden State, everything I wrote already and write moving forward is irrelevant. They'll get swept if they try to play an up-tempo style. For the Cavs, it's a necessity to turn this into a rock fight for the second straight year.
Can Cleveland match Golden State's output from three-point range? 
Even though the Warriors were out-rebounded by 35 in the Western Conference Finals and 20 in the NBA Finals last year, they had a 157 to 104 advantage in three-pointers made in those 13 games against the Cavaliers and Thunder. That's a 159 point advantage, and that's particularly difficult to deal with since the Warriors shot a blistering 38 percent from downtown and the Thunder and Cavs shot a combined 30 percent. In case you aren't following along, let me make the point I'm trying to make very clear … behind the three-point line is where both of those series swung in Golden State's favor.
This year though, based on the way Cleveland has shot in the first three rounds, it's at least conceivable that they can hang with the Warriors in a long-distance shootout. Heading into the Finals Cleveland is making more three's per game (14 to 12) and shooting a better percentage (43 percent to 40 percent) than their Western Conference opponent. Of course, the Cavs are facing a different animal in the Finals than they did so far in the Playoffs or possibly could have seen in the Eastern Conference. The Warriors are longer than most teams in the league, as well as more disciplined and more versatile. They can switch defensively on almost any pick and roll or off-ball screen, and they'll have a better defensive game plan than Detroit, Atlanta or Toronto did. If Cleveland's offense is the least bit predictable, they won't be able to get the looks they desire. Just look at what Golden State did to Oklahoma City's offense for periods of time over the last three games of the West Finals; it was stifling.
If Cleveland can shoot a decent percentage on those same high degree of difficulty shots they were hitting in the first three rounds then this may be a moot point. The three-point shot truly is the great equalizer, so that would suggest that if the Cavaliers can win the rebounding battle, turnover battle AND hold their own from behind the arc, they have more than just the punchers chance that many have suggested they have. With that said, I don't buy that Cleveland will shoot 43 percent from downtown yet again.
How healthy is Stephen Curry? 
Did y'all see the way Steph assaulted the dreams of the Oklahoma City Thunder and their fans the last three games of the Western Conference Finals? He averaged 33-7-8 in those three must-wins, canned every big shot necessary and looked like the dude who won the MVP unanimously this year. So let's agree on this: even if he's not 100 percent, or whatever 100 percent looks like in mid-June after 100 games, Steph's good enough (right now) where this "is he injured or isn't he?" discussion needs to be shut down. It's over. Just ask Vince Carter.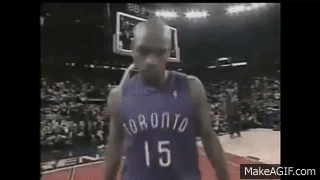 And while we're here, isn't it refreshing that we're coming into this series with two relatively healthy teams taking the floor for Game 1? Last year in my Finals preview, I made note of legitimate or possible injury concerns to Steph, LeBron, Klay Thompson, Kyrie Irving, Kevin Love, Marreese Speights, Iman Shumpert and Andrew Bogut. This year we're coming in with a relatively clean slate. Of course, that probably means guys like Timofey Mozgov, James Jones, Ian Clark and Anderson Varejao will be getting major minutes because every star player collectively blows out their knee at the same time in Game 1.
How much of a liability will Kyrie Irving and Kevin Love's defense be? 
If Cleveland were playing Oklahoma City these defensive shortcomings wouldn't have been so grave, but against the Warriors there just aren't many places to hide. Against the Thunder the Cavs could have hid Kyrie on Dion Waiters or Andre Roberson, and Love would fare just fine on Serge Ibaka, or even as a roamer on Roberson if Oklahoma City were playing a smaller units that featured both Waiters and Roberson.
No matter where Kevin Love is trying to hide, the Warriors will find him and torment him over and over again. It's the single biggest problem that the Cavs have defensively in this matchup if Love is going to log big minutes; the Warriors are going to make Kevin Love defend in so many pick and roll sets that the Cavs defense will eventually break down and die an ugly, fiery death. Even if it's Andrew Bogut setting the screens, a non-scorer and the closest thing to a "hiding spot" for any opposing defender, it will force Love outside of his comfort zone, having to hedge far beyond the three-point line to prevent uncontested bombs from the Splash Bros.
Kyrie Irving will likely spend a good amount of time on Steph Curry, a tough matchup for even the best defensive guards in the league. In case you didn't get the memo, allow me to tell you that Kyrie is not one of the best defensive guards in the league. Irving's defensive ceiling is probably higher than Love's, but it's his attention to detail and commitment to playing defense for 24 seconds possession after possession while weaving through a maze of on and off-ball screens that I have my doubts in. Shifting Irving over to a non-shooter like Andre Iguodala could turn out to be an enticing possibility, but even then, Iggy is active off the ball and runs the offense enough where it's not just a walk in the park for Kyrie.
Here's my advice to Cavaliers coach Ty Lue: If Curry and Draymond are getting a rest at the beginning of each second quarter, that's when Kyrie Irving and Kevin Love shouldn't be getting a rest. Overlap their minutes with the minutes of guys like Leandro Barbosa, Festus Ezeli, Mo Speights or Shaun Livingston, where the defensive assignment isn't so taxing. That's also a chance for Kyrie and Love to get a rhythm while affording LeBron an opportunity to rest in the 1st half, because he's probably going all 24 minutes in close 2nd halves.
A probable counter Steve Kerr will make: Shortening the rotation and extending stars minutes to the point where suddenly that opportunity for Kyrie and Love to "hide" defensively is nearly non-existent. If I were a betting man (who am I kidding, I am a betting man), I'd wager on Golden State playing no more than nine guys regularly: Curry, Thompson, Iguodala, Green, Bogut, Barnes, Ezeli, Speights and Livingston. No Ian Clark, no Leandro Barbosa, no Anderson Varejao … at least not on a consistent game-to-game basis. And if that's the case, the Cavs need to deal with the ramifications of playing two lousy defenders against the highest scoring team in basketball and one of the most efficient offenses ever.
One last piece of advice to Ty Lue: Have the balls to ride it out with a LeBron plus shooters and defenders lineup if it's working, and it will work in spurts. That's not to say that there's no place for Kevin Love and Kyrie Irving in this series, but I do think that there will be times when Cleveland finds success with some sort of goofy looking Dellavedova-Smith-Jefferson-LeBron-Frye unit, and then the pressure will be on Ty Lue to decide if he will go to war down the stretch without Kyrie and Love. In some situations it will be best to go back to one or both of those two. In other situations the Cavs will be better suited to ride it out playing surrounding LeBron with four dudes who serve no other purpose than to shoot open jumpers and play defense. That's the internal chess match that Ty Lue will have to win.
What LeBron will we see? 
The single biggest X-Factor in the NBA Finals, and maybe the single toughest variable to predict heading into the series. There are quite a few variations of LeBron James that we've seen throughout the years and Cleveland's success is largely dependent on which version sets the tone tonight in Game 1. Last year LeBron came out of the gate aggressive and turned himself into a devastating, albeit inefficient, one man offensive machine that was damn near good enough to best a 67 win team in the NBA Finals.
LeBron hasn't had to carry nearly as much responsibility this postseason and he's been far more efficient because of it. As the table setter, LeBron enters the Finals averaging 25 points (a team high), 9 rebounds (second on the team), 7 assists (a team high), 2 steals (a team high) and he's shooting 55 percent from the field, a testament to his dominance in the paint since all everyone cares to talk about is how LeBron James can't hit jump shots anymore. While we're here, let me drop a hot take on these LeBron shooting woes: not only has this narrative been overstated, and it could end up not even being an issue in this series. Remember the 2013 Finals, when LeBron couldn't buy a jumper in the first five games against San Antonio, and then in Games 6 and 7 he started burying them, including a clutch game-clincher in Game 7? If LeBron broke out of this shooting slump this year, it wouldn't be the first time he's done so, and if the Warriors give him space and dare him to shoot jumpers, he could easily find a rhythm.
In regards to the original question, my expert opinion is this: LeBron James is 2-4 in the NBA Finals, and whether it's something he would ever admit publicly, he has to know that another loss in the Finals would only do more damage to his legacy … a legacy that people are only starting to judge based on his losses in the Finals and nothing else. He might initially try to come out as the table setter and get his guys settled into the series, but it won't be in a passive "LeBron vs. Dallas in the 2011 Finals" way. I expect a rested LeBron to get into the paint early and often to put pressure on the Warriors defense. I expect that if it is close late LeBron won't leave any room for anyone to say that he could have done more than he did. I expect that we'll see LeBron do things that no other human being alive could do on a basketball court.
And as a Cleveland Cavaliers fan, it pains me to say that even if LeBron does a bunch of things no other human being can do, I expect it still won't be enough to bring a championship to Cleveland.
Prediction: Warriors over Cavaliers in Five Games