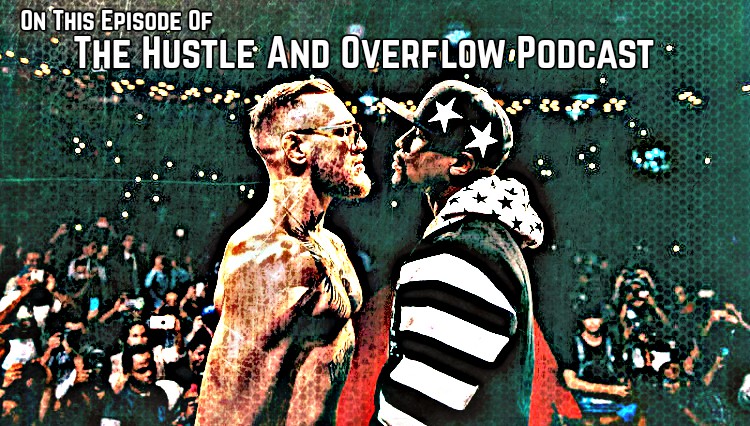 On the debut episode of The Hustle and Overflow Podcast, Weston Hunter and I (Sonny Giuliano) break down the highly anticipated Conor McGregor/Floyd Mayweather Jr. fight: We discuss why exactly there is such hysteria surrounding the bout … whether or not Conor McGregor has a chance to actually win … what a victory does for both McGregor and the UFC … why Floyd Mayweather's legacy doesn't compare to Muhammad Ali's or Mike Tyson's.
In addition, we also talk about: Whether or not Jon Jones has a future in the UFC somewhere down the line after failing his second PED test … If a fight between Jones and Brock Lesnar could take place in WWE … Why the Cleveland Cavaliers can consider the Kyrie Irving trade a win … How far ahead of the rest of the NBA the Golden State Warriors are … Why the NBA is in such good shape
Note: If you're curious about why Weston and I chose the name "The Hustle And Overflow Podcast," I'd be happy to explain. Back in 2010, Weston and I were both Freshmen at Florida Gulf Coast University. When the Fall Semester began we (and four other guys) became roommates, but the apartment we were living in was designed for four (not six). It turns out that Weston and I were overflow, and this apartment wouldn't be our permanent home for the year. By the end of the Fall Semester, Weston and I had both moved out, but our friendship remained in tact throughout the course of our undergrad studies at FGCU. In fact, of the six original occupants 'E8,' Weston and I were the only two who stayed at FGCU all four years.
Seven years later we so arrogantly decided that the conversations we were having on a regular basis throughout college were so enlightening and so entertaining that we should turn them into a podcast … The Hustle and Overflow Podcast was born. We both sincerely hope you enjoy listening to us talk about Sports, Pop Culture and Life.