It's unlikely that you can learn anything profound about a player or team from one single early season NBA game, but over a small sample size of a few NBA games you can make plenty of astute observations about a player or team that will end up being true at season's end. For example: a recent four-game losing streak suggests that the Cleveland Cavaliers will likely be a below average defensive team all season long. During that four game skid the Cavs gave up 118 points per game to four members of the league's middle to lower class (the Nets, Pelicans, Knicks and Pacers). Their execution has been poor and their effort was even worse. Even if they make drastic improvements in both areas, there are enough average or below average defenders in their rotation that the Cavs should only top out as an average defensive team, and that's their best case scenario.
Now of course, these defensive troubles alter the height of the Cavs postseason ceiling in some fashion, but not in the way they would if it were most other teams in the NBA. It's foolish to say that anything happening in November means nothing in May. It's equally foolish to suggest that a four-game stretch of worst-in-the-league caliber defense before Thanksgiving means the Cavs are doomed to go down before the NBA Finals. There's some sort of middle ground to be found, and no, not every team in the league would be afforded this trust. But there's a reason for that.
As I said before, it's unlikely that you can learn anything profound about a player or a team from one single early season NBA game, but on Friday night we did learn something about the Cleveland Cavaliers. Although jumping to conclusions based on one single forty-eight minute game is often a fool's errand, I'm prepared to do just that.
Even if the Cleveland Cavaliers do not have a flip they can switch as a team (and to be fair, I would say that's something we've yet to figure out), LeBron James absolutely, positively still does, and because of that, the Cavaliers are still the biggest threat to win the NBA Championship that exists outside of the Bay Area.
On Friday night LeBron James flipped a switch and dismantled the Washington Wizards in a way that no other player in the league could have. It was a performance that highlighted everything that has made LeBron a uniquely dominant Basketball Savant for nearly the duration of his career. After the game he claimed that this was the best he's ever felt in his career; it's unclear whether he meant physically or from a well-rounded skill standpoint, but I will say this, Friday night convinced me that it's entirely possible that even in year fifteen we may not have seen the best of LeBron James yet.
It's hard to make that argument, I know. It's a spit in the face of Father Time and it contradicts years of evidence that suggest NOBODY peaks this late in their career, but LeBron James has been a walking anomaly his entire career. LeBron is the most athletically gifted man to ever step foot on the hardwood, and his physical dominance has played a large part in why he's come closer to catching the Ghost of MJ than anybody else has. But what's lost in the shuffle is how cerebral LeBron plays the game. There's no way to quantify a Basketball IQ score, and that's why some dumber fans suggest that there is no such thing as Basketball IQ (no lie, I was in a LeBron's Legacy debate on Facebook once and someone whose main argument was "I just don't like the guy" claimed that there is no such thing as Basketball IQ … Lol O.K. fella). But anyone who watches a ton basketball knows that Basketball IQ is very real; you just need to know where to look to find an example of a guy who has a higher than normal IQ.
The combination of borderline superhuman athletic gifts, a profound understanding of the game of basketball and a tireless work ethic/dedication to his craft have allowed LeBron to put together enough performances this late in his career that are so impressive that the conversation of whether or not he's peaked yet is still worth having. It's unlikely that a season-long peak for LeBron James is still to come, but on any given night in 2017 he could be better than he has been at any other point in his career, simply because all three aforementioned things that make LeBron who he is as a basketball player could be on display all at the same time. The Wizards fell victim to this particular sort of development on Friday in Washington.
Below are four specific Cavaliers possessions that highlight the all-around brilliance of LeBron James and his Flip-The-Switch-Ability.
Possession #1 – Improved Jumper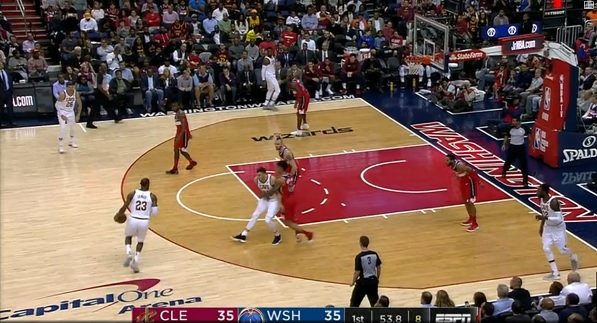 On this particular play LeBron's defender (Kelly Oubre) is screened by seldom-used big man Ante Zizic. Oubre goes under the screen, Marcin Gortat falls back in the paint, and all three other defenders stay at home on their defensive assignments. The Wizards are daring LeBron James, a career 34 percent 7three-point shooter, to settle for a jump shot. On any given possession that ends with a LeBron James field goal attempt or a LeBron pass that leads to a field goal attempt, the best case scenario for the defense statistically is for the possession to end with a long LeBron jumper.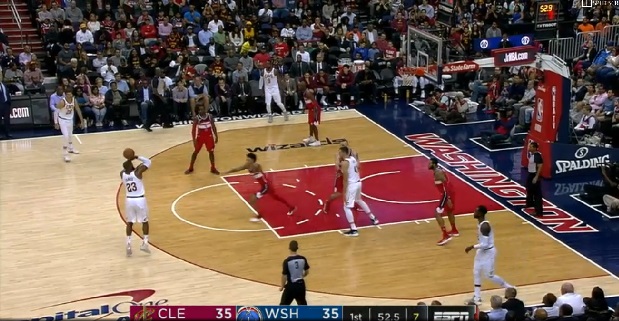 But as the numbers suggest, LeBron's been a more steady perimeter shooter over the back half of his career than he was at the beginning. Over the last five seasons James has hit 36 percent of his three-pointers, and an off-season adjustment to the release point of his jumper has LeBron shooting the ball with more confidence than ever this season. Against Washington LeBron hit two of his four three-point attempts; this one, and the dagger in the 4th quarter.
Possession #2 – Knowing the Situation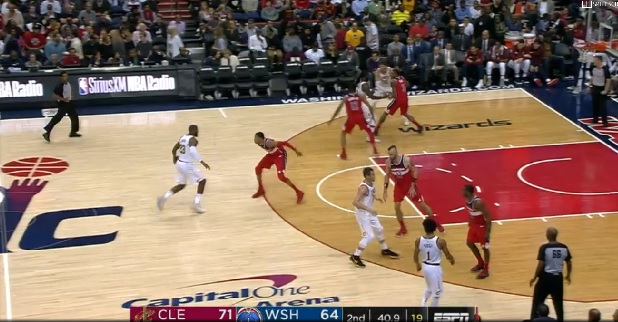 You'd think that properly executing end of quarter two-for-ones is second nature for NBA players, but these types of situations are botched far too often. As the 1st Half was nearing a close, the Cavs had an opportunity to gain an extra possession for themselves and LeBron took advantage. And while a lot of two-for-one chances are wasted because of poor shot selection, LeBron made sure the Cavs got a good look here.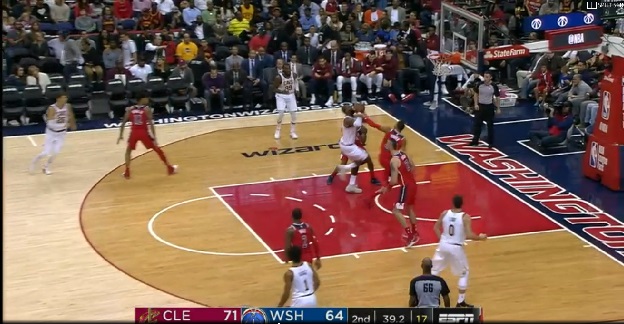 LeBron didn't wait for the Wizards defense to get set. He attacked Otto Porter's front foot, driving left away from Gortat, the Wizards best rim protector on the floor, who was forced to hang near Kevin Love on the perimeter. Once LeBron got into the paint all he had to do was finish through the contact of an off-balance Porter and the much smaller Bradley Beal who was late with help. James got an 'And 1' and momentarily pushed the Cavs lead to double digits.
Possession #3 – Attack and Pass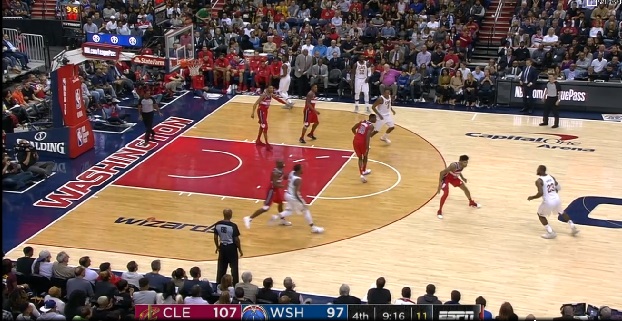 This play is a perfect example of LeBron's expert knowledge of the personnel on the floor. The play started with Dwyane Wade making a pass from the right wing to James at the top of the key. Wade faded to the opposite corner, a means of dragging his defender as far away from the action as possible. LeBron motioned for the Cavs to clear the left side of the floor, with the exception of J.R. Smith, defended by Jodie Meeks, who would set a ball-screen for LeBron.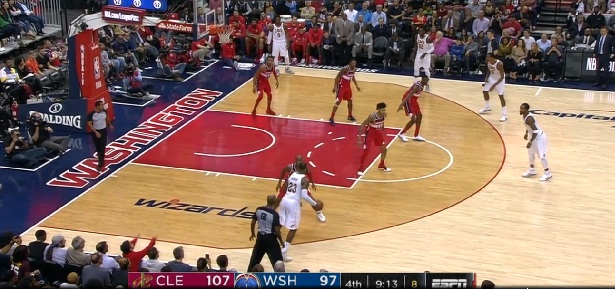 Just as LeBron would have wanted, the Smith screen leads to a switch that leaves the undersized and overwhelmed Meeks on an island to try to defend an army tank of a human being on the perimeter. Near the top of the picture you can see Otto Porter creeping into the paint in anticipation of LeBron's drive to the basket.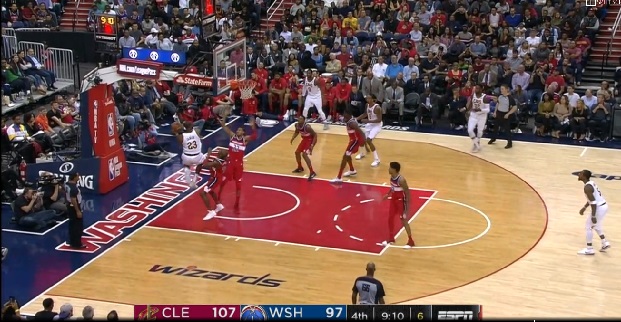 Just as Porter anticipated, LeBron smells Jodie Meeks' blood and attacks the poor sap. Porter's help is solid, but as the Wizards rotate defensively one man is left open. James leaves his feet, normally a no-no when making a pass, but LeBron defies all rules of physics and basketball rules taught in Junior High. Jeff Green fades to the wing, James hits him with a perfect pass that maybe five guys in the NBA can make as effectively, and Green drills the triple.
Possession #4 – Post Dominance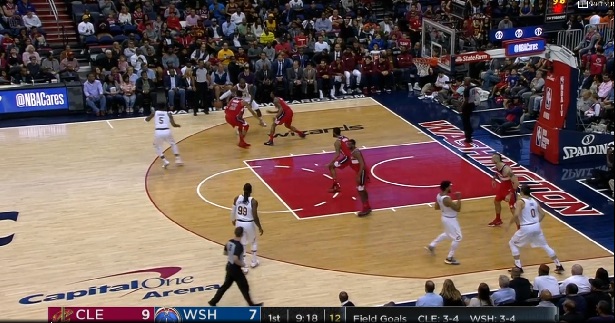 Another example of LeBron clearing one side of the floor to get a mismatch he can exploit. This time Smith is guarded by Bradley Beal and LeBron by Otto Porter. Porter and Beal nearly botch the pick and roll defense, but Porter recovers in time to prevent J.R. from getting a open three-pointer. This however leaves Beal in the unenviable position of trying to body LeBron as he backs him down in the post.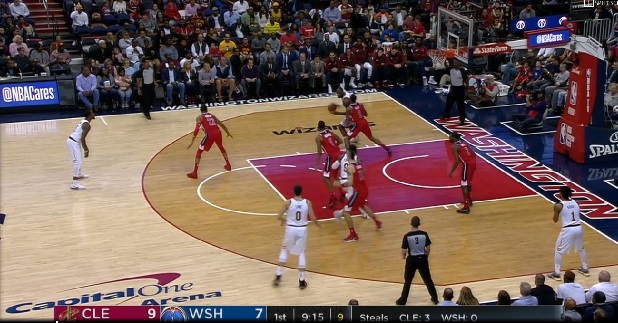 LeBron is patient as he backs down, and his eyes are scanning the floor the entire time he's moving closer to the rim. For most of this game, the Wizards didn't send help towards James in the post; they were going to live with him being a scorer. They stayed in place on shooters and dared LeBron to score fifty points. LeBron, doing his best Billy Madison impression, looked right back at them and said "Ya double dare me?"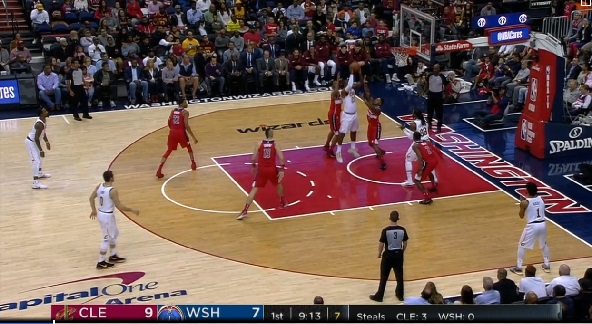 The Wizards double-dared LeBron to score fifty points and he obliged. 57 points to be exact, and he added 11 rebounds and 7 assists just for good measure. He scored in the paint, from the free throw line (9 for 9) and from the perimeter. He attacked in transition and surgically dissected the Wizards D in the half-court. It was an exhibition of greatness, and reminder that as anxious as some people are to write the Cavs off this year because they might not have a switch to flip, LeBron's own switch is the one that matters most.
All Screenshots Courtesy of NBA.com