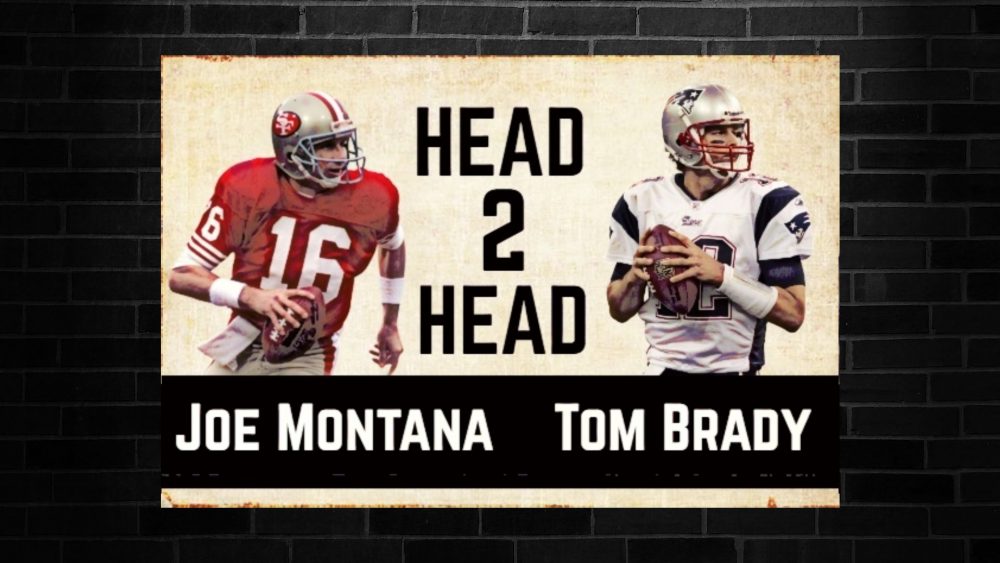 What is this? … Welcome to Head 2 Head, a new ten-part sports and pop culture series that will be published right here on Hardwood and Hollywood. Over the next year, I will be taking the longest possible route on the quest to find the answer to ten simple Who Is Better prompts.
How will a conclusion be reached? … In each edition of Head 2 Head, I'll be asking and answering seven questions. Each of these questions are designed to help determine the winner of the Head 2 Head.
Are the questions always going to be the same? … Nah, the questions will be specific to the match-up. Let's keep things fresh, ya know?
Who will be going Head 2 Head today? … Tom Brady and Joe Montana will going Head 2 Head to determine who the greatest Quarterback in football history really is. 
Question #1: Who had the more prestigious collegiate career?
The answer to this question admittedly doesn't hold a ton of weight since a Quarterback's legacy is truly created in the National Football League. If collegiate performance were just as important as one's play in the NFL, then oh boy, we'd be having some tremendous Tim Tebow vs. Vince Young vs. Tom Brady vs. Joe Montana Fatal Four-Way conversations, and that's a little too much for my brain to handle. Even still, it doesn't hurt to find an answer to this question.
To start off, I'd first like to note that I find it interesting that at respective points in their collegiate careers Brady and Montana were each nicknamed or given the moniker "The Comeback Kid," which highlights both their propensity for leading their respective schools back from deficits, and also the media's lack of creativity when coming up with nicknames. If you Google Search "The Comeback Kid" – as I did – you'll see that a book about former United States President Bill Clinton is titled "The Comeback Kid." Comedian John Mulaney's 2015 stand-up special was called "The Comeback Kid" and there was also a 1980 film titled "The Comeback Kid" starring John Ritter as a "hard-luck baseball player who coaches a bunch of hard-luck youngsters." Compelling stuff.
Anyway, Brady earned the nickname in 1999 when he led the Michigan Wolverines to four come-from-behind victories in their final six games of the season, including wins over the Ohio State University Buckeyes in the regular season finale and against the Alabama Crimson Tide in the Orange Bowl.  Brady wrapped up his career at Michigan with a 20–5 record and he sat in third place in Michigan history with 710 attempts and 442 completions, fourth with 5,351 yards and 62.3 completion percentage, and fifth with 35 touchdown passes. Despite his success, Brady was the 199th pick in the 2000 NFL Draft.
Montana got his start in the comeback game even earlier than Brady did. During his sophomore year at Notre Dame, Joe Cool led the Fighting Irish on a twenty point comeback versus Air Force that ND Athletic Director Moose Krause – shout out to a dude named Moose for ascending to the position of AD at one of the most prestigious Universities in the United States – claimed was "the greatest comeback I've ever seen."
Montana red-shirted his Junior year because of a separated shoulder and came back from his injury to Quarterback ND to a National Title the following season, but the most impressive game Montana played in College is a contest known as "The Chicken Soup Game." I'll be honest and admit that I had never heard the story of this game before I started my research, but apparently during the 1979 Cotton Bowl Montana suffered from hypothermia. At halftime Montana stayed in the locker room and was given IV fluids, covered in blankets, and fed Chicken Soup. When he returned to the game late in the 3rd Quarter the Fighting Irish were trailing 34-12, but ND rallied, scoring three touchdowns in the final eight minutes of the game to win 35-34. I have to imagine this performance did wonders for the Chicken Soup brand.
I'm almost positive that if Social Media had existed in 1979, Montana would've been given a type of hero treatment that few others have ever received. Meanwhile, Skip Bayless would've said the performance was overrated, claimed that Montana literally froze in the 1st half because the moment was too big for him, and that the ND defense truly deserved the credit for the comeback.
Question #2: Who has a more impressive statistical resume? 
I've prepared two detailed charts for you, one with a side by side of Regular Season stats and another with Playoff stats. Guys, Tom Terrific wins this one in an absolute rout:


Since there is likely someone reading this who is shouting internally — or maybe right out loud, which is weird — about how you can't make a direct comparison between the two because they played in different eras, let's move on to the next question …
Question #3: Were the 80's or the 00's/10's a more difficult era to be an NFL Quarterback?
I suppose this depends on what exactly one means by "difficult." If you're making a pro-Montana pitch here, you would likely be harping on how the protections that exist for Quarterbacks in today's game were virtually non-existent when Montana was lacing up the cleats and slinging the pigskin in the 80's and 90's. Back then QB's could get pummeled in such violent fashion that defensive players would get fined and possibly suspended for it in 2018. Additionally, the ease with which QB's can throw the ball over the middle of the field nowadays has increased in a drastic way since Montana retired.
There are obviously major philosophical differences in play here too. There's a reason why someone like Matthew Stafford will have a Hall of Fame caliber statistical resume when his career eventually ends. Largely because of rule changes throughout the years, there is such a greater emphasis on passing the ball offensively now in comparison to in the 1980's and prior, anyone who looks at the record books in ten years will assume the best Quarterbacks in the history of the NFL all played in the 2000's. Statistically, they may not be wrong.
For all the NBA fans out there, this is like the Wilt Chamberlain conundrum. Is Wilt one of the dozen or so best players in NBA history? Sure, we can probably agree on that. Is there a reason why his numbers in the 1961-62 season (and the Sixties in general) were so wacky? Of course. It was a complete and total different sort of game. Wilt's Philadelphia Warriors averaged 131 possessions per game during the 1961-62 season and Wilt played 48 minutes per game. Therefore, in 131 possessions per game, Wilt Chamberlain averaged 50 points. In comparison, James Harden is currently averaging 48 points per 100 possessions. That equates to just shy of 62 points per 131 possessions.
Will football fans and analysts someday look at someone like Drew Brees the same way hoops enthusiasts look at Wilt Chamberlain? I think it's a possibility. Wilt had the luxury of playing at a time when 70 percent of the league was Caucasian and offensive goal-tending rules were relaxed. Brees is fortunate to be playing in an era where Linebackers and Safeties can't head-hunt Wide Receivers coming across the middle and Defensive Linemen can't hit QB's low, or high, or apparently rather gently across the chest.
Does all of this mean that Joe Montana had it more difficult than Tom Brady? Yeah, I suppose that's a fair assessment, especially since we've yet to factor in the various medical, dietary, and travel advancements available to Brady that weren't available to Montana. We'll give this one to Joe Cool.
Question #4: Who had more help? And does this matter? 
It was difficult to figure out how much this mattered because on one hand, I don't think the appreciation of one individual's greatness should be diminished just because he was fortunate to play on a talented team. On the other hand, I wholeheartedly believe that it's justified when the spotlight is shined brighter on an individual greatness when they are able to carry a somewhat inferior supporting cast to great heights. To make what could end up being a long story short, I guess I think this matters only a little bit. I think it matters to the extent that QB's with unremarkable supporting casts shouldn't be judged solely by their wins and losses. I also don't think the words "Rex Grossman led the Chicago Bears to a Super Bowl appearance" should ever be uttered with any bit of seriousness. It's important to recognize when mediocre QB's are carried by great teams.
With that said, figuring out whether Brady or Montana had more help was no easy chore. Initially, I expected that Brady would be the answer. Perhaps it's just recency bias at work, given that the Patriots are making their ninth Super Bowl appearance since 2002 and surely that can't all be Brady. This sort of long-term organizational consistency and excellence isn't normal; it is an aberration. Just look at guys like John Elway and Dan Marino, Hall of Fame, top tier Quarterback's who spent their entire careers with one franchise. Elway and Marino had 17 combined seasons in which their team won fewer than ten games. Tom Brady has one such season on his resume.
That sort of success doesn't just come down to Quarterback play … it's the work of dozens of other individuals. It's a front office finding guys like Asante Samuel, Dan Koppen, Stephen Gostkowski, Matthew Slater, Julian Edelman, James White, Shaq Mason, and Trey Flowers in the later rounds of the NFL Draft. It's Bill Belichick and a stable of assistants who constantly put players in the best position to win, simply by preaching to "do your job." And yes, it's a testament of Brady's brilliance too.
It turns out though that Montana was flanked by similar sort of back-up as Brady. Montana was led by a popular pre-Belichick choice as the Coaching GOAT in the NFL, Godfather of the West Coast Offense and overseer of three Super Bowl victories in San Francisco, Bill Walsh. He played with nine All-Pro players in his time in San Francisco — this is a lower total than the 17 Brady played with in New England, but remember, Brady has spent 19 years with the Patriots and Montana only had 13 with the Niners — and that includes eight seasons with Jerry Rice, the undisputed Greatest Wide Receiver of All-Time.
By the numbers, Montana had more consistent help from his defense and ground attack than Brady did. In terms of year end finishes in the categories of Yards Per Rush, Rush Yards Per Game, Defensive Points Allowed, and Defensive Yards Allowed, Montana's 49ers squads outranked Brady's Pats teams on average in all four. The differences there weren't staggering enough to say that Montana clearly had a better supporting cast though.
In the end, this is probably too close to call. But remember, it doesn't matter that much.
Question #5: Will the various cheating allegations against the New England Patriots hurt Tom Brady's legacy? 
This might sound crazy, but no, I don't think they will. I think a portion of the NFL fanbase/media who dislikes New England for whatever reasons will always point to Spygate and Deflategate as a way to minimize the accomplishments of Brady and the Patriots as a franchise. Even though the size of this anti-Pats group seems quite large, I don't think it's large enough to really put a dent in Brady's legacy among people who are as close to unbiased as possible.
This might sound even crazier, but I think what will ultimately hurt Brady's legacy more than anything else is the fact that there is nothing really "cool" about him. Tom Brady is mostly memorable because of his success (six Super Bowl wins in nine appearances), his competitive fire (legendary) and the duration of his career (approaching two decades of sustained excellence). That is all fine. To be clear, that is the most important stuff. But let's be honest … Tom Brady is kind of a weirdo. A cold-blooded killer, but still, a weirdo.
He's not funny like Peyton Manning and he lacks the charming boyish enthusiasm for the game of football that Brett Favre had. He's not California cool like Joe Montana. He didn't rescue a destroyed city like Drew Brees. He's not going to have a second career as an announcer or media personality like Troy Aikman, Terry Bradshaw, Dan Marino or Tony Romo. I don't even know that Brady is as naturally talented as someone like Aaron Rodgers. Brady will be remembered for winning. Again, this is not an awful way to be remembered.
Michael Jordan is the only modern day cross-sport athlete who is comparable to Brady in terms of legacy, success and level of competitiveness, but Brady isn't in the same stratosphere as Jordan in terms of inherent "coolness." Jordan is revered as a competitor because there was always a certain degree of showmanship whenever MJ raised the stakes against an opponent. Tales of Brady's competitive desire will end up focusing on his willingness to adopt a wacky TB12 lifestyle "that combines pliability, nutrition, hydration, resistance band strength training, and cognitive health to prepare your body and mind to do what you love, longer." It's just not nearly as compelling.
At some point in the distant future Brady will mostly be remembered for his Super Bowl wins/appearances and all of the records he holds in that particular game. It will be a legacy rooted in staggering numbers, but simplifying it to that degree is unfair. The intricacies that will be most remembered will ultimately be the many What If's associated with his career. And on that note …
Question #6: How do we deal with the various 'What If's' associated with Brady's career?
There is no shortage of tipping point moments for Brady that any detractor could point to and say, "Well what if this didn't go Brady's way?" What if Mo Lewis didn't nearly kill Drew Bledsoe? What if the refs didn't take a win away from Oakland with the never-before-seen Tuck Rule call in the '02 Divisional Round? What if Adam Vinatieri had doinked a couple of potential game-winners? What if Seattle had called a run on the one yard line? What if Atlanta didn't blow a 28-3 lead?
Conversely, a Brady supporter could just as easily say "What if every Supah Bowl went owuh way though? Then Tommy would be 9-0 instead of 6-3 then. C'mon kid, use ya head!" Totally reasonable, Sully. What if the Helmet Catch never happened? What if Mario Manningham didn't pull in a catch on the sideline in an impossibly tight window? What if Nick Foles hadn't been touched by the hand of God before the Eagles postseason run began? It's actually pretty remarkable that all nine Super Bowl's that Brady has played in were swung by only a dozen or so different plays.
Here's the thing: there are thirty different plays or situations that pushed Brady's career in one direction, but there is an even bigger Joe Montana What If in play here.
What if the Niners never traded for Steve Young in 1987? If the heir apparent was never in place in San Francisco, it's quite possible that Montana could've stayed in San Francisco until the end of his career instead of finishing it out with an underwhelming Kansas City Chiefs tenure. Montana finished up in 1994; this was the season that the 49ers went all in in the offseason, signing Deion Sanders and Ken Norton Jr. away from the Dallas Cowboys.
Perhaps even better: What if the 49ers ended up trading Steve Young to the Los Angeles Raiders before the start of the 1992 season? The only reason the deal wasn't finalized was because Montana was injured and it was discovered that he wouldn't be ready for the start of the season?
What if Montana had stuck around in San Francisco and guided the Niners to a Super Bowl victory over the San Diego Chargers, and that was our last memory of him? Montana was still pretty damn good in his final season with the Chiefs — he famously outgunned John Elway in Denver in a mid-season Monday Night Football Game — so it's reasonable to believe that swapping Young out for Montana wouldn't have changed the result of San Francisco's season. Montana's record in the big game would've been pushed to 5-0.
But of course, that's not the way the metaphorical cookie crumbled.
Question #7: Whose defining Super Bowl win is most impressive?
The story that details how Montana coolly pointed out to his teammates that John Candy was sitting in the crowd before methodically marching the 49ers down the field on an 11 play, 92 yard touchdown drive is the stuff of legends, but let's not overthink this everyone:
Who is the Winner of the Head 2 Head? 
Montana's 4-0 mark in the Super Bowl is tidy and impressive, and many fans love when a player loses before the Championship as opposed to in the Championship. I'm here to tell you that's an ass-backwards way of thinking.
The winner of this Head 2 Head is Brady, and as time goes by the distance between the two just keeps growing larger. As Brady continues to churn out Super Bowl appearances in his forties without showing a dip in his level of play, it's a reminder that this is a once in a lifetime kind of athlete we're watching. Joe Montana was the greatest Quarterback of all-time. He held the Championship belt for about two decades. Then Tom Brady came along.
In my opinion, Brady evened himself with Montana with the win over Seattle in Super Bowl XLIX. The conversation wrapped when New England came back from 25 points down in Super Bowl LI. Too many times we've seen him surgically slice through defenses on key drives in big spots; when he's locked in there's just no answer for it. And if that weren't enough, the statistical resume just keeps improving. When he finally hangs up the cleats — and remember, the end may not be anywhere in sight — Brady could theoretically own every regular season, postseason and Super Bowl passing record of relevance. I just don't know how you argue against that without saying "luck" or "cheating," and going down that route is just an exercise in ignorance. Just appreciate the greatness and pick a different battle to fight if you must.
So congratulations to Tom Brady, the Greatest Quarterback of All-Time and a Super Bowl Champion once again.