As Basketball Hall of Fame broadcaster, Marv Albert used to say, "Yes!" That's right, the NBA season is here again and it's a special one, as the league is celebrating its 75th year in existence. As part of the festivities, the NBA announced their top 75 players, a list surely to spark conversations about who shouldn't be on the list and who was robbed of the high honor of roundball recognition! (cough) Anthony Davis over Dwight Howard?!?! (cough). But it's all opinion, isn't it?
As with the beginning of every NBA season, it's fun to think about things to look forward to as the season unravels. So, with that said, here are a few questions that I'm excited about seeing unfurl to reveal an answer.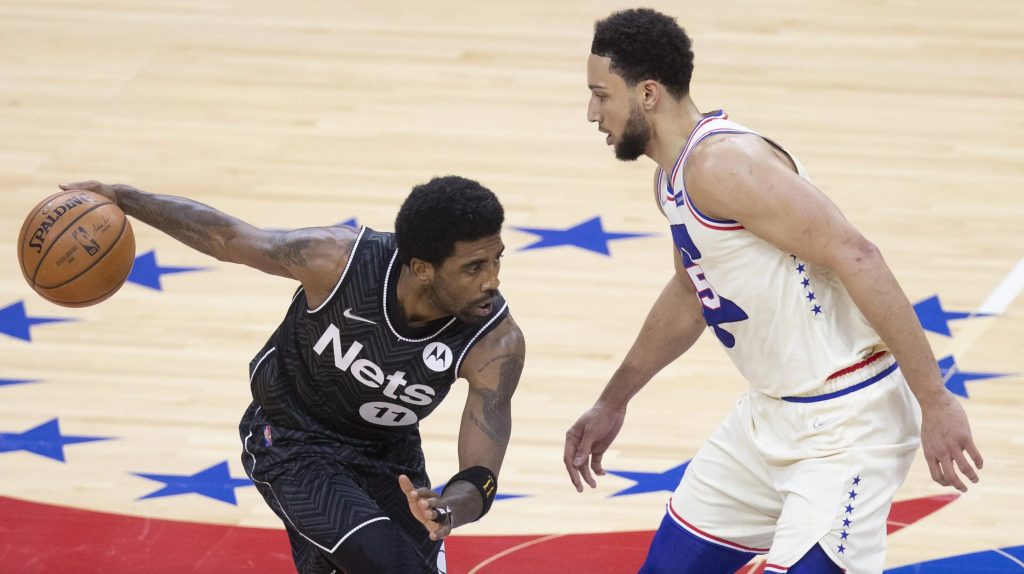 Where Do Kyrie Irving and, Especially, Ben Simmons End Up?
We all know about Kyrie Irving's mission to be the "voice for the voiceless," and that's all well and good, however, it's not what the Brooklyn Nets are paying him for in their tangible goal of becoming the NBA champion Brooklyn Nets. I understand Kai is a bit unorthodox and as a Nets fan, I'd love for him to "not shut up and dribble" because if he did the latter, it would probably mean he's doing it for the Nets.
However, when you consider the "voiceless" here have many "voices" that are actually national policy makers, if being "the voice for the voiceless" is the true reason for Irving not wanting to be vaccinated, then it seems selfish when you consider he plays a team sport and said team needs him to reach their goal. Now, if it was for another reason, such as a strong conviction against the COVID-19 vaccine or a religious ethic, I'm all for him sitting out. But, at this point who knows, and who knows where Kyrie ends up playing. Maybe it's with the Nets, maybe it's another team that could use one of the best players to ever bounce a basketball (and, yes, Irving was also robbed like Howard by not being on the NBA's 75th Anniversary team). And maybe it's with Ben Simmons' Philadelphia 76ers?
That last sentence should have read, Simmons' current team, the Philadelphia 76ers. After attempting to sit out the preseason, he came back after a hefty fine laid by the Sixers. However, when he came back, his eyes seemed empty and disinterested. His body was moving, but his soul was unmoved. It was clear Simmons didn't want to be with the team, and head coach Doc Rivers obliged him by kicking him out of practice after Simmons refused to join in a defensive drill. Ben was suspended soon after that.
Simmons just turned 25 years old this past summer and has a ton of talent and confidence when it comes to his abilities except shooting, apparently. He can literally do everything else at a high level by simply wanting to. In his four seasons (missed out on his first year due to a foot injury, but did win NBA Rookie of the Year the season after), he's been an NBA All-Star three times, made an All-NBA team once, and All-Defensive twice. It's pretty safe to say, Simmons hasn't even hit his peak yet, and it's abundantly clear, when he does, it won't be while wearing a Sixers uniform. Simmons, his representation, and Sixers President, Daryl Morey seem to be at an impasse, and it'll be a question of who blinks first. My bet is on Morey as he'll need to build around center Joel Embiid while Embiid is still young and his prime; that can't be wasted. So, the question is, which NBA team gives Morey an acceptable offer?
Can The Golden State Warriors Get Back To Championship Form?
Is there anyone more likeable in the NBA than Steph Curry? Yeah, I didn't think so. The only way you hate him, kind of, is if your team is playing the Golden State Warriors. Last season, Curry came back strong after only playing five games the previous season, and led the NBA in scoring (32.0 PPG) while hitting a career-best 5.3 three-pointers per game. This season, Sports Betting Dime has him listed as a top five contender for the MVP award. His current odds are listed at +800. Indubitably, we can say that Steph is back, but will the whole team follow suit and legitimately contend for the NBA title? If fellow Splash Brother, Klay Thompson, who's missed two seasons thus far, can follow the the path that Curry did last year upon his return around Christmas… don't doubt it. Of course, there are other factors in play besides Thompson's return to form.
Draymond Green hasn't seemed to fallen off, able to produce his normal several of points, rebounds, and assists per night to go along with his stellar defense. Andre Iguodala, who helped the franchise win their first of three titles this decade, is back again, hoping for lightning to strike once again. Kevon Looney and Damion Lee, having won titles with the Dubs previously, are still with the team. Andrew Wiggins, who was acquired to stop the bleeding of losing Klay, has been very good in his role as a scoring threat. However, is that good enough to get back to the NBA Finals? The Warriors have a big x-factor that could determine the answer – James Wiseman. The young center has loads of talent and seems ready to break out at any moment. Can he be that piece that puts them over the top? Or will he be used as a trade chip, probably along with other young talents – rookies, Jonathan Kuminga and Moses Moody, to get that player that puts the Warriors over the top? Respect to Otto Porter, Jr. and Nemanja Bjelica because I love these acquisitions for the team, but in order to solidify a return to the last series of the season, it would help to have another strong piece to this puzzle. Of course, it's also possible that Steph goes nuts, plays at an MVP level, and puts the Dubs on his back.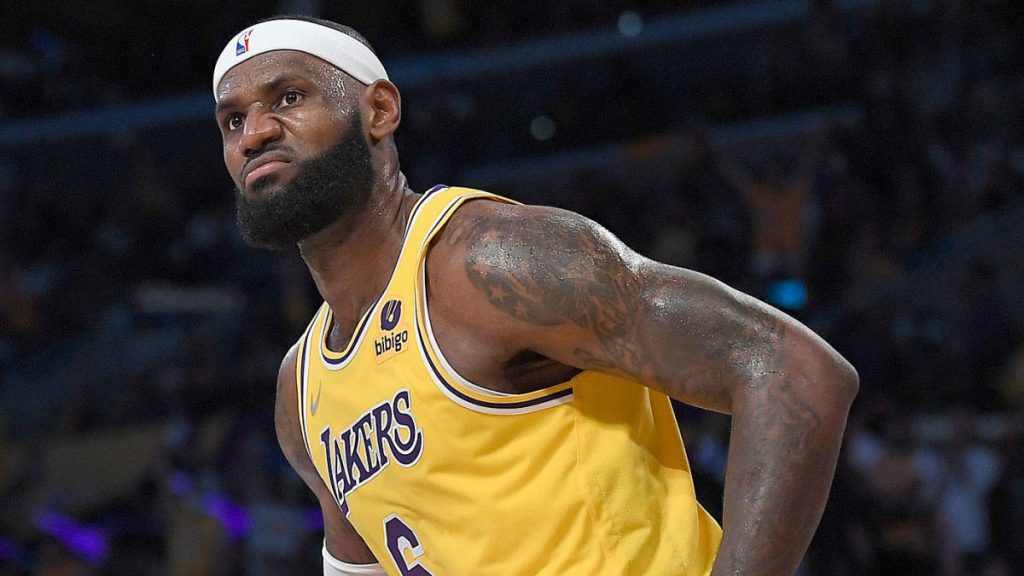 Which Players Break Out, And Which Break Down?
Okay, truth be told, the impetus for this question is more related to LeBron James. Seriously, he's a robot, right? For the past few seasons, I've been waiting for a dip in play (exclusive of injury) and it just doesn't happen. I'm to the point of conceding that LeBron will choose when he's done like Tom Brady, another robot, currently is with the Tampa Bay Buccaneers. "LeBron, you want to play until you're 50? Go right ahead!" Will this be the year that LeBron even minutely declines? I wouldn't bet on it, but sadistically, I'll be watching for it.
I'm excited to see what LaMelo Ball does his second season in the Association as he seems to mesmerize his audience whenever he has the ball in his hands.
What does a full season of James Harden on the Nets look like with Kevin Durant, and maybe Kyrie? Again, claiming my Nets fandom, I'm looking forward to (hopefully) seeing Nicolas Claxton step up his game.
Is it possible for Luka Doncic to take it to another gear? If that happens, sheesh!
Will Russell Westbrook playing off the ball work with LeBron and the Lakers?  Or will his game, and subsequently the Lakers, suffer?
Does Kyle Lowry continue his success up north, down south?
And, oh man, how about them rookies? Personally, as a fellow Filipino-American, I'm especially keen on watching Jalen Green with the Houston Rockets. Green light all day! Cade Cunningham and Jalen Suggs also seem to have been given the keys to their respective teams, the Detroit Pistons and Orlando Magic. But, some say that the big man, Evan Mobley will eventually end up being the best of the class.
Who else is ready for the Zach Lavine show? With the additions of DeMar Derozan and Lonzo Ball, already having Nikola Vucevic, and the hopeful evolution of last year's fourth overall pick, Patrick Wiliams, the Bulls can be a wildcard in the East, and it will Lavine leading the charge.
I absolutely love Zion Williamson, but seeing the obvious weight gain (Oh, we're talking about that again… yes!!!), you have to wonder if he is just making himself more susceptible to injury. I don't want that. The fans don't want that. However, can we get someone to talk to Z? We need him playing!
I don't care about his "downfall" during the playoffs, so I'm looking forward to Paul George going bonkers for the Los Angeles Clippers, comfortably managing without Kawhi Leonard for however long he may be out. I think he sneaks into the MVP convo.
Will Nikola Jokic once again win the NBA MVP Award? Well, we can't say fat chance anymore, can we? Ha!
Obviously, there are many other things to look out for this coming season with the above just a smattering of what every NBA-loving freak is watching the season for! The ball is up and we're here for it!